Steve Penny, the former president and CEO of USA Gymnastics, is set to testify in front of a Senate subcommittee in Washington D.C. today about how he and his organization handled sexual abuse allegations. Penny is testifying under duress; he was subpoenaed. His appearance comes two weeks after the heads of several sports governing bodies—including Penny's former organization—were grilled by members of Congress, and will mark the first time that Penny has been heard from in public since he was forced to resign from his post in March 2017.
Jokic? Embiid? The NBA MVP is obvious... right? | Keep it a Buck(et)
Kerry Perry, who assumed the job of president and CEO of USA Gymnastics back in December, was questioned at the last hearing about various things that had happened before she took the reins. While I certainly didn't feel bad for Perry—she knew exactly what she was getting into when she took this job—there was also the sense that the wrong person was answering many of those questions. In many ways and at every level, the damage is done. But it should still be deeply satisfying to see Penny answer for a series of bad decisions—including the one to bring in a private consultant to interrogate gymnasts about Larry Nassar's sexual abuse instead of immediately going to the authorities—that worsened an already bad situation. It is Kerry Perry's job to tout the changes USAG is making and how it plans to do better in the future and generally deal in forward-looking happy talk; Steve Penny, belatedly, will be asked to explain the past practices and failures that he oversaw.
Which brings us to Peter Vidmar, the chair of the board of USA Gymnastics from 2009 until he stepped down in December 2015, one year before the end of his term. Despite his long tenure on USA Gymnastics' board in a leadership capacity, Vidmar's name has been curiously absent from the reporting on the ongoing sex abuse scandal plaguing the organization.
There are a couple of reasons you might recognize Vidmar's name, and almost all of them have nothing to do with his chairmanship. Gymnastics fans will remember Vidmar as a member of the 1984 men's Olympic team that won the U.S.'s first (and only) team gold at the Los Angeles Games. To more casual Olympic fans, he's the guy who was appointed as chef de mission for U.S. delegation for the 2012 Olympics and then resigned after it was revealed that he had participated in a rally against same-sex marriage and donated money in support of 2008's Prop 8 campaign in California. (Vidmar is a devout Mormon.)
G/O Media may get a commission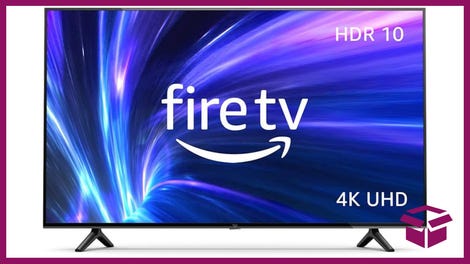 42% Off
Amazon Fire TV 50" 4K Smart TV
At the end of 2015, Vidmar stepped down from the board of USA Gymnastics to take over the Melbourne mission of the Church of Latter Day Saints. By the time he left the organization, two major sex abuse cases were already known to the leadership of USA Gymnastics.
In 2011, Vidmar was CC'd on an email from a USA Gymnastics professional member who reported concerns about Marvin Sharp, coach to 2009 world champion Bridget Sloan. The writer said she witnessed Sharp giving an inappropriate massage to a young gymnast in full view of many other adults, including the gymnast's parent. The coach went onto recount other instances of inappropriate behavior she heard about from some of Sharp's former gymnasts.
It does not appear that Penny, to whom the email was addressed, did anything other than to send his contact info for the letter writer to pass onto a mother of one of the gymnasts. It wasn't until another gymnast made a complaint in 2015 that police finally investigated Sharp's behavior. In August 2015, Sharp was arrested. Shortly thereafter, he killed himself in his jail cell.
The other case involved former team physician Larry Nassar, and that investigation was well underway while Vidmar was still at the helm. In June 2015, Sarah Jantzi reported overhearing a conversation between Maggie Nichols and Aly Raisman about Nassar's invasive "treatment" technique while at a training camp at the Karolyi Ranch. She reported it to Rhonda Faehn, who was then the senior vice president of the women's program. (Faehn was forced out last month and will also be speaking at today's Senate hearing.) Faehn reported the allegations to Penny, who waited five weeks to report Nassar to the FBI while the organization conducted an internal investigation.
By the time the Nassar case was made public by the Indianapolis Star in September of 2016, longtime board member Paul Parilla had succeeded Vidmar as the chair. As such, Parilla was the obvious target for criticism. He had been asked in depositions about whether or not USA Gymnastics had settled secretly with any gymnasts and refused to answer. (We now know that the gymnast with whom USA Gymnastics settled secretly is 2012 Olympic gold medalist McKayla Maroney.) For months, Nassar survivors were calling for Parilla's resignation. Parilla eventually resigned in January under duress, right before the rest of the board was forced to resign by the USOC in January 2018 under threat that the USOC would decertify the national governing body.
I've tried reaching Vidmar via phone, social media, and email several times since March 2017 but have yet to receive a reply. I've talked to many in the gymnastics community who spoke very highly of him; more than one described him as a genuinely caring and kind person. In 2011, Vidmar was cited positively for his handling of the case of Doug Boger, a former coach who had been accused of sexually and physically abusing his athletes during the 1980s. Boger was banned by the national governing body in 2010 but continued to coach for a gym that was not affiliated with USA Gymnastics, although some of the gym's athletes competed in USA Gymnastics sanctioned events. After the Orange County Register reported on Boger's continued participation in the sport at a non-member club, Vidmar worked to close the loophole that had allowed Boger to work at an unaffiliated club.
But whatever good he might've done during his time at USA Gymnastics, Vidmar still should have to answer for the other things that took place during his long tenure as board chair when he was charged with oversight. Nothing about that tenure is more important or more in need of explaining than Nassar's abuse and what Vidmar did and didn't do when he learned about it.
I asked Jamie Dantzscher, a member of the 2000 Olympic team and one of the first women to come forward with sex abuse allegations against Nassar, about Vidmar's "disappearance" back in August 2017. "I can't judge each individual personally but in my opinion, he basically fled," she said. "To me, that speaks volumes."