How many Hall of Famers are out there refereeing junior varsity games? At least one, apparently: Adrian Dantley showed up at his old high school, DeMatha, to work last night's game against Archbishop Carroll.
This was the first JV game Dantley's ever been a part of at the school. He skipped straight to varsity back in the day, becoming the first player in the history of DeMatha, with one of the most storied programs in high school hoops history, to ever start at the beginning of his freshman season. Here's how rare that is: The school says the second freshman starter at DeMatha, D.J. Harvey, didn't come along for more than 40 years. (Harvey, now a blue-chip sophomore who will have his pick of colleges when he leaves, got national notice for his freakish abilities a few weeks ago when he hit his head on the backboard while blocking a shot.)
Dantley went on to star at Notre Dame and became the greatest 6-foot-5 post player the NBA has ever seen.
He had a long run as an assistant coach with the Denver Nuggets, which ended with his firing over a petty squabble with management in 2011, and resurfaced in 2013 in a weird place: As a crossing guard for Montgomery County, Md., public schools. The job, which put him out in single-digit weather, paid him $14,685.50 a year—less money than a Hall of Famer could make just for showing up at a few autograph shows. Last season, Dantley began moonlighting as a referee in the Washington Catholic Athletic Conference, which since his day has been the strongest prep basketball league in the country. He made $35 last night, standard JV ref pay, just like the non-Hall of Famers working with him made. Dantley doesn't need the money; during his playing career, his reputation as a penny-pincher was almost as profound as his renown for inside-the-paint scoring.
G/O Media may get a commission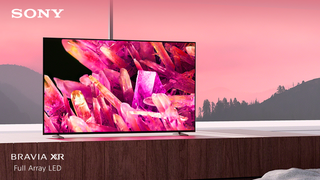 $400 off
Sony 55 Inch 4K Ultra HD TV X90K Series
"I'll be 60 years old in six weeks," Dantley says. "Being a crossing guard and a ref gets me out of the house. Everybody was surprised to see me [refereeing] last night, but I'm not a person who's going to sit around the house."
He says he initially questioned the league commissioner's wisdom in giving him the DeMatha assignment, but everything ended up working out OK. The only heckling he got was from the Carroll sidelines, with coaches from his former rival occasionally reminding him not to let his roots affect his whistleblowing. When they found out Dantley would be showing up, administrators even scheduled a quick ceremony at halftime to honor their most decorated alum. DeMatha went on to win by three points in a nailbiter.
Was the refereeing the difference?
"Depends on which side you're on," says Dantley.
Photo courtesy of DeMatha