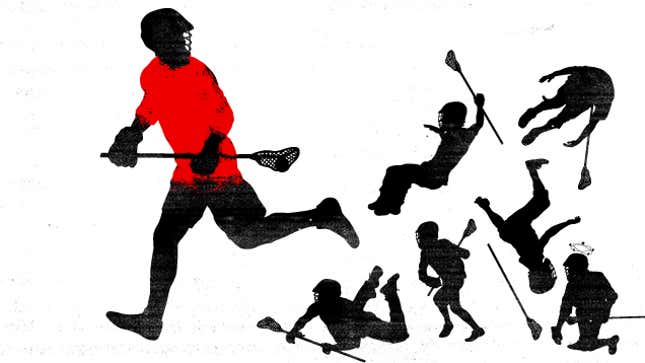 In the lax-crazy scholastic sports scene of the high-end Washington D.C. market, a game between Landon School and Georgetown Prep is essentially 'Skins vs. Cowboys, except with more people named Topper. They're two of the fancy-pantsiest all-boys secondary schools in the area, and their athletic rivalry offers a good bellwether for the rest of the sports-playing local gentry. Which is why it was interesting to see how both the Washington Post and the Montgomery Gazette framed this year's matchup —as a birthday party for a Prep star. He had just turned 19.
The best sports movies according to Toheeb Jimoh
The lede of the Gazette's write-up:
Georgetown Preparatory School boys' lacrosse player Charlie Horning couldn't have asked for a better birthday present: a win over rival and fellow national power Landon.

Playing on his 19th birthday, the senior attackman scored three goals—including the game-tying score late in the fourth quarter—to lead the Little Hoyas (11-0) to a 9-7 win over the Bears (9-2) Friday in North Bethesda.
Nineteen used to be more an age for college kids, but anecdotal evidence abounds that private school students are being held back a grade, or redshirted, a whole lot more than they used to be. It's so commonplace now that the parents of prep athletes have come up with a new word, free of any unseemly connotations, to describe the practice. Bluebloods, it turns out, don't "redshirt" their kids; they "reclassify" them.
Whatever the term, it seems that every athlete from Landon or Georgetown Prep who makes the news these days is a little older than you might think. The Maryland gubernatorial campaign of Doug Gansler, for example, was derailed by a scandal in which the candidate, then and now serving as the state's attorney general, was photographed at a Landon beach week party where all the kids were drinking booze and he was doing nothing to stop the illicit imbibing. Gansler's excuse was that he'd dropped by the bash looking for his 19-year-old son, a fresh Landon grad and Penn lacrosse commit. Landon's lacrosse squad got publicity of a nicer sort when two of its players, Sam Offutt and Ryan Pride, each verbally committed to play for an NCAA powerhouse, the University of Virginia, before their freshman seasons. (You may remember Pride as the player bullied via email by Cabell Maddux, coach of the influential MadLax lacrosse club. Maddux, upset that Ryan had transferred to another club, threatened to get him blackballed among college recruiters.) Both are redshirts.
G/O Media may get a commission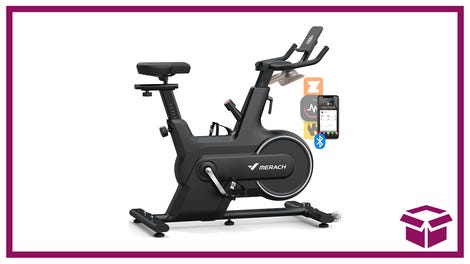 14% off + Coupon
Merach Indoor Cycling Bike
In the D.C. area, and essentially every school district, students have only eight semesters from their first day of high school to use up their athletic eligibility, so all redshirting takes place before ninth grade. In public schools, where taxpayers are footing the tuition bill, students generally are not allowed to repeat a grade without a valid medical reason or utter academic failure. At private preps, where the parents pay, the rules are a bit … lax.
"It used to be if you got held back, it was a scarlet letter, something you would never want," one Bethesda lacrosse parent told me. "Now, it's being done as a badge of honor."
This parent, who requested anonymity because he fears retribution from the lacrosse and prep school communities against his middle-school-aged son, attributes what he sees as a boom in rich-kid redshirting to the publication of Malcolm Gladwell's Outliers. The buzzy 2008 bestseller featured a section on what's known as the relative-age effect, describing how advantages tend to accrue to the oldest kids on youth hockey teams.
In hockey, and most kids' sports, teams and leagues are organized by year of birth; Gladwell's book purported to show that a disproportionate number of successful hockey players were born in the first few months of the year. But many top lacrosse camps, including Madlax, group so-called "select" teams by the players' projected high school graduation year. That scheme encourages redshirting. Held-back players are guaranteed to be older than their non-redshirted campmates, and thus, the thinking goes, they enjoy better odds of making the select squads, which means better coaching, which means better exposure to college recruiters, which means a better shot at winning an athletic scholarship. A redshirt also has a greater chance of gaining admission to, say, an Ivy League school because of the weight given sports extracurriculars.
To get those potential payoffs, moms and dads have to gamble an extra year of private school tuition. At Landon, which goes from third through 12th grades, that bet costs from $34,061 to $35,159. Lots of folks are taking that action. The anonymous parent briefly considered redshirting his boy after learning that half the incoming eighth-graders at Landon, where the kid hopes to someday play varsity lacrosse, were "holdbacks." (Landon spokesperson Meredith Josef would not confirm or deny that redshirt ratio, citing "students' privacy.") Ultimately, the parent opted instead to explain to his son that if he wants to make the team, he'll just have to try harder than the older boys.
"There's no social reason, emotional reason, or academic reason they're [redshirting]," the parent says. "It's to have an advantage physically over everybody else. It's institutionalized cheating, and it's everywhere, and the thing that's troubling is everybody's closing their eyes."
Landon, meanwhile, could excuse its riding the hold-back wave as simply an attempt to keep up with its rivals in the D.C. area. Take Georgetown Prep's lacrosse team. It's coached by Kevin Giblin, the only lax coach the Little Hoyas have ever had, and his record is fabulous. Last year's Prep lacrosse media guide—yes, the team has its own media guide—boasts that Giblin's teams teams have been ranked in the national top 25 in every season since 1998 but one; the school's teams also claim three national titles in that span.
Georgetown Prep goes from grades nine through 12, so there's no redshirting there. Giblin's day job, though, is as assistant headmaster at Mater Dei School, a fancy grammar and middle school in Bethesda. Mater Dei is best known for being an athletic factory that has long fed the programs at area Catholic schools, mainly Georgetown Prep and Gonzaga, another all-boy sports powerhouse in the nation's capital. You might say that Prep is just outsourcing its reclassifications, with Giblin overseeing the operation.
Mater Dei is viewed by many schoolboy sports observers as the epicenter of the hold-'em back boom. In basketball, recent stars for its middle school team include Nate Britt, Kris Jenkins, and D.J. Fenner, who were classmates and hoops teammates; all were redshirted at Mater Dei. Chase Plebani, currently a freshman pitcher at Davidson College, remembers his middle school days at Sidwell Friends School, a D.C. prep known more for academics than athletics, as a time of getting smeared by that trio of Mater Dei manchildren.
"In eighth grade, our basketball team lost one game: to Mater Dei, who beat us by 40," says Plebani. "I remember right after the opening tip, Jenkins had a put-back slam dunk. There was nobody on Sidwell who seemed as physically mature as anybody on their team.
"The joke was Mater Dei had a student parking lot."
Britt, Jenkins, and Fenner all moved on from Mater Dei to play for Gonzaga. Britt was named Gatorade's high school player of the year for Washington D.C. as a junior in 2012, and was the starting point guard for North Carolina last season. Kris Jenkins won the same award in 2013 as a senior and started for Villanova this season. Fenner eventually transferred out and moved to Seattle (where his father, nine-year NFL running back Derrick Fenner, once played for the Seahawks) and was named the state of Washington's 2013 player of the year his senior year. He's now playing for the University of Nevada.
Notable Mater Dei/Georgetown Prep athletic alums, meanwhile, include Andrew Phillips, an offensive lineman who blocked for Andrew Luck at Stanford, and Marcus Mason, a running back who has had stints with four NFL teams. Both graduated high school behind the class their birthday called for.
Mater Dei's reputation is such that it's noted matter-of-factly on UrbanDictionary, of all places:
Mater Dei: Catholic school that goes from 1-8 grade and is very concerned about their sports situation. They hold kids back just to play for them another year, making them a football, wrestling, basketball and lacrosse powerhouse. They sorta piss everyone off.
Ned Williams, headmaster of Mater Dei, says he's aware of the "perception" that redshirting is used at his school to promote sports dominance. He argues that the image is inaccurate, though, and blames the reputation on parents of kids from rival schools who are unhappy that "our teams are good." Williams says that "maybe four or five" out of the 20 members of this year's class of first-graders are repeating the grade. He declined, however, to provide numbers for eighth-graders overall, or for the current Mater Dei lacrosse team. Regardless of the figure, he insists that sports played no role in determining whether any student would repeat a grade.
"We're certainly not holding kids back for athletics," he says. "People do it for the kids. It's an academic decision. In first grade, Nostradamus couldn't figure out if they're going to be a lacrosse player. We don't time them in the 40 or do a bench-press test [before making a redshirting decision]. "
Williams, son of legendary D.C. attorney and former Baltimore Orioles owner Edward Bennett Williams, is himself a Mater Dei alum. Asked if he was held back, Williams says he repeated first grade in the 1960s. "I couldn't read," he says.
Ryan Norton makes a wonderful case for the Mater Dei way. Held back in first grade at Mater Dei, he says the perks of his reclassification didn't take root until high school, since so many of his peers were similarly old-for-grade. He agrees with those who think holding back kids for sports is wrong, but admits that there's a physical bonus to being older, and calls athletic superiority a salutary "side effect" of reclassification. In his senior year at Georgetown Prep, he was captain of the football and lacrosse teams, and as a laxer was named to the all-county, all-state, and Washington Post All-Met teams. He says that the maturity that came with his advanced age left him less susceptible to peer pressure—"You don't care as much what people think," he says—and gave him a built-in leadership quality. "You look up to the older kids," he says.
Advantages or no, it's important to remember that parents of first-through-eighth-graders, not the kids, are the ones making the redshirt decisions. Norton took the hand he was dealt and made the most out of it. He played on Mater Dei's dynastic Britt/Jenkins/Fenner basketball squad in eighth grade and says he was just one of eight kids on the roster who ended up in D-1 athletics (three hoops, five lacrosse). Norton's now a defenseman for Harvard. And he'll tell anybody who asks that his athletic prowess helped get him to Cambridge, as it would help any kid trying to get into an elite college.
"Being smart isn't enough all the time to get you into Harvard," Norton says.
For all the potential pluses of redshirting parents might glean from Outliers, there's also research that shows holding back kids can have lousy consequences off the playing fields. A study published in 1997 titled "Increased Behavior Problems Associated With Delayed School Entry and Delayed School Progress" found that there were, um, "increased rates of behavior problems" associated with "old-for-grade" students who'd been held back. (The baddest of the old-for-school lot: George Huguely V, a Mater Dei alum and Landon lacrosse captain, who went on to become D.C.'s version of the Preppy Murderer when he bludgeoned an ex-girlfriend to death at UVa. Consider him something of an outlier, though.)
U.S. Lacrosse, the nation's largest youth lacrosse sanctioning body, is doing what it can to stem the tide. The folks at USL spotted a national surge in redshirting several years ago (but only for boys. "I haven't heard of it" for girls, says USL spokesman Paul Ohanian). In 2009, in response to "safety and fairness" concerns, USL published official recommendations that all youth teams and tournaments be based on age, not graduating class. But, Ohanian says, recent tales of ninth- and 10th-grade redshirts making verbal commitments to play for NCAA lacrosse powers resonate more with parents than do the USL's guidelines, and have mitigated the group's efforts.
Redshirting "is relatively new to the lacrosse landscape," Ohanian says. "As our sport gains exposure, we're seeing more of these same elements that football and basketball were dealing with now coming into lacrosse. Our role is to tell parents this isn't the best process. If you're good enough to play in college, you're going to play in college."
For now the redshirts are winning out. As of the week of April 28, Georgetown Prep has the No. 1 lacrosse team in the nation and also tops the D.C. area poll, followed by Gonzaga and Landon. And, according to the headmaster, Mater Dei's middle-school team is undefeated.
Image by Jim Cooke; source photos via Shutterstock.