Stan Van Gundy, a favorite around these parts, has been hired to "reshape" the Pistons. God help him.
To start, a story in three images. Here are the shot charts for the Orlando Magic rotation in 2012, the last year Stan coached:
Pretty good! The Magic were in the middle of the pack offensively and defensively, but were third in the league in three point percentage, and first, by a mile, in both attempts (27 [!!!)]) and makes (10.2).
Now the charts for the '09 Magic's rotation during the finals run:
G/O Media may get a commission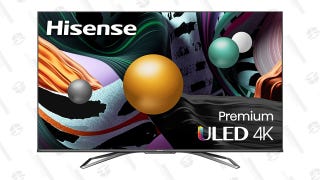 Save $350
Hisense ULED 65" Android 4K HDR Smart TV
(Note: We're missing the charts for Michael Pietrus and Anthony Johnson, who were sixth and seventh on the team in field goal attempts, respectively, because NBA.com doesn't keep player records up for guys who've been out of the league.)
In '08-'09, the Magic were a top-10 offensive team, and led the league in defensive efficiency. They also took the second most threes in the league (26.2, trailing the Knicks' 27.9), and made even more than they did in the '11-'12 season (38.1 percent, which was good for a tie for sixth that year).
Before we get into anything involving defense, just remember that Stan was at the forefront of bringing the three-pointer into vogue. Now then, here's the shot chart for the 2013-14 Pistons:
So that's going to be a problem. Detroit was 19th in the league in offensive efficiency, and 25th in defensive efficiency. It was also 29th in three-point percentage, trailed only by the Sixers. In fact, they weren't particularly good at any facet of scoring: Per Synergy Sports, and going by points per possession, the Pistons were 29th in spot-up shots, 25th in transition, 21st in pick-and-rolls, 27th in post-ups, and 29th in isolation. Needs improvement: Every possible method of scoring.
On defense, the Pistons ranked 5th in post-up possession efficiency (everyone is huge!), but teams didn't post them up much (everyone is huge), and ran them in pick-and-rolls and caught them in, let's say, unpolished defensive rotations for spot-ups, where they were 29th and 22nd, respectively (everyone is huge...).
The bright spot, if you want to call it that, is that the Pistons do seem to know what they should be doing, at least a little. Even though the team stunk in transition, they ran a fair amount, spending 16 percent of their plays on the break, sixth highest in the league. Even a bad fast break is better than no fast break (and a bad halfcourt offense), so that's a plus. And while Josh Smith was a disastrous three point shooter all year (he did improve his murder spree a bit late in the season, when he just shot fewer of them), the spike in awful threes actually stemmed from a found efficiency: They were replacing awful long twos. All things considered, as long as he doesn't shoot 23 percent on those again, that's a relative improvement.
Defense is probably less of a concern, weirdly enough. Van Gundy turned J.J. Redick and Ryan Anderson and even, at times, Hedo Turkoglu into useful defenders, and as we've seen with Brooklyn this year, the right veterans, even ancient ones, can coalesce into a functional unit with the right anchor. The Pistons happen to have a potentially fantastic one of those in Andre Drummond, whose stats we can get into some other time, but who is completely absurd.
To be clear, this isn't projecting anything about how successful Stan will be. He's a sharp guy, and adaptable to any roster you toss at him. Let's not forget that he came to that system when handed a roster stuffed with Jameer, Rashard, J.J., Ryan Anderson, and an all-time big man. Van Gundy's Miami teams played a much different style, and it's safe to assume that any roster without Dwight Howard both occupying two defenders and guarding two players at once will as well. So this will be an interesting test case, to see if Stan's Pistons end up running something more conventional, or if they run the blind men up the sniper's nest.
In any case, it's fair to point out that the style of play that Stan was so successful with in Orlando is going to be really damn hard to replicate with the Pistons, who cannot shoot.