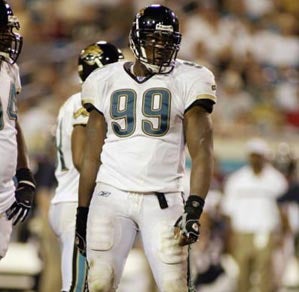 Just in case anyone forgot: Rafael Palmeiro tests positive for a steroid and an entire Hall of Fame career is destroyed. Rick Ankiel is prescribed HGH by a doctor when it's neither illegal nor banned by baseball, and he's a disgrace to the story we all once admired. Jaguars defensive end Marcus Stroud tests positive for steroids and it's ... well, we'll see you in Hawaii!
According to the Times-Union, Stroud's 'A' sample came back positive last week. The paper said he exercised his right to have his 'B' sample tested Monday.

Stroud, a three-time Pro Bowl tackle who has 29 tackles and three sacks this season, declined to address the reports Wednesday, but said he expects to play at New Orleans.
If the suspension sticks, Stroud will miss four games and be back in plenty of time for the playoffs, the Pro Bowl and his really cool Nike commercial.
Stroud Facing Four-Game Suspension [Steroid Nation]