"Elation now" crowed the Sacramento Bee when the Maloof Brothers, David Stern, and Sacramento mayor Kevin Johnson emerged from lockdown negotations with a plan to build a new arena and keep the Kings from moving to Anaheim. The plan was a good one, as far as publically funded stadiums go: the team and the arena owner would kick in, and the $255 million Sacramento was on the hook for would be paid from parking revenues, not any new taxes.
Not so fast. The Los Angeles Times reports today that the Maloofs have major concerns with the plan, and the city's ability to raise the money and complete the arena by 2015. Anaheim is officially back in play.
This is not a huge surprise. The deal announced last month was long on optimism and short on tangible plans to raise the money. As Neil DeMause wrote, it was "a half-finished framework for a deal that was cobbled together in order to make an arbitrary deadline, with the hopes that all the blanks can get filled in later."
The question is the parking, as it always has been. (The City Council rejected bringing the parking plan to voters, then passed it themselves just before the deadline.) Under the plan as is, Sacramento would raise the majority of its $255 million commitment by leasing the city's parking to a private investor. But no independent observer believes Sacramento's parking operations are worth nearly that much: the city currently earns just $9 million a year on parking. And on top of that, the new arena plan would give all parking revenues on game nights directly to the Maloofs.
G/O Media may get a commission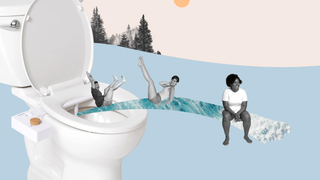 17% off
Tushy 3.0 Warm Water Spa Bidet Attachment
The other option for raising money is borrowing against future revenue, and city officials have shown no inclination they'd support such a risky move.
In addition, a civic group opposed to spending public money is trying to stop the deal until voters can have a say. Sacramento Taxpayers Opposed to Pork wants to force a ballot initiative on the arena plan, saying they support the Kings staying, "but not at the expense of having to lay off city police officers, close swimming pools, put off $2 billion in needed sewer repairs, or delay basic street pothole repairs."
City officials have moved to assure the Maloofs that the arena plan is feasible and the 2015 opening date achievable, but were not able to provide any specifics on how pre-development and construction costs would be paid for—things that would need to be in place before any work is started. And time is running out: Sacramento City Council will meet on Tuesday and seek a more substantial commitment from the Maloof brothers. Judging from their letter today, in which they confirm they are still exploring their options in Anaheim, that commitment will not be forthcoming.