Need a last-minute primer on the teams before heading out to your Super Bowl party? Here's everything you need to know about the Broncos for today. You can find our Seahawks preview here.
The Denver Broncos were inarguably the best team in the AFC, and had the best offense in the league, maybe ever. This isn't just a typical juggernaut offense—the Broncos are a Star Destroyer, and Peyton Manning is at the helm. His regular-season DYAR was 2,490, blowing every other quarterback out of the water. He smashed Tom Brady's touchdown record, putting up 55 for the season, and the scary part is that this offense might be even more complete—and playoff-ready—than the 2007 Patriots.
That's because, unlike the vert-happy Pats, and even Peyton's own Colts teams that used a lot of vertical-based routes, the Broncos have relied this season on more drag routes and short crosses, allowing the Denver receivers to run—they were first in overall YAC (2,751 of their 5,572 yards receiving) and in the top ten for YAC per reception (5.97). Peyton hasn't thrown deep very often this season, and he's only been mediocre at it when he has. This is a very good thing against the Seattle defense, which specializes in taking away now just the deep bombs, but vertical-based routes with its Cover 3 hybrid. It also lets Manning get the ball out of his hands faster—the average time for him to throw was 2.36 seconds, quickest in the league—which is important in the postseason, where pass rushes are at their most vicious, and especially important with this version of Peyton.
G/O Media may get a commission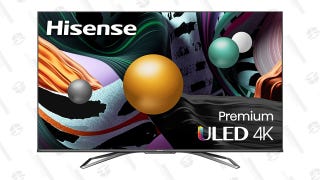 Save $350
Hisense ULED 65" Android 4K HDR Smart TV
An intact Peyton is key for the Broncos offense to run smoothly. Peyton's still beastly under pressure, just not as beastly. Per Pro Football Focus, his completion percentage drops to 61.9% when blitzed, as opposed to 70.8% when not. This is counter to what we're used to imagining Peyton against the blitz, and there's a definite drop from his prime blitz-destroying years, but those are still fantastic numbers. They just aren't ungodly, and for good reason. Manning is a football machine gun turret with all the mobility of one. And as 37-year-old quarterbacks with a surgically repaired necks go, you can give them a break if they don't really like getting hit. In fact, that reputation has stuck to him over the past two seasons—Heath Evans in a recent interview cited Peyton as the elite QB who can be most affected by being hit (he had Drew Brees as the Teflon Don). The good news, though? Because of the speed that the Broncos play at, Peyton was only sacked 18 times in the entire regular season; the most in one game was four, in the Week 7 loss to the Colts.
As amazing as Denver's passing game is, it's not the only threat. Knowshon Moreno has played like Peyton's temporary Edgerrin James, rushing for 1,038 yards and 60 receptions for 548 yards in the regular season. He was supposed to be the guy with garbage knees that would be bumped by Montee Ball, but Ball's fumbling and Moreno's excellence—especially in pass blocking—has allowed him to stay as the lead back. Moreno's hands make him a threat for checkdowns and screens, and he also averaged a respectable 4.3 yards per carry while fumbling just once this season. As a unit, the Denver backs were the most productive in the league by DYAR, and are probably the most complete group that's been attached to one of the super offenses that have sprung up since the 2004 rule changes.
Moreno's reliable ground game makes the passing game feel like an indulgence at times, but the Broncos truly are spoiled with receivers. Demaryius Thomas had the best wide receiver DYAR in the regular season. Calvin Johnson and Josh Gordon earn more credit, since they shine with a less talented supporting cast, but Thomas and his versatility are on their level. He caught 14 receptions for 550 yards and four touchdowns on passes for 20 or more yards, but he's also used on wide receiver screens multiple times a game and can beat a defense over the top. Thomas is the most likely matchup with Richard Sherman, though the Broncos move their receivers all over the field, and Sherman won't be following him exclusively. Thomas earned 7.6 yards after the catch this season, fifth-most in the league.
Eric Decker can be utilized in different ways than Thomas. He, along with Welker, will be running lot of those shallow crossing patterns from above. The fourth-best WR in DYAR had the best catch rate for deep threats in the NFL with 60.0%. He nabbed 15 receptions for 509 yards and five touchdowns on passes of 20 or more yards, but he also had value in the slot. Decker only spent 32.2% of his snaps lined up as a slot receiver, but his catch rate was 80.0%, best of any starting slot receiver. Though he's six-foot-three and the build of an X receiver, Decker also has the quickness of a Y, giving him the advantage of muscling smaller cornerbacks. Seattle's Brandon Browner—a rare, huge corner at six-foot-four—is still suspended indefinitely, so he won't be a concern.
The Broncos do actually have a full-time Y. You may have heard of him. Wes Welker missed a few games at the end of the season due to a concussion, and honestly, it's been a disappointing season for him. He didn't record 10 receptions or 100 yards in any games this season. (He had five 100-yard games and four 10-catch games in 2012.) But that's largely because of Peyton's other options and how the Broncos offense works. Manning still uses him as an occasional safety blanket like Tom Brady did—Welker had 49 receiving first downs in 2013, a top-25 number—but not as heavily.
The last premier receiving option—yes, it's ridiculous that there are four of them on one team—is tight end Julius Thomas. Despite his blocking abilities being hot cat piss, Thomas is still the second-best tight end in DYAR behind Jimmy Graham. (Graham's not a good blocker either, but at least he compensates for that by being a one-of-a-kind receiver.) Still, at six-foot-five, Thomas can be the straw that breaks the coverage's back. The sheer amount of receiving options is overwhelming—but maybe beside the point. There's no way to cover all of them for very long, so the pass rush, which in Seattle comes from everyone in that front seven, might be where the Seahawks have their best shot.
Remember how scary this defense was going to be with linebacker Von Miller returning from a suspension earlier this season? Miller ended up playing well this season, even if he didn't move Denver into a top defense, until he tore his ACL in Week 16. Since then, Denver's again been without its best defensive player, and yet the defense is a big reason that the Broncos made it to the Super Bowl, holding the Chargers and Patriots to 17 and 16 points, respectively. How are they doing that, exactly?
It starts with the run defense. The defensive line allowed just 3.22 adjusted line yards to running backs, third-fewest in the league. Defensive tackle Terrance Knighton, also known as "Pot Roast," has played out of his mind as of late, earning seven quarterback hurries and 11 defensive stops since Week 15. For the season, he ranked in the top 10 for defensive tackles in terms of pressure percentage (8.9% for Knighton), a stat that measures the amount of pressure a defensive tackle brings relative to how often they rush the passer. He'll come in handy in terms of bottling up Marshawn Lynch and flustering Russell Wilson.
The problem with a defense that's best at stopping the run, of course, is that the Broncos usually have massive leads—an average of 7.52 according to Football Outsiders, by far the biggest margin in the league. This means the opposing offenses are compelled to avoid the strength of the Denver defense, and throw into the secondary, typically to far better results.
The pass defense has suffered its own share of injuries this season. Corner Chris Harris was done for the season after he tore his ACL in the postseason game against San Diego, and safety Rahim Moore was placed on injured reserve back in November. The Broncos have Duke Ihenacho—who commits a J.R. Smith-ian amount of dumb penalties—and Mike Adams as their safeties, along with some mixture of Dominique Rodgers-Cromartie, a fossilized Champ Bailey, and a re-retreaded Quentin Jammer as cornerbacks. It's not ideal. Rodgers-Cromartie has actually bounced back after an underwhelming stint with the Eagles, playing as one of Denver's best corners with an opposing 67.8 QB rating, but after that, well, it'll be tough when the Seahawks use packages with three wide receivers—and even tougher if Percy Harvin ends up playing any significant amount of snaps. Bailey didn't play much, limping along with a nagging foot injury all season, and when he was on the field, his coverage was just mediocre, allowing 1.40 yards per coverage snap. Jammer's only had 143 snaps, but he makes nearly anyone look good, with an opposing QB rating of 123.8. You can see this in the stats, as Denver fares half-decently against WR2s and running backs (who are picked up by linebackers), but is near the bottom of the league against WR3 and deeper.
Fortunately for Denver, the Seahawks aren't a particularly pass-heavy team, averaging a mere 202.3 passing yards per game. Still, Wilson had a couple of big connections with Doug Baldwin and Jermaine Kearse two Sundays ago against the 49ers, and is capable of the same today, and Percy Harvin only needs one big play to change the course of the game. And if the Denver run defense can hold Marshawn Lynch down, they just might need to.
Image by Sam Woolley