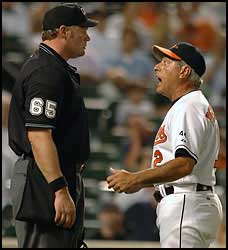 We don't mean to imply that it might be a tough time for Cubs fans, but now their executives are jumping ship to the Orioles.
Buster "Please Don't Make Me Do Anymore Fake Press Conferences" Olney is reporting that Cubs president Andy MacPhail is leaving Wrigley to head Camden Yards way. This means, most likely, that diminutive manager Sam Perlozzo is out the door, probably in favor of Joe Girardi, whose people skills served him well in Florida. The team has been fed up with Perlozzo for a while, and we still kind of wonder if he only got the job because they thought he'd bring best pal Leo Mazzone with him. (All references to Leo Mazzone must include light rocking back and forth; do it with us now.)
Anyway, we're not sure what this means for the Cubs. We think we all know who should be running that team anyway.
O's Hire MacPhail, Eying Girardi [ESPN]
Sam Perlozzo, We Hardly Knew Ye [The Smittblog]
(UPDATE: Baseball Musings says Tom Trebelhorn will manage. We missed that guy.)
(SECOND UPDATE: It's Dave Trembley, not Trebelhorn.)