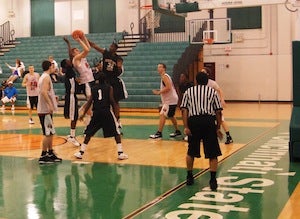 They're all made up! At least the ones on SummerHoopScoop, which suckered in a good number of people with plausible prep and recruiting news over the past few months. "Jonathon Paige" was quickly becoming, if not a major player, a name that kept popping up on message boards in connections with rumors.
Yesterday, the facade fell:
I am not Jonathon Paige.

There is no Jonathon Paige. There is no SummerHoopScoop. In fact, there never was. A little over two months ago the college basketball season ended and the long off-season of recruiting events and commitment speculation began. Messageboards and popular basketball news sources began to populate with recruiting interviews, videos, news stories, and rumors. The summer circuit circus began and college basketball fans dug in for the slow rolling waves of recruiting information to parse through. Of course, the real issue is— who's information can be trusted? Sometimes it feels to fans like recruiting services and "experts" are just sorting through twitter feeds and regurgitating third-hand information.

So, out of boredom and sincere interest in the relationship between the internet, recruiting services, and consumers, I created Jonathon Paige.

[...]

My methods were simple:

- Immediately tweet information found on the twitter feeds of proven and credible sources like Dave Telep, Jeff Borzello, Jeff Goodman, and Brian Snow.
- Bounce around the free messageboards of top tier programs and tweet any "breaking" information that trickles down the pipeline.
- Find out what summer tournaments are taking place each weekend, read the tweets and blogs of those attending, and do tournament write-ups that regurgitated all of the information in a slightly different manner.
- When in doubt, use lots of language that appeals to specific fanbases (Example: Carolina fans love the words "family atmosphere" and Duke fans like to talk about "silent verbals"while Kentucky fans love to hear about Calipari "going to work.")
- And if a piece of information seems likely (and hopefully incontrovertible) given the circumstances, just make it up....
There are lessons here: number one, don't get your news from a Blogspot account. Number two, just use some damn common sense once in a while, people.
In the long run, this sham isn't harmful. No actual journalists were suckered in, no prep players were swayed by news reports, and the mouthbreathers on the Kentucky message boards were made to play the fool. But it does a disservice to the legitimately enjoyable industry of rumormongering. For the real reporters, who act as the gatekeepers to pass along only creditable, sourced rumors, this is just more background noise getting in the way.
Which isn't to say that most recruiting rumors from "trusted" reporters don't turn out to be false, because they were completely made up by someone. Those just get chalked up to bad sources.
An Experiment in Modern Recruiting News [SummerHoopScoop]