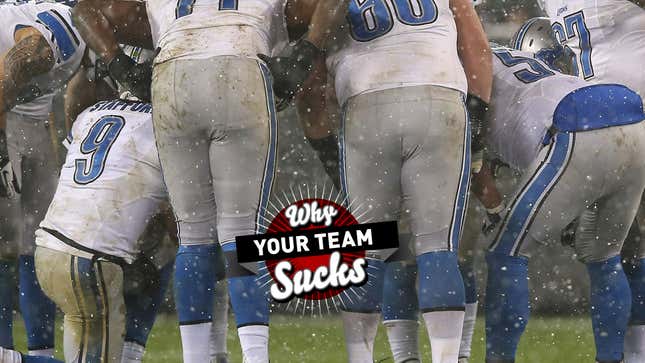 Some people are fans of the Detroit Lions. But many, many more people are NOT fans of the Detroit Lions. This 2013 Deadspin NFL team preview is for those in the latter group. Read all the 2013 NFL previews so far right here.
Bass' ERA stinks, but not compared to who he is off the mound | Worst of the Week Countdown
Your team: Detroit Lions
Your 2012 record: 4-12. And that's no ordinary 4-12 season for the Lions. This was a team that went 10-6 in 2011 before getting torched by the Saints in the playoffs. There was the illusion that this team had actually BUILT something, that they would be able to remain consistently successful, perhaps even, you know, improve. But not only did they go 4-12, they went 4-12 without anything catastrophic happening. Matt Stafford played the whole season. Megatron played the whole season. The core of young talent they assembled remained intact and just SUCKED. Even when the Lions do everything right, they still do nothing right. You could clone the 49ers and their coaching staff, put them in Lions uniforms, and they would still go 4-12. There is some kind of cosmic suck cloud that has enveloped them, that overtakes anything it comes into contact with.
Your coach: Jim Schwartz. If there is an obscure rule out there that can hurt your team, you can rest assured that Jim Schwartz will find a way to be victimized by it. Jim Schwartz has taken a fairly talented roster and added nothing to it. I think his boilerplate pregame speech is, "Guys, go out there and, like, do your thing."
It's as if they studied game tape of all the ways the Raiders lose and put them into practice. The Lions commit 80 penalties a game and NEVER run the ball. You will find more discipline in the Detroit mayor's office than at a Lions home game. What hope do the Lions have when Jim Harbaugh blows right through your coach on your home field?
Oh hey, I should probably have words with that man!
Your quarterback: Matt Stafford. Is he fat? He and Tony Romo are always in the "I think he's fat" QB club. Remember: This man was drafted in the first round of many fantasy drafts last season. Your reward for drafting Stafford was a QB whose TD passes were cut in HALF (41 to 20), who turned the ball over 21 times, and whose passer rating dropped nearly 20 points. Again, that's with nothing disastrous happening. It's not like he played all of last season with a leg amputated or something.
Your one fantasy player everyone will hate: Brandon Pettigrew. You'll see him on waivers and you'll think to yourself, "Gee, he seems kinda talented to be hanging around on waivers." Then you'll grab him and start him and you will understand COMPLETELY why he was on waivers.
Why your team sucks:
Back in 1997, the NFL played the occasional Thursday Night game on TNT (with Mark May on color commentary, which was just terrible as you can imagine it being). Former Oiler Sean Jones was one of the studio guys, and I remember they were talking about the Lions and Jones blurted out, "This team just sucks right now." Jones only worked that one year in the studio, but I totally remember him saying that for some reason. You never hear an analyst say that a team "sucks," which is odd because so many of them do. Anyway, anytime I watch the Lions, I hear Jones in my head. This team just sucks right now. This team just sucks right now. This team just sucks right now. This team just sucks right now. Their suckiness is secondhand nature at this point.
The worst part is that they're sucking in an empty forest. There are still four major sports teams operating out of Detroit, acting as if nothing is wrong, as if they aren't residing in the only non-condemned structures within a 30-mile radius. Honestly, you may as well put an NFL team in fucking Atlantis. There is no Detroit anymore. It's been lost to history, never to return. You don't see Major League Baseball keeping the Fort Wayne Kekiongas around, do you? No. Stop playing sports in an ancient ruin. It's creepy.
Football-wise, this wasn't a particularly good defensive team last season, especially when the refs gave running backs a second chance to get up and carry the ball against them. And now they've lost Cliff Avril, Kyle Vanden Bosch's red contact lenses, three defensive tackles, two corners, and 60 pints of blood. Oh, but Nick Fairley is still here to get injured for 10 weeks, and Ndamukong Suh will glare at the opposing team's offensive linemen until things just feel really uncomfortable.
It gets worse. The Lions lost two starting offensive linemen in the offseason, which means Stafford will be running for his life, so maybe he won't look so deceptively fat after 16 weeks. This is a low-rent version of the Saints offense. They can rack up 5,000 passing yards between the 10-yard lines and then do nothing once they actually have to score. The Lions have NO ONE to throw to outside of Calvin Johnson. Titus Young was released and is presumably still sleeping at the AT&T Store. Pettigrew drops everything. Nate Burleson is 7,000 years old. Oh, but Reggie Bush is here now. He could do the area more good operating a hydraulic steering wheel press.
Why your team doesn't suck: You have a quarterback. That's 95% of the hard work, right there. Now you just have to hope that Colin Kaepernick, Matt Ryan, Aaron Rodgers, Russell Wilson, Drew Brees, and Eli Manning all get injured. The way this preseason is going, it's more than plausible.
The 16 worst Lions ever:
1.) Matt Millen. The rest of this list is academic, really.
2.) William Clay Ford. NOTE: Still not dead! No wonder so many billionaires want to own NFL teams. They artificially extend your lifespan an extra twenty years.
3.) Charles Rogers. AY DAY.
4.) Marty Mornhinweg. Still somehow worse than Rod Marinelli.
5.) Steve Mariucci. Fun fact: In the past 40 years, the only Lions coach with a winning record is Gary Moeller. He went 4-3.
6.) Dan Orlovsky
7.) Andre Ware
8.) Wayne Fontes. And honestly, he shouldn't be here. Fontes went to the playoffs four times in five years. He's your Bear Bryant.
9.) Reggie Rogers
10.) Scott Mitchell
11.) Tatum Bell. Lock your suitcases, gang.
12.) Scar
13.) Titus Young
14.) Mike Williams
15.) Roy Williams
16.) Joey Harrington. A list of worst Lions can simply double as a list of "Lions First Round Picks Throughout History"
Emails from Lions fans!
Kenny:
If you mention Barry Sanders in a room full of Lions fans, 90% of them will still stay he could rush for 1,000 yards today. He retired 15 years ago. I'm just waiting for Calvin Johnson to walk away from having his soul crushed in the shithole that is the Lions too.
Shlok:
Our starting QB, for all his talent, throws a football like Jennie Finch pitches a softball.
Matt:
We treat Matt Stafford like he has the accuracy of an archer and the arm power of Hercules. In all honesty if he didn't have Calvin's hulking body to throw the ball to, he would accumulate 12 yards a game. "Ohhh but he threw for 5,000 yards." That's because we get so far behind in the game so quick that our only option is to air the ball out.

Two years ago when we actually made the playoffs, the Saints didn't punt ONCE during the entire game. Did we fire the defensive coordinator? No, we signed the asshat to an extension.
Paul:
Fuck me, why do I bother!?
Travis:
People still wear fuckin Charles Rogers, Roy Williams, Joey Harrington, and Kevin Jones jerseys to the games. It is as if Matt Millen has the same child porn pics on them that he did on Ford Sr.
Patrick:
I am a lifelong Lions fan (thirty fucking years) and these assholes could legitimately fuck up a glass of water and a cheese sandwich. We have a coach that was a mediocre defensive coordinator, coordinators that were utter fucking flops as head coaches, and an offensive line that is led by a center who is 5'2" and looks like he actively represents the lollipop guild. Reggie Bush may get killed this year.
Patrick:
Give the Lions ownership some credit: after losing every game one season they boldly and decisively got rid of SOME of the management involved. Not all, of course—can't be hasty here!
Jeff:
Do you know how agonizing it is to see teams like the Buccaneers, Saints, and especially the Cardinals all make the Super Bowl before the Lions? Hell, the Texans entered the league a decade ago and have won two playoff games. A baby born the day the Lions last won a playoff game can legally drink now, and the last time they won a championship bathrooms were still segregated. None of the last 13 non-interim head coaches have received another NFL head coaching job.

And yet there's always this blind optimism every year, as if all of Southeast Michigan has the collective memory of a goldfish. During tonight's preseason game against the Jets, the local play-by-play guy described Shaun Hill as "a guy who knows how to win games." I don't even even know how to respond to that. Nothing about this team will change until they bury old man Ford, hopefully in his ugly shitbox of a stadium.
John:
Our offensive line and secondary are perfect metaphors for all the neighborhoods in Detroit that have been completely abandoned and left to the elements. I'm 21 years old, have horrible social skills, and have never gotten past first base with a girl. I still think I'm getting laid before the Lions win a fucking playoff game.
Ron:
You have never seen so many fucking smiles after a LOSS than at a Lions game. It's almost sickening that failure is what we expect from the Lions. It's like a culture in that God-awful city. I can say that. I'm from that shithole.
Rovitz:
5-11 here we come. Fuck this team.
John:
Lions played their 1st preseason game tonight. Stafford completed 3 of 8 for 58 yards. Calvin had 3 catches for 58 yards. Kwame Kilpatrick can do this math.
Nigel:
We draft a receiver or defensive lineman every year in the top 10 while continuing to operate under the impression that a team's secondary doesn't have any discernible impact on the outcome of a football game.
Tim:
We think we're so smart. Why did Stafford underthrow that pass? "Rewind it... Look? Did you see his release point?" Just because you're a jobless asshole suffering from the statewide victim complex so you watch ESPN for 8 hours a day doesn't make you Jaworski or any other idiot whose BS you memorize.
Kyle:
Wanna have a sad with me? The other day I saw something Honolulu blue in the back of my closet and grabbed it. It was a Germane Crowell jersey, circa 2000. In high school I was a huge Michigan State fan and when Crowell was released and Charles Rogers was drafted (to also wear #80) I duct-taped over the nameplate on the back and wrote ROGERS in sharpie.

Then I proceeded to wear it to school the Monday after the draft. It's by far the saddest piece of clothing I own, and I'm not sure I want to give it to goodwill because I couldn't stand seeing some asshole vagrant in my town sporting a Lions jersey.
Steve:
You don't know suck until you've visited Detroit. Seriously, it's the only city in the United States with housing cheaper than a night's stay at a nice hotel, and it's still considered a bad investment. It literally takes a day for the police to come to your house if there's a break-in; even the burglars get burgled. The city of Detroit is the absolute only thing that the Lions are better than. Most cities have buffer zones between their bad neighborhoods and million dollar stadiums. Not Detroit. You can look across the street from Ford Field and see blown out windows in a 200 year old brick building with a spray-painted mural of a whore getting slapped by a pimp - but hey, at least she's making money.

The worst part is that the fans buy into the Lions. EVERY YEAR. Including myself. For whatever reason, we think a washed up running back, kicker who made a Youtube video, and a defensive end who's played less minutes of football than the average high school sophomore were somehow the missing pieces. Oh yeah, that's what's going to get us over the hump, guys.

If my Lions ever want to win, they need to get the living hell out of fucking Detroit. Move to Columbus, OH - a white collar area where all the Browns fans are just BEGGING for a reason to root for a different team. You cannot win in a city that was bred to lose.
Craig:
Quit pretending that you are from the actual city of Detroit to fuel your fantasies of being a badass. Being 150 pounds overweight, driving a truck, sporting a D tattoo, sucking Kid Rock's dick, and living in the suburbs does not make you badass, it makes you a prime candidate to have a stroke at 45.
David:
The Lions have exactly ONE playoff game in the last 55 years. One, and that was 22 freaking years ago. The Texans, who have been around for a little more than a decade have two wins. The Carolina Panthers had two wins...in 2005. The Browns, who have been HORRIBLE, still have 7 wins over that time period. The Cardinals have been horribler, and they went to a Super Bowl. Pick ANY team...Jacksonville, Cincinnati and they all have managed to somehow accidentally have a short period where they were good enough to actually win some playoff games. But not the Lions, their playoff incompetence is almost supernatural.
Bill:
My brother and I had season tickets for the infamous 2008 season. Our renewal offer for 2009 included an increase in ticket price.
Brian:
In the 47 years of the Super Bowl era, the Detroit Lions franchise has 3 fewer playoff wins than Mark Sanchez.
Luca:
Matt Stafford is a slower, fatter, whiter Daunte Culpepper. Culpepper was good for one reason: Randy Moss. Post Moss he had ZERO good seasons, best QB rating was 78. Take Megatron away from Stafford and what so you have? A fat white guy that fucking sucks at football. Freak of nature WR's can make really shitty fat QB's a lot of fucking money.
Zach:
The drafting skills are miserable. They've had a screaming need in the secondary for years, but instead of using our first round picks on them, we decide to use late round picks on these bums who couldn't cover a bed with sheets. Louis Delmas has had a whole 7 months or so to recover from whatever injury he has now yet he'll still be questionable for week 1 of the preseason, and every other serviceable DB will find a way to get hurt so we'll be stuck with practice squad jokers like Jonte Green and Jacob Lacey starting by week 8.

The defense is just so miserable on this team. Watch highlights from the game against the Tennessee Titans game last year. They made Jake Locker look like fucking Steve McNair out there. Then people around here treat Gunther Cunningham like he's some defensive god when in reality, he's one of the worst DCs in football. Him and Jim Schwartz have the authority of a substitute teacher with all of the stupid penalties and arrests that happen.

The funniest thing is, the Lions completely define Detroit as a city. No, not the blue collar, hardworking Detroit that everyone plays them off to be, but the thugs and idiots who just when you think they can't find any more ways to fuck up, they do. Barry Sanders, our greatest player ever and maybe even the NFL's greatest player ever retired via fax on the first day of training camp and I can't help but see Calvin Johnson doing the same someday because this team is run so poorly. They can't even find a good half time performer for the fucking thanksgiving game half time show. Kid Rock and Nickelback are the most recent. Fuck Kid Rock.
We're so fucked. They only have three guys: Calvin Johnson, Stafford, and this other dude just have all our money.
Rich:
If you are within 5 blocks of the stadium you are safe, anywhere outside of that area you had better be Snake Plissken to get out alive.

The Fords are just like everyone else. They blow in watch the game, get their 'Livin' In The D' on and then get the hell out before all the game time police presence disappears and the city returns to its usual hellscape. God I hate being a Lions fan.
THE ONLY FUCKING TIME MY OLD MAN EVER EXPRESSES ANY HOPE OR OPTIMISM IS WHEN FOOTBALL SEASON APPROACHES. "HEY THEYRE LOOKING PRETTY GOOD THIS YEAR. WHO KNOWS?" WHO KNOWS? I FUCKING KNOW AND IVE ONLY BEEN WATCHING THIS FUCKING TEAM HALF AS LONG AS HE HAS. SIX WEEKS INTO THE SEASON THOUGH HE FINALLY GETS IT. THE LIONS DO SOME DUMB SHIT AND HES BACK TO HIS POSTGAME RITUAL OF TRASHING THE PLACE IN A MOTHERFUCKING RAGE AND GOING TO BED AT 5PM

POPS ONCE TOLD ME WITH AN INFUCKINGEXPRESSABLY SAD SERIOUSNESS "I WONT REST IN PEACE UNTIL THE LIONS WIN A SUPER BOWL. I MAY BE DEAD WHEN IT HAPPENS BUT WHEN THEY WIN ONE I'LL KNOW." SERIOUSLY HE TOLD ME THAT SHIT ONCE. AND THATS WHY I WILL DESPISE MATT MILLEN UNTIL MY DYING BREATH. MATT MILLEN STOLE EIGHT YEARS FROM MY FATHER. EIGHT LONG YEARS. AND IF I EVER SEE THAT EMIL MUZZ LOOKING MOTHERFUCKER I'M GONNA COLLECT THAT DEBT TO THE FUCKING SECOND

FUCKING LIONS. A TEAM SO FUCKING SHITTY THAT IT MADE AN ARMY FIRST LIEUTENANT SAY FUCK IT I QUIT. WE LEVERAGE LEAGUE LEADERS INTO LOSING SEASONS AND ALLTIME GREATS INTO TOTAL MEDIOCRITY. WE REFLECT OUR CITY'S DYSFUNCTION MISMANAGEMENT MISERY AND PIGHEADED STUPIDITY LIKE A FUCKING MIRROR AND WE ALWAYS KID OURSELVES THAT IT'S SOMEHOW GETTING BETTER. SQUEAKY FROMME WASNT AS DELUDED AS WE ARE

THIS IS A TEAM WITH A CULTURE SO FUCKED UP THAT ONE OF THE BEST OFFENSIVE LINEMEN IN OUR TEAM HISTORY PROUDLY DECLARED THAT HE REPEATEDLY LET HIS QB GET DEMOLISHED BECAUSE HE DIDNT LIKE THE GUY. AND THIS WAS BACK WHEN WE ACTUALLY MADE THE FUCKING PLAYOFFS ON A REGULAR BASIS IF YOUR IMAGINATION CAN CONJURE SUCH A CIRCUMSTANCE. THAT'S OUR LIONS: EVEN WHEN THEYRE FLAILING ON THE CUSP OF GREATNESS THEY STILL FIND TIME TO BACKBITE AND FUMBLEFUCK AROUND. WHATEVER IT TAKES TO FUCK UP AND LET EVERYBODY DOWN.

DRAFT PICKS BURNED LIKE AUTUMN LEAVES. CHARLES ROGERS CAPS HIS 12-GAME PROFESSIONAL CAREER BY THREATENING TO MURDER HIS MOTHER AND PASSING OUT IN HIS BOOTH AT ON THE BORDER IN NOVI LIKE A FUCKING WINO. MIKE WILLIAMS SPENDS TWO YEARS FATTING AROUND IN DETROIT BEFORE GETTING FOLDED INTO A DOGSHIT TRADE WITH OAKLAND THAT ILLUSTRATED THE CONCEPT OF SUNK COST BETTER THAN ANY ECONOMICS TEXTBOOK EVER FUCKING COULD.

AND ALL THE WHILE WERE DICKING AROUND WITH THESE LOSERS ANDRE JOHNSON AND DEMARCUS WARE ARE DOWN IN TEXAS RACKING UP ALLPRO HONORS LIKE REGGIE ROGERS RACKS UP VEHICULAR HOMICIDES AND BEN ROETHLISBERGER IS THE ALL-SEEING ALL-RAPING RINGBEARING FOOTBALL GOD OF YINZERLAND. THE MIND REELS

EVEN THE GOOD PICKS ARE WASTED IN THAT SPECIAL DETROIT WAY. MATTHEW STAFFORD? SURE THE FUCKING GUY LOOKS LIKE HE SHOULD BE OUT LOOKING FOR ONE EYED WILLIE'S TREASURE BUT THE FACT IS HE'S THE FIRST LIONS QUARTERBACK IN DECADES THATS WORTH A BENT DICK AND YET SOMEHOW AFTER FOUR YEARS IN THE LEAGUE AND A COUPLE SEASONS OF MONSTER STATS AND A PLAYOFF APPEARANCE HIS CAREER HIGHLIGHT REMAINS THAT TIME IN HIS ROOKIE YEAR WHEN HE PEELED HIMSELF OFF THE FIELD TO GET THE WIN IN A SHOOTOUT WITH BRADY FUCKING QUINN OF ALL FUCKING CLIPBOARD STANDS. IT WAS A FEAT OF HEROISM SO BOLD AND SO MEANINGLESS IT WAS LIKE RUNNING INTO A BURNING BUILDING TO SAVE A GOLDFISH. WE WENT 2-14 THAT YEAR AND WE STILL TALK ABOUT THAT GAME LIKE IT WAS OUR PERSONAL FUCKING SEA OF HANDS.

COACHES COME TO DETROIT TO FUCKING DIE AND OFTEN RIGHTLY SO. THAT FUCKING IMBECILE MARTY MORNHINWEG FOR INSTANCE. FUCKING GUY WINNING THE COIN TOSS THEN STUPEFUCKINGFYINGLY GIVING THE MOTHERFUCKING BALL TO THE MOTHERFUCKING FUCKING BEARS WHO OF COURSE PROMPTLY SCORE. HE SHOULDVE BEEN COURT-MARTIALED AND EXECUTED RIGHT THEN AND FUCKING THERE. EITHER THEN OR THAT TIME HE MADE SOME BIG PRODUCTION OF ROARING OUT OF PRACTICE ON HIS HARLEY LIKE HE WAS CLAY FUCKING MORROW AND NOT SOME OVERPROMOTED DIPSHIT WITH NO BUSINESS WHATSOEVER MANNING THE CAPTAINS WHEEL. I CAN SCARCELY DREAM UP A MORE FITTING HELL FOR AN ASSHOLE LIKE THAT THAN BEING TASKED WITH UNTANGLING THE LOW RENT QUARTERBACK CLUSTERFUCK IN THE JETS CAMP

THEN IT WAS STEVE MARIUCCI. THE MITT ROMNEY OF NFL COACHES. THAT BLAND WEATHERMAN VENEER OF COMPETENCE WITH THE UNMISTAKABLE AIR OF A MAN WHO WOULD RATHER BE ANYFUCKINGPLACE ELSE. DUDE ONLY CAME TO DETROIT AS A FAVOR TO HIS FAT STUPID FRIEND WHO WAS TOO FUCKING DUMB TO TAKE CARE OF THINGS HIMSELF. KINDA LIKE NED STARK. TURNED OUT ABOUT THE SAME WAY FOR HIM TOO

AFTER THAT WAS MARINELLI BRINGING THE KIND OF DARK ARITHMETIC THAT TRANSFORMS 6-2 TO 7-9 TO 0-16. NOW ITS COACH SCHWARTZ SWIRLING DOWN THE DRAIN. HE TAKES HIS FASHION CUES FROM THE DOG WHISPERER AND ALL HE THINKS ABOUT ON GAMEDAY IS WHETHER HE SHOULD LISTEN TO BILLY SQUIER OR THE FUCKING SCORPIONS. BUT AT LEAST HIS HEART'S IN IT. AND THAT PASSIONS GONNA SERVE HIM WELL IN A YEAR AFTER HES SCORED THAT PLUM ASSISTANT DEFENSIVE COORDINATOR GIG WITH THE JACKSONVILLE JAGUARS.

THESE ARE THE DETROIT FUCKING LIONS WERE TALKING ABOUT. EVEN IF IT'S THE BEST CASE SCENARIO EVEN IF MY EVERY LAST FUCKING ROCKHARD REGULAR SEASON FANTASY COMES TRUE IN THE END SOMEHOW THEY WILL UNDO IT ALL.

BECAUSE WHEN IT COMES TO THE DETROIT LIONS THERE IS NO FAIRY TALE. ITS ALL JUST A BIG JERKOFF. A SADISTIC FUCKING TORTURE GAME PUT ON FOR THE AMUSEMENT OF MILLIONAIRES WITH MISTER RICTUS HIMSELF WILLIAM CLAY FUCKING FORD SENIOR PULLING THE STRINGS. HA HA MADE YA CARE!

UGH. FUCKING LIONS.
Matt:
Everyone in Detroit wants to talk about how good Reggie Bush is going to be, or about Matt Stafford throwing for 5,000 yards and 35+ TD's. Nobody ever wants to talk about how we have no fucking corners or offensive lineman who should be starting in the NFL.

The Lions' offense is run the way 8-year-old plays Madden: Throw it to Megatron 50 fucking times a game when he's covered by five defenders and expect to be successful. People around here think Stafford is an elite quarterback because of the numbers he puts up, but refuse to look at the fact that he set an NFL record for passing attempts in a season (727). I guarantee a dog can make better play calls than Scott Linehan does. The only reason they didn't go 0-16 again is due to Calvin Johnson playing 3 different positions (WR1, WR2, WR3) while Titus Young is off sabotaging the offense and stealing his car back while saying he's the best receiver in the league.

Don't even get me started about special teams. Stefan Logan kneed a kick at the four yard line. The four fucking yard line, and he's still on the roster. Not to mention Schwartz throws challenge flags on plays that are ALREADY being reviewed, costing the team the review and a penalty. Add that penalty to the 12 offsides, 6 holdings, and 5 Ndamukong Suh personal fouls, and they have more penalty yardage than offensive yardage.

I could watch Sarah McLachlan animal cruelty videos for 3 hours each Sunday and I would still be happier than watching the Lions blow a lead on the last play of the game.
Luca:
Matt Millen had a protege. His name? Martin Mayhew. Because when you fire the worst GM in NFL history, you replace him with his right hand man...right? Guy who "learned" under him.

Mayhew has 22 wins in 5 years as a GM...so 4.4 wins a year. Matt Millen won 31 games in 7 years...4.4 fucking wins a season.
Nathan:
I moved to a new city with no money or job to be with the woman I thought I was going to spend the rest of my life with. She dumped me at the airport. Every Sunday, I'd wake up early (thanks PST!), to watch the Lions by myself in a shitty one star hotel bar because they had Sunday Ticket and no one else was there to protest for something better. The Lions went 0-16 that year. It was a rough year.

I'm looking forward to the Lions coming up with new and creative ways to bury a once in a generation talent (history is on their side), while watching Matt Stafford side-arm momentum destroying interceptions as our secondary perfects the art of never, ever covering someone and Suh does something indefensible after the whistle every game until he's banned for life.

Thanks to my beloved Lions, my expectations for all aspects of my life are surprisingly low and easy to meet. Here's to the dream of .500 football.
Dan:
Since Barry got fed up and quit (errr, retired), here has been our solutions in the backfield:

James Stewart: Actually fairly serviceable for a few years before getting his shoulder shattered by Greg " The Bounty" Williams' Buffalo Bills team. Never played again.

Kevin Jones: Promising 1,000 yard rookie season, but then ultimately got his career derailed by breaking his foot and was out of football for 2 years. Last seen with the Hartford Colonials of the UFL.

Tatum Bell: Traded our only Pro Bowl corner in recent memory for this piece of work. Stole Rudi Johnson's luggage on the way out of the facility after getting cut in training camp.

Jahvid Best: traded up to get him in the first round despite the fact his brain got scrambled multiple times at Cal.

Mikel Leshoure: Got arrested twice for marijuana possession within before even attempting his first career carry. As if that wasn't dumb enough, got legal advice from the guys in the opening scene of Super Troopers AND TRIED TO EAT THE WEED IN FRONT OF THE COPS. He's so forgettable no one has even bothered to update his Wikipedia page since then. Also, has an asshole first name.

Remember all of this when you are talking yourself into drafting Reggie Bush during the 4th round of your fantasy draft.
Matt:
Calvin Johnson set the single season record for receiving yards with 1,964 yards yet only scored 5 TDs. That's nearly 20 full football fields.

The Lions haven't won a playoff game since 1991. Erik Kramer was the QB. His nickname is supposed like "Brass Balls" according to Wikipedia. Not sure why that didn't take off.
Mihir:
My dad wasn't even born the last time the Lions won a championship, let alone a Super Bowl. My dad is 51. Fuck me. Our 2nd Round pick from 2 years ago, Titus Young, hated being a Lion so much that he purposely lined up incorrectly on the field. Our coach doesn't even know the fucking rules, as he cost us a game on Thanksgiving last year in which we FINALLY put on a good show for the national audience.

Oh, and guess how many playoff wins we have since 1957? Hint: It's the same number as stomping victims of Ndamukong Suh. Oh, and we get to listen to this shitty song EVERY TIME the Lions score, even if we're losing 38-3 to the Packers.
Robert:
While Lambeau and Soldier Field scream "Football! Fall! Grit!", Ford Field screams "Soft Jazz! Mall Food Court!"
Tom:
After the Lions had capped off their "perfect" 2008 season, my friends and I (in high school at the time) created a video entitled "True Lions Funeral". My friend Mike taped an "0-16!" piece of paper to himself and performed a mock suicide while I played Taps in the background. It's on YouTube.

I fucking hate this team.
Wanna be part of the Deadspin NFL previews? It's simple. Just email me and give me ample evidence of why your team sucks: personal anecdotes, encounters with fans, etc. I'll throw any good material into the post and give you proper credit. Next team up: THE BEARS.
Image by Jim Cooke/Getty