Some people are fans of the Indianapolis Colts. But many, many more people are NOT fans of the Indianapolis Colts. This 2013 Deadspin NFL team preview is for those in the latter group. Read all the 2013 NFL previews so far right here.
Your team: Indianapolis Colts
Your 2012 record: 11-5. This is the part where NERDY METRIC NERDS like me tell you that the Colts actually had a net point differential of minus-30 last season—a mediocre team that got some good bounces, in other words. It's just like the old saying goes: You are what your record says you are, unless you have a terrible net point differential, in which case you are what your net point differential says you really ought to be.
Your coach: Chuck Pagano, who will actually have to get out there and COACH this year. No more free rides for you, mister! You can't just go coasting along on #CHUCKSTRENGTH this time around. You get one uplifting cancer season and that's it. America won't tolerate a rerun. It's altogether possible that Chuck Pagano is a terrible head coach and you won't know it for certain until this season. And man, that'll be an awkward moment.
Your quarterback: Strong-armed Frankengoober Andrew Luck. Luck threw 18 interceptions last season (third in the league behind Drew Brees and [SPOILER ALERT] Tony Romo), completed less than 55 percent of his passes, and had a passer rating of 76.5. Oh but somehow, this glorified Jake Locker is the most promising quarterback out of the Gang of Four? RG3, Russell Wilson, and Colin Kaepernick all completed more than 60 percent of their passes last season, and all of them had a passer rating above 98. (NOTE: Passer rating is an arbitrary and useless stat UNLESS used for trolling purposes!) Of course, it's the WHITE quarterback who gets praised for being the most "pro-ready" and having extra clutchitude. THAT IS RAYYYYCESS! Did you know Andrew Luck REALLY wants to be an architect? This young man has a good head on his shoulders!
G/O Media may get a commission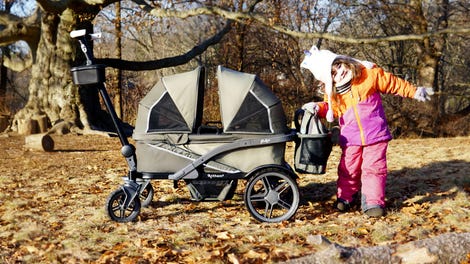 30% off
The Anthem All-Terrain Stroller Wagon Adventure Bundle
Go everywhere with your kids
This must-have bundle nets you either of Gladly's award-winning Anthem2 or Anthem4 All-Terrain Stroller Wagons as well as must-have accessories like a parent cupholder, a removable storage basket, extra-large canopies, a nap system, quilted comfort seats, a cooler bag with a padded shoulder strap, and a travel bag.
Your one fantasy player everyone will hate: Donald Brown. DAMMIT DONALD!
Donald Brown will probably go undrafted in your fantasy league. He's third on the depth chart behind future PUP listers Ahmad Bradshaw and Vick Ballard. But mark my words: One week, you'll be desperate for backs and you'll troll the free agent list and there Donald will be, sitting at the top, ready to suck. And somehow, every other option will be worse. It'll be between Donald Brown and the corpse of Craig Heyward. I should never be surprised when the free agent list is barren of good choices, but I always am. HOW COME DOUG MARTIN ISN'T AVAILABLE?!
Why your team sucks: No team is a more obvious choice to regress to the mean this season than the Colts, who overachieved in Luck's first year and still have the same problems they had a year ago: bad defense, a shitty line, a habit of turning the ball over, etc. You awful, galumphing Indy fans deserve nothing more than to watch your beloved-only-when-winning home team come crashing down to Earth. It's not quite right to say that Indiana is nothing more than Ohio's gunt; it's also Chicago's outhouse. It's a place where the Midwest's choicest townies and Klansmen gather to make babies out of wedlock, give handjobs to exhausted truckers, and root for white basketball players. Indiana is a tire fire that never goes out.
And the worst part is that Colts fans think they're CLASSY. These are the kind of people who will hold a rehearsal dinner at a T.G.I. Friday's. Thanks to Tony Dungy and Peyton Manning and Bill Polian, this is a fanbase that believes it roots for a team that has more character than your team. Look at this breathtaking load of shit:
"We were not in the Hernandez business," Polian said.
Oh, of course you weren't, Bill! You had far too much character to draft such a shady fellow to play for your franchise. This is the guy who drafted RAE FUCKING CARRUTH for Carolina back in 1997. What a sleaze. I bet Marvin Harrison has killed more people than Aaron Hernandez has.
This is what happens when a fanbase stumbles ass-backwards into a decade-plus of high-quality quarterbacking. They begin to believe they DESERVED such good fortune, that Andrew Luck and Peyton Manning were karmic gifts bestowed upon them because they're such proud, humble, PURE Midwestern folk HOOSIERS HOOSIERS HOOSIERS JIMMY CHITWOOD SMALL TOWNS JOHN MELLENCAMP. Bullshit. The Colts were kidnaped from another city and then molded in the fat, arrogant image of their new, drunk captor. They're an episode of Sister Wives. They creep me out. Take a look in the mirror, Colts fans. This is you:
Get ready for a long season of Dan Dierdorf talking about the Colts as if he were watching them all dive into a river to save a drowning baby. It'll be the only fellatio CBS will ever broadcast. "I tell you what, Greg: The way Jim Irsay has led this franchise through such difficult times. It really has been remarkable to watch!" You will hear that, verbatim, at some point this season.
Why your team doesn't suck: Like Manning, Luck has a frustrating habit of turning nondescript players into valuable targets: Dwayne Allen, T.Y. Hilton, etc. I don't like seeing these guys get more credit than they deserve for lucking into playing with a good quarterback. You people are like Erin Andrews: far more replaceable than you realize.
The six worst Colts ever:
1. Robert Irsay. "You love the Colts? Why don't you treat me right?"
2. Anthony Gonzalez. OH BUT HE'S MY SLEEPER PICK THIS YEAR (watches Anthony break six ankles in Week 1).
3. Ron Meyer
4. AR-15
5. Steve Emtman
6. Jeff George. Whitlock says he could still be a good backup!
Emails from Colts fans:
Derek:
We fell into the two best quarterback prospects of the last 25 years and people around here are still butthurt that Manning got cut when no one really knew if he would ever be the same. Every time I see a person wearing a Manning Broncos jersey I must resist every urge to punch them in the face.

Also, this was possibly the worst offseason in NFL history. GM Ryan Grigson managed to sign future WWE star Laron Landry, some backup from the awful Packers defense, Darius Fucking Heyward-Bey and Jean-Francois god knows what. Then drafted a great 4-3 DE to play OLB in a 3-4 defense. Add in the fact that they are quickly out Bengals-ing the Bengals and the recipe is complete for a 5-11 season.
Jeff:
Other than Robert Mathis, there isn't one player on the Colts defense who would start for any other team in the league. Anyone who tries to convince you that Pat Angerer would start anywhere else is either an Iowa fan or thought Steve Alford would have a fantastic NBA career.
Christian:
Cassius Vaughn is still on the team. I'll let this collage do the talking.
Nick:
The Colts went from a season ticket waiting list in 2011 to hiring a company to sell season tickets in one freaking year. How does that happen? But the absolute worst thing and what really sent me over edge last year, people were showing up to games last year in Peyton Manning BRONCOS JERSEYS! Nothing says "Football didn't exist in Indy until 1998" like a fucking orange Manning Jersey.
Robert:
Jimmy Irsay has negotiated his fair share of sweet deals with central Indiana straight out of Dad's Baltimore playbook. Cost overruns, unnecessary amenities, and an oversized airport-hanger-esque stadium mostly financed by the taxpayers of Central Indiana? Passive-aggressive threats to move the team to LA? Unnecessary upgrades to suites? Check, Check, and Check. Depending on your perspective, Jim's either made a series of shrewd business moves or is just another 1%-er using the NFL moneymaking cartel to extract more of the middle class's disposable income while risking relatively little of his own.

Is Jim Irsay some kind of troll genius? I guess that makes him suck even more.
Colin:
1. They tanked the 2011 season on purpose. No backup plan for a potential Manning injury? Oh I know, let's pretend Curtis Painter is a serviceable professional quarterback and give him the ball every Sund... OH HI KERRY COLLINS! HERE'S A HANDLE OF WHISKEY AND THE COLTS OFFENSE!

2. Fetushead was a raging asshole; video of his many run-ins with longtime center Jeff Saturday is proof. He couldn't possibly bear to give up even the smallest amount of control he lorded over the team, GM, or fans as possible. Those videos are not "great examples of a solid competitor," they're the sign of a spoiled rotten kid who couldn't take no for an answer. I was glad to watch him choke (again) in the playoffs; now Broncos fans know the feeling of watching year after year of incredible teams fall far short of a championship.

3. Our fans have to be the dumbest on the planet. Half of them renounced the organization when Manning was released and immediately purchased Broncos jerseys. Ask any of them a question about football and 93% of the time the response will be PASS IT PEYTON! PASS IT!

4. They succeeded in making Bruce Arians look like head coach material and now he's going to fail in Arizona. I'm actually OK with this; with Arians out as the OC, Luck's career longevity jumped by 25%.
Dusty:
I am fucking dreading that Week 7 matchup with Denver. Peyton is going to RUIN us. Then he's going to win the Super Bowl in a non-Colts uniform and Elway's gonna say "THIS ONE'S FOR PEYTON" and I'm going to want to drink all the antifreeze.
Todd:
You know what will happen in October when Peyton comes to town? Half the stadium will show up and cheer for Peyton. They'll bust the old 18 Jerseys and long for the good old days and curse Irsay for ever letting him go. They will literally cheer for the Broncos on Sunday Night Football in their own stadium. Fuck those fans and fuck that stupid circle in the center of the city.
Jason:
Here's to another year of Andrew Luck trying desperately to outscore other teams only to watch the team lose when Blaine Fucking Gabbert completes a bomb to Cecil Fucking Shorts
---
Wanna be part of the Deadspin NFL previews? It's simple. Just email me and give me ample evidence of why your team sucks: personal anecdotes, encounters with fans, etc. I'll throw any good material into the post and give you proper credit. Next team up: Tampa Bay Buccaneers.
Photo: Getty.