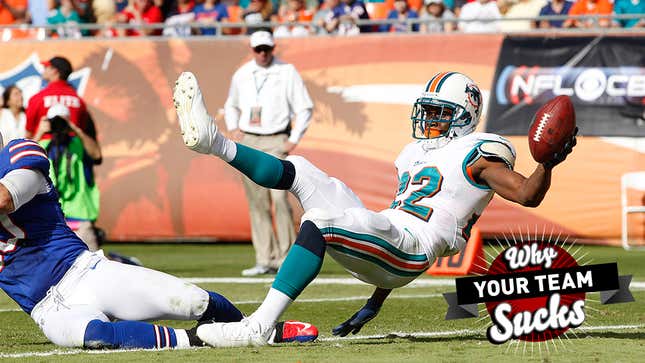 Some people are fans of the Miami Dolphins. But many, many more people are NOT fans of the Miami Dolphins. This 2013 Deadspin NFL team preview is for those in the latter group. Read all the 2013 NFL previews so far right here.
How running an NFL team is like running a restaurant | Chef Emeril Lagasse
Your team: Miami Dolphins
Your 2012 record: 7-9. Wow, they won seven games? That's actually kind of impressive.
Your coach: Joe Philbin, who looks like a lobbyist for the corn industry. Your offensive coordinator is Mike Sherman. If your passing game is clicking, Mike Sherman will run. If your running game is clicking, Mike Sherman will pass. And if both are clicking, Mike Sherman will elect to punt. Keeps the defense on their toes. I can't imagine how much collective sleep Dolphins players get in meetings whenever Sherman and Philbin take the mic.
Please note that the Dolphins have changed their uniforms this season. They now look like a team from a videogame that forgot to secure licensing rights from NFL Properties. It's South Florida versus Boston in the Big Game, only on Sega Pro Football!
Your quarterback: Ryan Tannehill, who takes over the BRO I'D CRUSH HIS WIFE BRO mantle now that Brodie Croyle is out of football. Andrew Luck and RG3 were both historically great rookie quarterbacks. And then there's Tannehill, the kind of quarterback who gets drafted in the first round because a team needs a quarterback and reaches for one because they're terrified of not finding one in the second or third round. So... YAY.
Tannehill finished last season on a "hot streak," if you count throwing four touchdowns against Buffalo and Jacksonville a hot streak (I do not). He also lost his best running back and his left tackle this offseason. And his new tight end (who kinda sucked) is out for the year. WHAT A BRIGHT FUTURE THIS YOUNG MAN HAS.
Your fantasy player everyone will hate: Mike Wallace. The Dolphins handed Wallace $30 million in guarantees this offseason. That's $30 million for a dude who couldn't even break 1,000 yards last season. He tanked BEFORE he got his contract, DeSean Jackson-style. Not since Albert Haynesworth has the entire world seen a free agent bust coming from so far away. I expect Wallace to order a pizza on the field by Week 4.
Why your team sucks: $146 million. That's how much the Dolphins spent collectively this offseason on free agent contracts. And yet, does anything about this team strike fear in your heart? At least when the Eagles splurged for Jason Babin and Nnamdi a couple years back, they gave off the illusion of vast improvement. Never has one team spent so much to remain so thoroughly underwhelming.
Here are the players that are costing Miami all that money: Wallace (sucks), WR Brandon Gibson (a Rams castoff, sucks), CB Brent Grimes (coming off a torn Achilles), Keller (already done for the year), WR Brian Hartline (poor man's Brandon Stokely who is himself a poor man's Wes Welker), LB Dannell Ellerbe (proto-typical Super Bowl participant free agent cashing in), SS Chris Clemons, and backup QB Matt Moore (TRIPLE sucks). That's what $146 million bought you, Dolphins fans. Add up those seven players and you roughly 1/12th the physical ability of LeBron James. That's a hefty price to pay to get skullfucked by New England for the next four years.
I assume that owner Stephen Ross spent all this money so that people of South Florida would approve public funding for upgrades to his shithole of a stadium, but that effort was soundly defeated back in May. Ross will now have his revenge on Miami by slashing expenditures, threatening to move, and hiring Pitbull to perform at EVERY halftime. Like the Chargers, the Dolphins are a warm-weather team in an uncertain stadium situation with a distinct inability to capitalize on their attractive location. This is where players and coaches come to half-ass the twilight of their careers. Like Jimmy Johnson, Mike Wallace has come here to enjoy a cushy retirement that includes only an occasional effort to look like he gives a shit about football.
This is the franchise that Miami deserves. For the whiteouts at Miami Heat games alone, Miami deserves to be swallowed up in a giant Florida sinkhole. The city earned a mediocre team that plays in either a monsoon or a steam bath every home game. I've been to Miami. It's an open-air version of an upscale mall food court, with stray chickens walking around. The largely cosmetic changes the Dolphins made this offseason perfectly echo the average middle-aged Florida divorcee who has bleached hair, a suspended driver's license, coral-painted toenails, and face a cut up more often than a Publix birthday cake. They only look impressive from very, very far away.
Also on the football front, the Dolphins traded up just so they could play Dion Jordan out of position, and their running back platoon consists of Lamar Miller, Daniel Thomas, and something called Mike Gillislee. They're gonna need a few more donkey punches from Richie Incognito to gain any kind of positive yardage on the ground.
Why your team doesn't suck: Oh my God, the Jets and Bills are fucking disasters. Compared to them, the Dolphins look like the Yankees. Sometimes, it's nice to know you can't possibly be the worst. You can be bad, but at least Jeff Tuel won't be deployed.
The 12 worst Dolphins ever:
1) Nick Saban. The Dolphins head coaching history post-Jimmy looks like face-eating incident on an I-95 offramp. So it's saying a lot that Saban represents rock bottom for that group. Makes you wonder how much bribe money Alabama countered with for Mrs. Saban.
2) Dan Marino (aborted GM version)
3) Cleo Lemon. Like Babe Laufenberg, poor Cleo has the perfect name for an incompetent QB. He makes a perfect go-to reference for any joke about shitty passers.
4) Ray Finkle
5) Jeff Ireland. He's still there! How the hell is that possible?! Who did his mom blow for money to help him keep his job?
6) Wallace (just a hunch)
7) Mercury Morris, because fuck him.
8) Jake Grove
9) John Beck
10) John Avery
11) Yatil Green. Pretty sure Jimmy did all his drafting from his boat.
12) Sammie Smith
Emails from Dolphins fans!
Marc:
With glaring holes at CB and LT, and a draft loaded with talent at those positions, the Dolphins traded up to draft a defensive end that they plan on using only on third downs. The Dolphins squandered a second round pick to trade up in the flattest draft anyone can remember.
Rick:
They let Jake Long walk to replace him with Jonathan Martin who is a God-damned turnstile.
Nathaniel:
Jeff Ireland in shorts.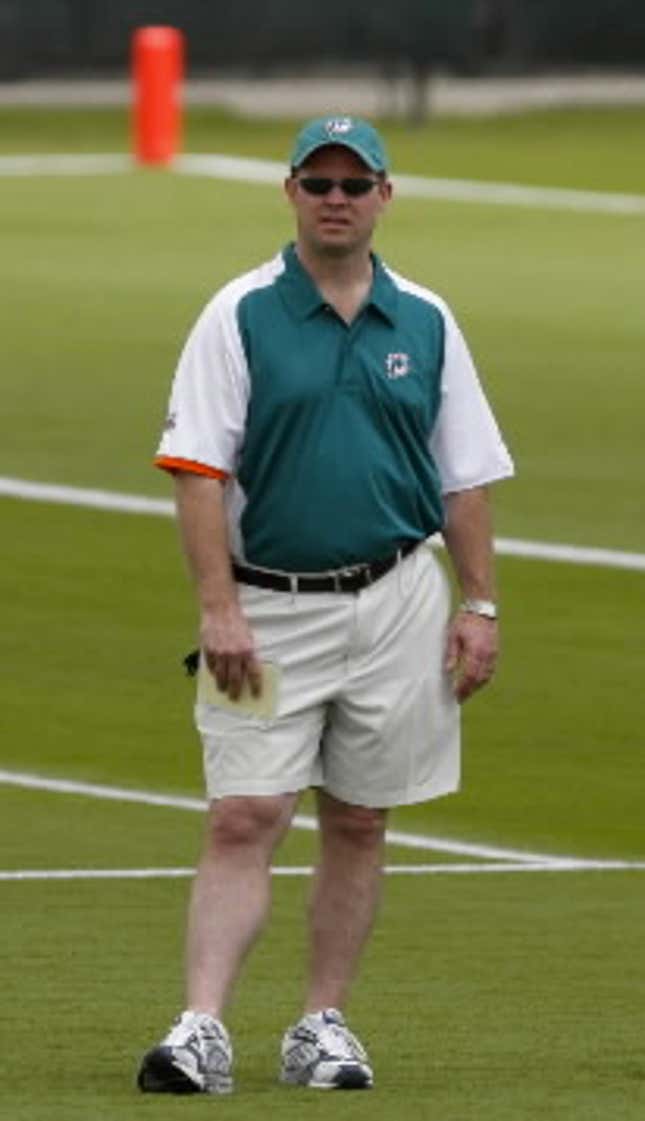 ---
Seamus:
When the Dolphins lose two in a row, everyone in South Florida transforms into a remote-rooter for whatever team is in first place.

The Dolphins are constantly being blacked out locally because the entire economic base is comprised of real estate swappers and DJs.
Steve:
The Dolphins haven't been to the conference championship game since 1992. The Jets have made it three times since then. Yet we as Dolphins fans have the nerve to say the Jets suck.

Ken O'Brien was 8-7 in his career against Dan Marino. Yet we as Dolphins fans have the nerve to say the Jets suck.

The butt-fumbling train-wreck that was the 2012 Jets finished 8-8*. The new-coach, new attitude Dolphins finished 7-9. Yet.....well you get it.

It's amazing how some Dolphins fans think that the Bills and Jets are beyond awful and that the Dolphins are this close to being contenders. Really, all three teams are turds floating around Belichick's toilet. They'll be flushed by November....like always.
(*6-10, actually)
Gary:
I grew up with the Miami Dolphins, and I have no connection to this team. They just don't feel like the team of Shula and Griese and Marino and the No-Name Defense and the Marks Brothers and that fucking Kellen Winslow game that drove my mild-mannered parents into breaking shit. They feel like another faceless, tacky expansion team, no more loved in the community than the Marlins or the Florida Panthers or FIU football. It didn't used to be that way.

Since Don Shula retired, this team has no personality, and no direction. They contradict themselves, like signing Ocho Cinco and then releasing him for his behavior, or making Dan Marino hand off to Karim Abdul-Jabbar 20 times a game. They hire horrible people, and then never get rid of them, like Jeff "Is Your Mother A Whore" Ireland, and renowned imbecile Dave Wannstedt. Attempts to engage the fan base have been ham-handed, like selling ownership stakes to a bunch of out-of-date, vaguely Hispanic pop singers.

The Dolphins fan base is in a demographic death spiral as it is. The kids who grew up living and dying with the Dolphins, like me, have all moved out of state. The adults who rooted for them in their glory years have all died of old age. (Dolfan Denny: 2007, age 72.) Everybody in south Florida is a transplant now, who brought with them their allegiance to the Jets, Giants, Patriots, Eagles, Redskins, or Steelers. And local kids seem to follow those teams, so there's not even any hope of raising a new generation of Dolphins fans.
Brad:
I would throw a hot dog at Bill Parcells if I saw him on the street. That fucking fraud can get gonorrhea and rot in hell.
Elliott: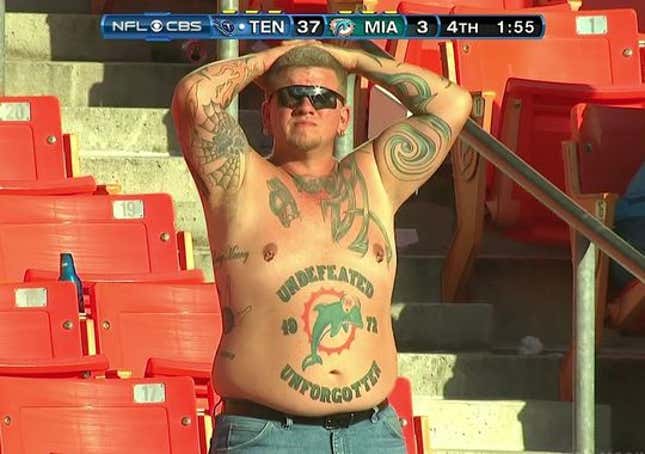 ---
Mike:
Since Marino left, the best quarterbacking I've seen was from Jay Fiedler and one season of Chad Pennington before his linguini arm fell off. Notable starters include: Damon Huard, A.J. Feeley (acquired with 2nd round pick), Daunte Culpepper (selected over Drew Brees), Ray Lucas, Sage Rosenfels and Cleo Fucking Lemon. Our best offensive player once quit in the prime of his career to smoke weed full-time.
Wyatt:
We traded Wes Welker (WES WELKER!) to the Patriots (our FUCKING division rival…) for a 2nd and 7th round pick who ended up being fatass Samon Satele and Abraham Wright…
Spencer:
I'm sitting there at training camp this year watching practice and it's painfully obvious the crowd can't recognize any of our fucking starters. If I had a nickel for every time someone mistook Lamar Miller for Reggie Bush, who is no longer on the goddamn team, I'd have at least 10 bucks. And they hand out rosters, with the names matching the numbers. People still ask aloud "Man, who's this #11 guy? He looks fast." The rest of the crowd looks up from their phones for the first time since they've arrived and indignantly agree and loudly repeat this statement like it was a legitimate fucking question, in both English and Spanish.

The running joke told at every camp for the last 4 years is whichever unlucky son of a bitch RB who is wearing #34 is Ricky Williams. Poor Marcus Thigpen gets an earful of HURRR GOOD JOB RICKY NICE CATCH by some fat slob every time he manages to make a play, and the crowd eats it up, laughing their asses off while simultaneously questioning why Ricky Williams is returning punts these days. The sad part is, these are the people who bothered to show up for training camp, which means they're some of the more dedicated and knowledgeable of the cesspool that is the Miami Dolphins fanbase. They don't deserve more than 7-9 to be honest.
Carlos:
We are a basketball town now. The Dolphins will never be good again.
J:
90% of the homeless population wears Dan Marino jerseys.
Josh:
The Dolphins don't know how to acquire players. They draft shitty and they trade worse. They've never gotten the better of a deal. Ever. Not in my lifetime. They traded a second round pick for AJ Feeley. Fuck AJ Feeley. Hellen Keller would've been more accurate and probably had a better arm. They traded for Brandon Marshall, then traded him away when he got in trouble, then signed CHAD FUCKING OCHOJOHNSON. That's like trading a headache for a fucking brain tumor. Don't even get me started on what a narcissistic piece of wife beating trash that guy was. Watching him get fired on HBO was the best Dolphins football I saw all last season.

Rick Spielman makes Matt Millen look like a fucking genius, and Jeff Ireland makes both of them look like Albert Einstein. If it's not Jason Allen not even being good enough to play for his whole rookie contract, then getting pity fucked onto the field to get torched by every slot receiver in the league, its Ted Ginn Jr. who played one good game and spent the rest of the time running for the sideline screaming for mercy. They drafted Jake Long first overall in the same draft the Falcons took Matt Ryan, and then watched Long flit off to play for the St. Louis Rams. All of our good players go to the Patriots.

Our top receiver last year was Brian Hartline, because he was literally the only guy who could catch the ball on first or second down. The. Only. One. Of course he catches it and gets run down two yards later because a turtle with a Buick strapped to its back could outrun him. Davone Bess could turn a third and seven, but only because he flubbed first and second down, despite being a thin cunthair faster than Hartline. I'll bet you Mike Wallace's contract that Mike Wallace will find himself hip deep in hookers and coke before the trade deadline. Players only sign with Miami if they want to party and get high. Ryan Clark would rather live and work in PITTSBURGH than play for the Miami Dolphins.

Our fans are a bunch of fucking assholes.
Sean:
Thank God for Lebron.
Mike:
Fuck LeBron.
Pat:
There has been a lot of grumbling about the teams' new logo. But when you think about it, it's kind of perfect. The new uniforms are trying too hard to be hip & trendy manage to be both unattractive and strikingly uninteresting, all the while bearing little resemblance to the team's long-gone glory days.
James:
You are not a true Miami sports fan unless you leave the seats you dropped a month's rent on at the beginning of the 4th quarter.
David:
If I hear "Fins Up" by Jimmy Buffet one more time I will get high on bath salts and start stabbing people with a broken bottle of Land Shark Lager (TM).
Eric:
FUCK NICK SABAN.
Jeff:
I can't wait for week 5 when CBS cuts to a hysterical Lauren Tannehill running towards her husband's mangled corpse after he was eaten alive for the 11ty billionth time this season.
Cole:
Our greatest accomplishment happened over 40 years ago, and everyone down here still pretends like it's a current event. When the old geezers showed up at the White House, dragging Larry Csonka out of some bear den in Alaska, we immediately clap and cheer like seals while we ignore that the very foundations of the franchise have been crumbling around us for years.

Half the city would kill our GM for pennies, all our coaches since Shula have either been fired, resigned, or ran as fast they could to fucking inbred Alabama. Our ineptitude at selecting quarterbacks over the past decade and a half is matched only by the Chicago Bears.

Miami fans are like toddlers, they march to the shiniest thing you put in their little fat fucking faces.
Dan:
I can't stop thinking about how bad they are.

Every year, they lose some big chunk of games to start out the season, and just when you think they're going to tank and at least get a good draft pick, they end up 7-9. Every Year.
Joe:
Fuck Pat White.
Scott:
Miamians are so desperate to hang out with anyone who has ever been on national TV, people still get excited to catch a glimpse of Brooke Hogan down here. Katrina Campins will be elected Mayor at some point for lasting through 2/3 of The Apprentice in 2004. A-Rod could be convicted of shooting heroin into the arms of children but he will absolutely have a large portion of U.S. 1 named after him before he turns 50.

We have a nightclub in our football stadium because you can't build anything in Miami without putting a club into it. It's an unwritten rule, sort of like the one that prevents us from drafting a decent quarterback. Dan Marino is God but I wouldn't be surprised if he had a voodoo doll in one of his house's 27 rooms that he pushes every time a Fins GM tries to acquire Drew Brees. Until we solve the QB riddle, Dan will always be The Man and he can keep fathering illegitimate children without losing his Beverly's Jewelers sponsorship deal.
Mike:
Fuck Nick Saban.
Brian:
Have you been to a game there in September? It is like visiting Mercury. Half of the stadium is in the nice, cool shade, while the other half is in searing, unbearable heat.
Alex:
Daniel Tosh said it best. "Taking an STD test is a lot like being a Dolphins fan. You know you could win, but you probably don't deserve it."
David:
Fuck Jay Fiedler

Fuck Damon Huard

Fuck Ray Lucas

Fuck Brian Griese

Fuck AJ Feeley

Fuck Sage Rosenfels

Fuck Gus Frerotte

Fuck Joey Harrington

Fuck Daunte Culpepper

Fuck Cleo Lemon

Fuck Trent Green

Fuck John Beck

Fuck Chad Pennington

Fuck Chad Henne

Fuck Tyler Thigpen

Fuck Matt Moore
Richard:
My best friend stood on a chair, in a restaurant, chanting, "Brady Quinn, Brady Quinn" during the 2007 NFL draft. The look in his eyes when the name Ted Ginn Jr. was announced is something I will never forget. Ever.
Joe:
Jeff Ireland is King ginger and the destroyer of worlds. Stephen Ross looks like a gargoyle and Joe Philbin looks like a Scooby Doo villain.
Dez Bryant:
Fuck Jeff Ireland.
Braden:
The defense hasn't made a solid tackle in open space for about seven years.
Arthur:
South Florida, the land where a fast-food worker told my friend that she couldn't accept a Susan B. Anthony dollar because "We only accept American currency here."
Jerry:
Fuck Michael Egnew.
Tyler:
My father got to see five Dolphins teams play for championships. I've gotten the NFL's version of the Kansas City Royals.

Football is bullshit.
Brian:
I don't even know why I'm a Dolphins fan. The fucking wildcat season is my best memory.
Matt:
There is a school of thought that says that with each passing moment we become a new person as we age and that our old self dies. A continuous line of death and rebirth. If time is a smooth and flowing river, then we experience an infinite number of infinitely short lives over the course of our lifetime.

If you subscribe to this view, then you can argue that the Dolphins have had an infinite number of shitty QB's since Marino retired. However, the true number is actually quite a bit higher.
Nigel:
Being a Dolphins fan is like watching a sports movie in reverse, the championship celebration first and all the awful shit in the years to come. It's Memento starring Garo Yepremian and Sammie Smith where Mercury Morris shoots Gary Stevens at the end/beginning.

Every decade made the one preceding it look better. The 80s made us want the 70s, which was dumb to us in the 90s because the 80s were obviously awesome, except we're at the point now where the '90s are a kind of Golden Age. I WISH we were doomed to repeat history.
Brock:
Triple, super, ultra-fuck Nick Saban. Fuck him in his eye socket with a goddamned tack hammer.
---
Wanna be part of the Deadspin NFL previews? It's simple. Just email me and give me ample evidence of why your team sucks: personal anecdotes, encounters with fans, etc. I'll throw any good material into the post and give you proper credit. Next team up: Buffalo Bills.
Art by Jim Cooke/Photo from Getty