Some people are fans of the Atlanta Falcons. But many, many more people are NOT fans of the Atlanta Falcons. This 2015 Deadspin NFL team preview is for those in the latter group.
Your team: The Atlanta Falcons, proud byproducts of the Georgia educational system…
Your 2014 record: 6-10. But that was no ordinary 6-10, people. Remember when the Falcons played the Lions at 9:30am ET in London? And blew a 21-0 lead in the arguably the most poorly coached game in NFL history? I do! The Lions won that game after they missed a field goal, got hit with a delay of game penalty, and then nailed the winning field goal when Atlanta couldn't decline the penalty. I'm gonna miss Mike Smith. HEY MIKE, THERE'S A BAT IN YOUR CAVE!
G/O Media may get a commission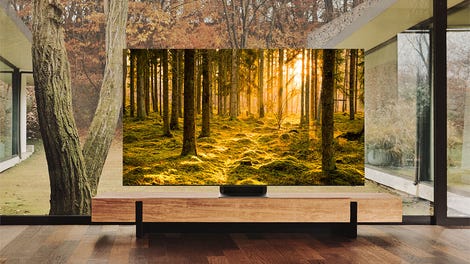 Up to 40% off
Samsung Smart TVs
Mike Smith was a shitty coach, but at least his comedic mishaps gave you a reason to tune in. He's gone now, replaced by…
Your coach: Dan Quinn, who is yet another in the long line of promoted defensive coordinators who look like thumbs. Here is Mike Pettine…
And here is Gus Bradley…
And here is Quinn…
Thumb after thumb after thumb. These people all look like they all look like Dana White's stunt doubles. Are you ready to be FIRED THE FUCK UP?! LET'S GET FIRED UP WITH SOME GODDAMN HOUSE OF PAIN, Y'ALL!
If there's one thing I know Atlantans love, it's House of Pain! South Boston is the original Dirty South!
Quinn has tapped Kyle Shanahan as his offensive coordinator. Shanahan left Cleveland after Browns front office officials texted down to the sidelines to complain because they hated his play-calling so much. Before that, he ruined RG3's career. PRETTY FUCKING SOLID RESUME. Join us in Week 9 when Shanny personally takes a dump in Matt Ryan's shoe.
Your quarterback: Matt Ryan. But honestly, what does it fucking matter? The Falcons had to play a tight end at tackle last season when they ran out of linemen. You could put Galactus under center and he'd get fucking creamed.
Ryan has gone 10-22 in the past two seasons, and while ascribing wins and losses solely to quarterback play is a fallacy, let's do it anyway because FUCK MATT RYAN. Matt Ryan is the perfect milquetoast QB for a milquetoast team in a milquetoast stadium surrounded by milquetoast fans who wish they were at a Georgia Bulldogs game. I don't want Matt Ryan to succeed. Joe Flacco already has a Super Bowl. I've had my fill of charisma-free quarterbacks winning stuff.
Also: the Falcons have no depth at running back and Roddy White and Julio Jones are rarely healthy at the same time. No amount of Kris Kross can alleviate such issues.
What's new that sucks: Linebacker Prince Shembo got cut from the team this offseason when he was accused of murdering his girlfriend's dog. Because people in Atlanta just cannot get enough of killing dogs. What is about this town that inspires wanton acts of animal homicide? GOD IT'S SO FUCKING BORING HERE. LET'S GO THROW FIDO DOWN A RAVINE.
Shembo, by the way, was the player at the center of Notre Dame's Lizzy Seeberg scandal. "We were fine with you being accused of raping a woman and driving her to suicide. But a dog? NOW YOU'VE GONE TOO FAR, SIR."
In other news, the Falcons new stadium (sponsored by Equifax!) opens in 2017. The revised cost is now $1.4 billion (a second massive revised increase in as many years), with the team incurring a record $850 million in debt to help fund its construction. Hey, I wonder how the team plans on offsetting those costs!
That leaves the team with a $1 billion cost, some of which will be funded directly by personal seat licenses and other contractually obligated revenue.
"Welcome to Equifax Stadium. That'll be $5,980 for a beer, please."
Keep in mind that the Falcons didn't even NEED this stadium, because the Georgia Dome is barely two decades old. But because this is the NFL, and because Arthur Blank is a fucking crook, you get $1.4 billion spent on Megatron's butthole:
The roof really makes it. It already looked like an open asshole on display at Magic City, but now they've added a roof that actually simulates human peristalsis. All this in a city that has one working snowplow. Truly, we live in a blessed age.
What has always sucked: No one will ever take the Falcons seriously. Ever. It's cute when they make an NFC title game or a Super Bowl, but come on. No one is scared of the Falcons. No other team is like OH GOD IT'S THE FALCONS RUN FOR YOUR LIVES! They got docked a draft pick this offseason for piping in fake crowd noise, and that fake crowd noise didn't even help because the team was 3-5 at home anyway. They are a perennially harmless team that will never achieve league-wide relevance. They're like the Hawks, but football.
I don't think much of Atlanta gives a shit anyway. All crucial decisions made in the Atlanta area are made with the goal of avoiding traffic, and then failing to avoid that traffic. Atlanta is nothing but sprawl, with no real center, surrounded by Klansmen. The Braves just moved their stadium to Cobb County specifically so that poor people couldn't access it. It is a painfully fucked-up city, and always will be. I'll let my friend Spencer Hall say more about his hometown:
"The city is the intestine through which all things must pass, and just as hot and prone to blockages.

"Like a large breed dog, we're prone to bloat. Every fifth building is a Panera, and the one next to that is a free-standing Chick-Fil-A. The governor lives in one.

"We have a Confederate flag rally at Stone Mountain this Saturday. Oh and Arthur Blank's buddy Bernie Marcus just snatches up whale sharks and puts them in a giant tank for his pleasure and charges the public for it."
Got all that? Atlanta can suck it. And fuck Chris Chandler.
What might not suck: I assume Quinn knows how to, like, do defensive stuff. Which is good, since this was the worst defense in football last year. The team drafted heavily on that side of the ball so that they can stand firm when Ryan gets carted off the field on a dog sled.
Hear it from Falcons fans!
David:
My wife and I were in the Caribbean during the Christmas holidays and decided to do some beachfront bar hopping for the Week 17 Win-Or-Go-Home Falcons/Panthers game. The first bar we went to, the Panthers' laughable offense was just strolling down the field on Atlanta. The second bar we went to, Matt Ryan threw a Pick-6. The third bar we went to, Matt Ryan threw another Pick-6. The fourth bar we went to, we ran into a guy actually wearing a Matt Ryan jersey some 1,600 miles away from Atlanta. He was alternating between shots of Fireball on the balcony and puking the shots onto the beach below.
Steve:
We artificially pump crowd noise into our stadium and the visiting team's fans are still louder than the home crowd 70% of the time.
Graham:
Julio Jones is the most physically talented receiver in the NFL not named Calvin Johnson, probably Top 5 overall, and an absolute lock to miss 2 games and be hobbled for 2-4 more.
Darius:
In a win-and-in situation for what was believed to be the worst division of the season (by a long shot), the Falcons could only muster 3 points in their home stadium.
Travis:
Fans secretly want to go back in time and legalize dog fighting.

Our biggest moment every year is when Julio Jones breaks one of his glass feet and then Matty Ice starts throwing the football like the 13-year-old he looks like. Jesus, I hate that nickname.

The city of Atlanta is a hot piece of poop as well.
Robert:
Matt Ryan is Jay Cutler in disguise. The only difference is Chicago fans seem to be somehow less delusional about Jay Cutler's suckage. Last season against Detroit in London, when Ryan threw that interception, I began to question whether he had an actual brain or some type of Metro PCS server running his body. After Vick left it seems like our organization is trying to stay as far away from exciting as possible.We have three running backs that are currently in diapers and if I keep hearing Dan Quinn talk about how they're "battling" I might have an aneurysm.

It's come to the point that I only watch the first half of their games now. When they're winning 17-0, then I turn off the TV and go out into the public where no doubt I won't hear somebody talking about how the Falcons choked up a loss because it won't be big news to anybody. The only thing I can possibly hope for is that we beat the Saints, I mean there's no way we lose to a Saints team without Jimmy Graham and a worse defense than the year before.... right?
Adam:
The Mike Smith Era was just a lot of dick punching.
Chad:
Our GM is one of those ass hats who dresses up in spandex and rides his road bike around during rush hour.
Tim:
They had a salesperson tell me with complete feigned sincerity that $11,000 was a "steal of a deal" for the PSLs to match my goal line season tickets in the new stadium. Oh also my tickets will increase in price by $700 per year, a 67% jump.

In our final game last year against Carolina, I walked into the restroom to see an enormous grown man laying in the floor with his flaccid dick flopped out of his pants wearing a stained Michael Vick jersey and singing "When the Saints Go Marching In". I was so upset that we were getting thrashed that I just stepped over him, relieved myself and left and didn't mention this to anyone until now.
Jacob:
As a child, I learned what being arrested for solicitation meant thanks to Eugene Robinson.
Darius:
Dan Quinn looks like that asshole dad at the end of the street that everyone hates. The kind that wakes up at 6am on Saturdays to mow the lawn and not giving a shit if it wakes up the neighbors.
Jim:
Every year is gonna be The Year that Matt Ryan and those talented skill players are gonna gel and Do The Thing. And every year Julio or Roddy or both eat shit during, like, week 5, at which point most fans stop paying attention until holy shit the Falcons are 6-5 and in contention for the NFC South playoff spot! Then we go and chop our balls off while Cam fucking Newton's corpse waltzes into a divisional title game.

But! New coach! Dan Quinn! We poached him from Seattle before the Seahawks' season was even over! He's got residual success! And he's got a shaved head! Feel the excitement! Except the excitement, like our fanbase and crowd noise, is entirely artificial, pumped in for a vapid competitive advantage that never pays off in any case.
Shawn:
Plain and simple, the guy that led the Falcons in sacks last year can be found in the attached video being thrown 5 yards downfield by TE Alex Smith of Cincinnati. There's no help on the block, no chipping, no help of any kind (other than a PED or twelve)! It's just a 3rd string TE sending a Atlanta's "best" pass rusher five yards the wrong way on a red zone pass play. It's not even the 3rd or 4th quarter, so Biermann shouldn't even be tired.
Brandon:
The Falcons are the type of a team that will put up 50 and look like an actual contender for a Super Bowl in one week, and then in the very next week will play like they stole some players off the Georgia State roster.

We just fired the best coach the team has ever had because he was a goddamn moron.
Jon:
I would like to focus on the positives:

-I no longer have to worry if Mike Smith is going to have a heart attack on the sideline

-I moved away from Atlanta, so I don't have to pay extra taxes for the new stadium

-We beat the Saints (7-9) twice last year!

-Matt Bryant's kicking game is on point
Submissions for the 2015 NFL previews are now closed. Next up: The New York Giants.