Some people are fans of the Detroit Lions. But many, many more people are NOT fans of the Detroit Lions. This 2015 Deadspin NFL team preview is for those in the latter group. Read all the previews so far here.
Your team: the Detroit Lions. The Lions: Eat Three Buttholes At The Stadium, And The Fourth Is On Us!™
From here on out, as long as I live, the first thing I think about when it comes to the Detroit Lions will be parking-lot rimjobs. They could win a million Super Bowls (they won't), and it won't matter. They're the Butthole Team now. It was destiny that brought this franchise and analingus together at last. Never shall they again be separated.
Your 2014 record: 11-5. Hey, that's pretty good! Let's see how it ended OH MY GODDDDDDDD…
"There is no foul on the play." God, listen to Pete Morelli sneak that in, like he slipped into a bar fight and jammed a knife between your ribs. That reversal was staged for maximum hurt. They announced the penalty, let Detroit celebrate, and then took it all away. Your joy was exported to China. It's not coming back. Sorry.
G/O Media may get a commission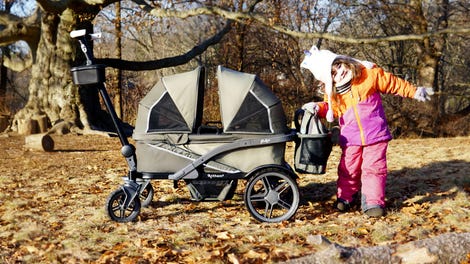 30% off
The Anthem All-Terrain Stroller Wagon Adventure Bundle
Go everywhere with your kids
This must-have bundle nets you either of Gladly's award-winning Anthem2 or Anthem4 All-Terrain Stroller Wagons as well as must-have accessories like a parent cupholder, a removable storage basket, extra-large canopies, a nap system, quilted comfort seats, a cooler bag with a padded shoulder strap, and a travel bag.
Remember: The Lions blew a 14-point lead in that game. It shouldn't even have come down to that play.
Your coach: Jim Caldwell. Given the incompetence of his predecessor, his much-needed calm demeanor, the fact that he went for it on fourth down more than any other coach last year(!!!), the fact that he won 11 games in his first season, and the fact that the Lions were knocked out of the playoffs by dark forces beyond his control, maybe it's time we looked at Jim Caldwell in a whole new LOL JUST KIDDING HE'S STILL A FUCKING CHUMP. 4th-and-1 and the Cowboys' 46 and this guy PUNTED. He punted! What a goddamn loser.
Also: only in Detroit could you replace your idiot coach and end up watching him get CARRIED off of your home field a year later.
Your quarterback: Overfed Texas rich boy and Juggs-Machine-set-to-ERRATIC Matt Stafford. Did Stafford have a stereotypical new money Texas wedding this offseason? YOU KNOW HE DID.
If I could put money on any QB to one day be photographed at an inappropriately-themed cocktail party for young white people, it would be Matt Stafford. IT'S PLANTATION NIGHT, Y'ALL! I MADE JULEPS! We could dedicate a whole new series of posts to how much Highland Park sucks.
What's new that sucks: This offseason, the Lions were faced with two choices: A) Overpay Ndamukong Suh and Nick Fairley and watch them sabotage the team by going directly into the tank, or B) Let them walk and watch the second-best defense in football fall apart as a result. The Lions chose option B. This is life in Detroit. You are presented with a number of options, all of which leave you fucked. Suh went to Miami, but not before being subjected to this billboard, which I guess is what passes for clever in Michigan:
Fairley went to St. Louis. To make up for those devastating losses, the Lions mimicked an honest-to-God functional organization and traded for Haloti Ngata. JUST LIKE A BIG BOY TEAM WOULD! Of course, Ngata has been on the injury list all training camp with a hamstring problem. The Ravens probably suckered the Lions by sending a stunt man to stand in during the physical or something. When you're the Lions, it's only a matter of time before everything falls apart all over again. They are always due. Where's that gif of Stephen Tulloch tearing up his knee while celebrating a sack?
Oh yeah. That's the Lions I know. I feel comfortable again. The Lions will probably extend Ngata's deal just as all his muscles wither simultaneously.
Also, Dominic Raiola is gone. There's no one left to stomp on anyone! And the team drafted Ameer Abdullah in their ongoing, hilariously futile request to replace Barry Sanders. God, look at the backs that have come through here: Reggie Bush, Mikel Leshoure, Tatum Bell, Kevin Smith, Jahvid Best, Brian Calhoun, Artose Pinner, James Stewart, Joique Bell… GUHHHHHHHH. Fun Fact: Since Sanders fled Detroit, the team's leading rusher has been Kevin Jones. Kevin Jones played in Detroit for four years. He cracked a thousand yards ONCE. That's the No. 2 guy. Christ. This team picks running backs nearly as poorly as they pick quarterbacks.
What has always sucked: I got stuck sitting on a plane in front of two ladies from Michigan this summer. People, you don't know pain until you've been subjected to three nonstop hours of the Michigan accent. It is fucking BRUTAL. They don't know they have an accent, either. Like, at least Minnesotans KNOW they sound stupid. Michigan people have no idea. YEAHHH OH MY GAAAAAAD.
There will always be an enormous disconnect between how Michigan people see themselves and how the universe sees them. Every person I've met from Michigan is just as fat and loud and lazy and obnoxious as any other Midwestern barfbag of a human being. And yet, these people spend their whole lives walking around with self-bestowed DETROIT CRED. As if sticking around Michigan makes you hardier and stronger than the average American. LOOK AT ME! I'M SO TOUGH LISTENING TO KID ROCK AND DRIVING A BROKEN CHEVY AND SHOPPING AT THE LOCAL KROGER! Meanwhile, I know damn well that the only reason people stay in Michigan is for the 10-cent recycling deposit. Being from Detroit doesn't make you gritty or loyal or special. It just means no one else will take you in. Fuck Michigan. Michigan can eat the biggest butthole. And fuck Jim Harbaugh while we're at it. And Bob Seger too. And coney dogs! It's just a stupid fucking chili dog. Look at this shit:
"Not to be confused with a chili dog, Coney dogs are a naturally cased beef hot dog, topped with an all-meat bean less chili"
"Not to be confused with a chili dog, a coney dog is a chili dog."
Also: fuck Golden Tate. And the tight ends are still puke. How can you have so many bad tight ends? The only time I notice a Lions tight end is when they get a flag picked up on them, or when they get cuckolded by Russell Wilson:
What might not suck: You guys are handy with a laser pointer, I'll tell you that. BUTT BUTTHOLE, BUTT BUTT BUTTHOLE...
Hear it from Lions fans!
Rich:
Just fucking horrible in so many ways.
Josh:
Being a Lions fan has made me hate the sport of football.
Dan:
Our secondary has been shit my entire adult life.
Kyle:
I have had the displeasure of watching the Lions waste the best RB and WR of all time without even winning two playoff games in a row.
Steve:
The Lions have a closest-to-the-pin challenge during training camp. This is my favorite part of the season.
James:
Our QB is a fat Eli Manning without the accidental Super Bowl rings.
Tom:
The Lions have made the playoffs 5 times since 1995. Here are their records the season after the first four of those years:

5-11

5-11

9-7

4-12
Andrew:
I was gonna say, "At least we're not the Jaguars." But the goddamn Jaguars have made it to a Conference Championship game more recently than we have.
Chris:
Eight straight playoff losses.

My boss is big Cowboys fan. As a side note my boss has never been to Texas. Fuck him.
ZODIAC MOTHERFUCKER:
LAST SEASON THE LIONS WENT 11-5. BEST WEVE SEEN FROM THESE ASSHOLES SINCE FUCKING FREEJACK WAS IN THEATERS. AND I STILL WANNA STRANGLE EVERY MOTHERFUCKING LAST ONE OF THEM. HERES WHY:

LYING DOWN TO THE PANTHERS IN WEEK 2. HOLY SHIT WHAT A KICK IN THE BALLS THAT WAS. FIRST GAME OF THE SEASON THE LIONS CAME OUT HOT BEATING THE PISS OUT OF THE NEW YORK GIANTS ON MONDAYNIGHT FOOTBALL AND I KNOW 95% OF PEOPLE READING THIS HAD TO LIKE THE LIONS PUSHING ELI'S ASSHOLE FACE RIGHT INTO THE FUCKING TURF FOR THREE STRAIGHT GLORIOUS NATIONALLY TELEVISED HOURS. THEN WE TURN AROUND AND LET SCAM NEWTON BEAT OUR FUCKING ASSES BLOODY IN A 1PM GAME NOBODY GAVE A FUCKING SHIT ABOUT. VINTAGE LIONS AND EXACTLY THE KIND OF THING THAT YOU KNOW IS GONNA BE HAUNTING YOU COME WEEK 17

THEN THE BILLS. CHRIST. THE FUCKING BILLS. YOU KNOW WHAT? I THOUGHT I KNEW HATRED I THOUGHT I KNEW MURDEROUS FUCKING RAGE. THEN I WATCHED THAT PIECE OF SHIT COCKSUCKER FUCKING DOUCHEBAG JIM SCHWARTZ COMMAND HIS SECONDRATE SQUAD TO CARRY HIS FANCY FUCKING ASS OFF OF OUR FIELD LIKE IT WAS SOME GENIUS DEFENSIVE SCHEME OF HIS THAT BROUGHT THEM THE VICTORY AND NOT THAT LIMP NOODLE ALEX HENERY BIFFING THREE STRAIGHT FIELD GOALS AND MAKING ME PINE FOR THE GLORY DAYS OF DAVID AKERS. OH MY GOD IM FUCKING ASHAMED TO SAY I ONCE SHOOK SCHWARTZ' HAND AND TOLD HIM WITH ALL FRIENDLY CONCERN TO START LISTENING TO SLAYER INSTEAD OF ALL THAT WACK FUCKING STONEWASHED HAIRBAND DICKROCK FUCKING BULLSHIT HE TWEETS ABOUT. HE SHAKES HANDS LIKE A BITCH BY THE WAY. FUCK HIM AND FUCK BUFFALO AND REALLY FUCK THE FUCKING #BILLSMAFIA

I WAS IN ALL MY GLORY FOR A WHILE AFTER THAT THOUGH WATCHING THE LIONS PULL A DECENT WIN STREAK AND WHO THE FUCK DIDNT GET A LONG LAUGH OUT OF THE NICE BRIGHT AND EARLY FUCK YOU THAT THE LIONS GAVE THE FALCONS IN LONDON. BUT SERIOUSLY WE USED UP A DECADE'S WORTH OF FLUKE VICTORIES IN THAT STRETCH. AND PHOENIX PUT THE KIBOSH ON THAT SHIT RIGHT QUICK AND LET US KNOW HEY MAYBE IT WASNT SUCH A GREAT IDEA CUTTING STAFFORD'S FUCKING BALLS OFF: TWO FUCKING FIELD GOALS IN THAT GAME TO THE CARDINALS' TWO WEAKASS FIRSTHALF TOUCHDOWNS. FUCKING PHOENIX FUCK THEM. EVERYBODY TALKING UP THEM LIKE THEY WERE SERIOUS. I KNEW THEY WERE BULLSHIT AND THATS HOW IT TURNED OUT AND THEY STILL MADE US LOOK LIKE IMBECILES

AND AFTER THAT THE PATRIOTS BURIED US LIKE WE WERE DRIVING THROUGH THE FUCKING BIG DIG. I WAS THERE FOR THAT GAME: FOUR FUCKING HOURS WATCHING MY SORRYASS TEAM GET DISMANTLED BY THE LOATHSOME FUCKING PATRIOTS WITH F15 FIGHTER JETS SOARING OVERHEAD IN PATRIOTIC APPROVAL AND FIREWORKS EXPLODING LIKE BEATING THE LIONS IS THE FOURTH OF FUCKING JULY AND THOSE PHONY IRISH A-TEAM WATCHING SIXTH-GENERATION AMERICAN FUCKHEADS THE DROPKICK MURPHYS BLARING ALL THE WHILE. IN FACT YOU KNOW WHAT THEY DID THERE AT WE-SHAVE-YOUR-BALLS STADIUM? THEY DID AN INFORMAL POLL OVER THE P.A. AND PLAYED DETROIT ROCK CITY AND IM SHIPPING UP TO BOSTON AND HAD THE FANS CHEER FOR THEIR FAVORITE. YEAH I WONDER HOW THE FUCK THATS GONNA PLAY OUT. BUT HEY THAT KIND OF RIGGED GAME IS RIGHT UP NEW ENGLAND'S ALLEY. FUCK THEM AND FUCK THAT WHOLE FUCKING CHEATINGASS ENTERPRISE. IT WAS HELL. SHEER FUCKING HELL. BUT AT LEAST I FOUND OUT WHATS WAITING FOR ME WHEN MY LIVER INEVITABLY FAILS AND I SHUFFLE OFF THIS BULLSHITTINGASS MORTAL COIL: AN ETERNITY OF 70,000 UPPERCLASS WHITE SHITHEADS WITH FAKE ACCENTS PRETENDING THEY'RE SOUTHIES BREATHING SAM ADAMS' DOGSHIT OKTOBERFEST DOWN MY NECK AND SCREAMING HOUSE OF PAIN LYRICS IN MY FUCKING EAR WHILE MY BELOVED PATHETIC BUNGLING LIONS GET RIPPED LIMB FROM LIMB BY A BUNCH OF CHEATING MURDERING SUPERMODEL-FUCKING ASSHOLES

OH AND SURPRISE THE LIONS LOST TO THE PACKERS TOO. FUCKING LAMBEAU FUCKING BULLSHIT FUCK IT ALL FUCKING GREEN BAY AINT EVEN A REAL CITY AND MOTHERFUCK ANY SON OF A BITCH WHO NEVER STEPPED FOOT IN WACKASS WISCONSIN BUT STILL PULLS FOR THEIR DESPICABLE FUCKING FOOTBALL TEAM. YOU SEE THOSE OUT OF STATE FRONTRUNNER MOTHERFUCKERS ROOTING FOR THE BUCKS? FUCK NO YOU DONT. AND VINCE LOMBARDI CAN KISS MY ASS TOO. FUCK HIM AND HIS HAT. BUT AS MUCH AS I HATE THE PACKERS I FUCKING HATE THE LIONS EVEN MORE FOR NEVER EVER BEING ABLE TO BEAT THEM. OH SURE WE BEAT THEM AT FORD FIELD EARLY IN THE YEAR (TULLOCH BLOWING HIS FUCKING KNEE OUT DOING THE DISCOUNT DOUBLECHECK IN A CIRCUMSTANCE SO FUCKING DUMB IT MADE ME JUST WANNA NUKE THE WHOLE FUCKING CITY SO I DIDNT HAVE TO THINK ABOUT ANY OF IT ANYMORE) BUT WE COULDNT GET IT DONE WHEN IT MATTERED AND FROM EVERYTHING THESE SAD EYES HAVE EVER SEEN WE NEVER WILL. AND NO MATTER WHAT THE FUCK GLOVER QUIN SAYS JORDY NELSON TEARING HIS ACL ISNT PART OF GOD'S PLAN TO SEND THE LIONS TO THE SUPERBOWL. GOD'S PLAN IS FUCK THE LIONS AND HES BEEN PULLING IT OFF MASTERFULLY

WHICH BRINGS US TO THE FUCKING LIONS LOSING TO THE FUCKING COWBOYS IN THE GODDAMN MOTHERFUCKING FUCKING PLAYOFFS. THE WILDCARDASS PLAYOFFS OF COURSE SINCE WE LET THAT DIVISION LEAD DISAPPEAR LIKE THAT SIXTY BUCKS I WAS UP AT MOTOR CITY CASINO THE OTHER NIGHT. REF ALL PICKING UP THE FLAG LIKE "OH MY GOD IM SORRY MR JONES IT WONT HAPPEN AGAIN!" WHEN THE FUCK HAS THAT EVER HAPPENED. BUT HEY AS PLAIN FUCKING BULLSHIT AS THAT WAS MY LIONS CRUMBLED LIKE A MICHIGAN OVERPASS AFTER THAT SHIT. A TEAM THAT I LOVE SHOULD TAKE A BULLSHIT NO-CALL LIKE THAT AS A CHALLENGE NOT AS A MOTHERFUCKING GAME OVER SCREEN. NOT MY LIONS THOUGH. TEN YARD PUNT WHAT THE FUCK. WHAT THE FUCK. BENGALS ALL OVER AGAIN EXCEPT THIS TIME IT WAS THE PLAYOFFS . FUCKING LIONS. THEY LAID RIGHT DOWN TO GET FUCKED AND BOY DID THEY EVER

SHIT WHAT DID I MISS: OH YEAH. OUR FIRST ROUND PICK WANTS TO SOLVE THE HEALTH CRISIS IN JAMAICA AND ID MAKE A MILLION DOLLAR BET THAT HE MAKES THAT HAPPEN BEFORE HE SEES A FUCKING PLAYOFF VICTORY WITH THE LIONS. GOLDEN TATE'S STILL FUCKING YOUR WIFE AND STEALING MAPLE BARS AND ACTING LIKE THE PLACE HE SHOPLIFTED FROM OWES HIM A FUCKING ENDORSEMENT CONTRACT. JOSEPH FAURIA'S DOG CANT EVEN TAKE A PISS WITHOUT ROLLING DANCIN' JOE'S ANKLE LIKE A FATASS JOINT AND PUTTING HIS GANGLING ITS-ALL-GOOD-BRO 6-RECEPTION FUCKING ASS OUT FOR THE HALF THE SEASON. AND NDAMUKONG SUH HIT THE FUCKING ROAD LIKE WE ALL KNEW HE WOULD. AFTER ALL THE MAN IS A SOCIOPATH MOTIVATED SOLELY BY MONEY AND SPITE. GODDAMN I LOVED THAT GUY. THANK CHRIST HE WASNT SIGNED BY A TEAM IN OUR CONFERENCE. I HOPE HE FUCKING MURDERS EVERYBODY IN THE AFC

I ASKED MY OLD MAN FOR A FINAL WORD ON THE LIONS. HE SAID "WHY DO YOU BUG ME WITH THIS SHIT EVERY YEAR?" I WAS LIKE HEY IM A LIONS FAN. HE TOLD ME TO GET OUT WHILE I CAN. I CANT
Andrew:
The Lions were so bad in the late nineties, I used to pretend I was Brian Stablein when playing neighborhood games. Even Brian Stablein doesn't want to be Brian Stablein.
Anthony:
Our idiot owner died, but the goddamn team wasn't sold.
Kevin:
The Lions' 2014 first round draft pick (#10 overall), tight end Eric Ebron, was such a bust as a rookie that in training camp this year he initially refused to talk to any media except the team reporter. He knew that the only member of the media who wouldn't bomb him would be the team's propaganda agent.
Will:
A few years ago I went to a game (which the Lions actually managed to win on account of a near record setting performance in penalties by the Ravens) when the team was under a lot of fire. My parents attend church with William Clay's wife, and when they mentioned I was attending a game, her immediate response was "Oh, I'm so sorry."
Kyle:
The only way to be a good Lions fan is to be the last generation of Lions fans. Recognize that our existence on this earth is harmful to our families and communities and end it here.
Mike:
The NFC North has been in existence for 13 years, consists of a mere 4 teams, and yet somehow the Lions have still never managed to win it. Every other team in the division has won it at least 2x. Pair this stat with the fact that we are one of only 4 teams to never have made the Super Bowl (the other 3 did not exist for many years due to relocation/ expansion) and you have a real testament to futility.

We took the most electrifying running back in history and crushed his soul to the point that he flew to England to eat blood sausage rather than break the NFL rushing record. We're going to waste Megatron's career as well. First with a coach who thought he was an MMA fighter, and now with a coach who calls a timeout to think out calling more timeouts.
Matthew:
The only thing worse than the inevitable blown-fourth-quarter-lead crushing losses are the ensuing Drew Sharp columns the next day. It's like losing your grandfather and having a funeral attendee talk your ear off about how he should've taken better care of himself.
Brandon:
Matt Stafford is the dirt worst. His record against teams with a winning record, you ask? 3-32, with bonus points for 0-18 on the road against winning teams. He has NO touch, no accuracy, and when dudes break wide open for deep balls, he throws them 140 MPH 12 feet over their heads. When they break open on deep outs, he throws 140 MPH 12 feet over their head. When they break open on short crosses, he throws 140 MPH 12 feet over their head.
Chris:
The Lions have one of the most physically gifted receivers ever to play the game, and they still manage to score less than I did as a teenager with frosted tips.
Gerald:
-I have more faith that Michael J. Fox could hold a football longer than Ameer Abdullah before fumbling.

-The Lions should just trade all of their second round picks. We have fucked up more second round draft draft picks than Travis Henry fucked up being a father.

-Fuck Charles Rogers and him breaking his collarbone every year

-Fuck Mike Williams for being fat

-Fuck Roy Williams and Brandon Pettigrew for not being able to catch the football

-Fuck Alphonso Smith for getting turned around on Thanksgiving Day versus the Patriots

-Fuck Jim Schwartz for throwing a challenge flag when he knew he couldn't.

-Fuck Alex Henery for missing three field goals against the Bills and allowing them to win, leading to Jim Schwartz being carried off the field.

-Fuck the Lions front office for drafting a running back who got a gazillion concussions at Cal (Jahvid Best)

-Fuck Stephen Tulloch for tearing his ACL doing the discount double check

-Fuck Dan Orlovsky for running out of the back of the end zone like a moron, causing a safety

-Fuck Tatum Bell for stealing Rudi Johnson's luggage

-Fuck Kris Durham for throwing the ball behind him before he got out of bounds versus the Bucs.

-Fuck Reggie Bush for saying he wouldn't fumble again and three carries into a game, he fumbles

-Fuck Titus Young

-Fuck Fatass Nick Fairley

-Fuck CJ Mosley for getting suspended two games because he brought marijuana to London

-Fuck Matt Millen.

-Fuck the Lions front office for letting Cliff Avril go.

The worst part is this is just the warmup of how bad life has been as a Lions fan. If I keep going, I might have a stroke.
Colin:
As a kid my dad once took me to Lions training camp when it was being held in the beautiful metropolis of Saginaw Michigan. The line to get an autograph from Barry Sanders was so long that my dad wasn't willing to wait. Instead we walked right up and got a Scott Mitchell autograph and left.
Charlie:
Have you noticed that literally every WYTS column features an email containing the phrase "Even the Lions fan pitied me?"
Tom:
After the Lions won their first three pre-season games I was vacationing in Las Vegas in August 2008. The odds for the Lions to win the Super Bowl were at 160 – 1. Then they won the last pre-season game. The odds went down to 80 -1 on all the casinos except for the Mirage where I was staying. They were 3-0 in the pre-season and looking great! I took this as a sign and purchased five $20 wagers on the Lions to win at 160 -1. I came back to Michigan and gave one of these each to my 4 bowling friends and one for myself. The only condition was that if Detroit won, they would use the money to bank-roll a great trip with me back to Vegas.

After the Lion's third loss, one bowler gave me his ticket back. After the fourth loss, another bowler game me his back. After the sixth loss, the last two bowlers tore their tickets up in front of me.
Don:
My father was born the year the Lions won their last Championship. My father is dead now, of a heart attack, that occurred during a Lions game in January 2011. My father saw one Lions playoff win in his lifetime.
Mark:
Let's just put it this way. Watching the Cowboys lose a playoff game because of the Calvin Johnson rule was the second greatest moment in Lions playoff history in the last 50 years.

The Lions are awful.
Charles:
I moved away from the Detroit area when I was 12, and remain a devout Lions fan. I have never in my adult life met another Detroit Lions fan. I'm 45.
Jed:
They drafted a quarterback with the accuracy of Stephen Hawking on a tilt-a-whirl and anointed him the franchise. They went out and signed or drafted more ball-handlers than you see at the AVN Awards ... and then they say the QB isn't successful because he "doesn't have enough weapons". Never mind that they neglect to bring any even marginally-functional O-linemen so he has time to be more than a blonde Andy Dalton. The last notable O-lineman they took – Reily Reiff – got so fat in the off-season, he had the mobility of a tectonic plate. And what does the GM have to say about years of futility? Nobody knows. He's Opposite World Voldemort. You can say his name all god-damned day, but he's only gonna show up once a year (the end-of-season post-mortem presser), and he'll answer as many questions as Punxsutawney Phil.

The Lions' coaching history has 26 coaches, and for 13 of them, it was their one and only head coaching job ever. It's funny that Jack Kervorkian did time here, because taking the Lions head coaching job is like career assisted suicide. The one time in recent history when we didn't hire some underqualified anonymous schlub was Steve Mariucci.
Evan:
William Clay Ford was our old owner—he died last year, that's why we had the WCF patches. Urban legend has it that the Ford family bought the Lions for William so he wouldn't ruin the company. Seems like the family was onto something there.
Chris:
The Lions lost a first-ballot Hall of Famer who is probably the best defensive player to ever wear Honolulu Blue. Because of the team's cap situation, this was almost universally regarded as the right decision.
Josh:
Our quarterback once ran out of the back of his own end zone. The Lions lost that game by 2.
Luca:
I was at Fenway Park this past weekend for Tigers-Red Sox wearing a Lions shirt. Tigers won 5-1, at the bars after the game, lots of Tigers fans came upto me and every conversation devolved into what a worthless fat tub of shit Stafford is and how we'll never win with him. And how we replaced a destructive force at DT with an old fat guy coming off of a PED suspension.
Jerry:
- Ndamukong Suh signed with the Dolphins and yet he still counts as 9 million dollars towards our salary cap as dead money. Only the Lions front office could fuck that up.

- We thought for the longest time Kris Durham was a reliable number two receiver.

- The 2011 NFL Draft Class is considered one of the best draft classes from 2000-present. The Lions are the only team in the NFL that doesn't have a single player left from their 2011 Draft Class

- Fuck Alex Henery with a meatball sandwich filled with nails and acid. All he had to do was make ONE FIELD GOAL and then Jim Schwartz would have never been carried off the field for the Bills.

- Matt Millen gave into peer pressure and picked Mike Williams over DeMarcus Ware, even though he states he "knew DeMarcus would be a star."

- While we see teams obviously tamper with players during the non-negotiable period of free agency (i.e. Suh to the Dolphins and Revis to the Jets), the Lions got caught tampering with JARRAD PAGE!!! 99 percent of people don't even know this is a real person. We had to swap fifth round picks with Kansas City and lost a seventh round pick because of Gunther Cunningham's dumb fucking ass.

- Our quarterback is still fat

- Ameer Abdullah is a fatter version of Jahvid Best with the fumbling problems of Reggie Bush so yay.

- Fuck Eric Ebron with a pogo stick. He had an 11 percent drop rate at UNC and managed to make it worse. He had a 14 PERCENT (!!!!!!) drop rate on catchable balls last year.

- We have a history of players getting dumb injuries and being out for long periods of time: Nate Burleson trying to save pizza during a car crash, causing a broken arm, Joe Fauria hurting his ankle trying to prevent his puppy from peeing in the house, and the infamous Stephen Tulloch tearing his ACL celebrating a sack doing the discount double check

- We fired Matt Millen back in 2008 and we hired his assistant to take over.

- When we drafted Titus Young, we knew he had mental problems, yet we still took him in the second round of the 2011 NFL draft; he has more felony charges than touchdowns

- Our backup quarterback is the guy who scrambled out of the back of the endzone for a safety and didn't realize for days that he was out of bounds.

- Back in 2007, we traded our best player Dre Bly for OT George Foster and HB Tatum Bell; Foster was one of the worst Offensive Tackles you'll ever see play and Tatum Bell got so pissed that he was cut, he stole Rudi Johnson's luggage.

- I would make an entire list of "Fuck You" players for why the Detroit Lions but the list would be so long and I would become pissed at every name I put (Looking your way Matt Millen).
William:
Our moron front office who decided it was a good idea to make EVERY SINGLE DT'S CONTRACT EXPIRE AT THE SAME TIME
Aaron:
George Bush Sr was in office the last time we won a game in the State of Wisconsin.
Tim:
I am convinced the only scenario in which the Lions ever make the Super Bowl is where they will be matched up against the Cleveland Browns and the game will either be 0 - 0 or a turnover fest that goes into quadruple overtime until the NFL makes the judgment call to award the Lombardi trophy to the Patriots.
David:
My first Lions game (in person) was a chilly November 2004 in Jacksonville. These were the Coach Mooch / Joey Harrington-edition Lions, so they were basically useless on offense, and couldn't stop Fred Taylor on D.

Going into the fourth quarter, the Freddy T / Jimmy Smith Jags are up 17-0. I'm freezing and bummed, remembering why I never bothered to see them in person before. But then the Lions' Eddie Drummond scores a TD on a punt return, disclosing the location of the end zone to the offense. They grab a FG a little later. They're only down by one score, and the defense is holding up! The Jax crowd can only gape at the absurdity, fighting the urge to head for the exits because, come on, really? The Lions?

With like a minute left, maybe less, the Jags kick it to Eddie Drummond again. And he goes all the way! Twice in the fourth quarter, look it up! Has that ever happened before, or ever again? Tie game, headed to OT! Go freakin' LIONS!!!

The fact that the Jags went on to win on possession #1 of OT basically explains what every Lions season is like. At the end of every rainbow is a Calvin Johnson Rule.
Robert:
I grew up in the Upper Peninsula surrounded by Packer fans in a house full of Packer fans. I am a Lions fan.

Fuck you, Barry Sanders.
Brit:
Fuck Ndamukong Suh with a rusty auger.
Submissions for the 2015 NFL previews are now closed. Next up: the Arizona Cardinals.