Some people are fans of the Washington Redskins. But many, many more people are NOT fans of the Washington Redskins. This 2015 Deadspin NFL team preview is for those in the latter group.
Your team: Washington Redskins. #heritagenothate
Your 2014 record: 4-12. But they did lead the league in PRIDE, so there's that.
The fun thing about the Skins is that, on an annual basis, their abominable record is somehow the least embarrassing thing about them. As always, you can humiliate them simply by listing their vestigial fuckups over the past year in random order. Like so!

They held a Cyber Monday promotion but did not allow you to order anything using your computer.

They uprooted seats from FedEx Field for the third time in five years. Oh, but I'm sure the waiting list is still three generations deep.

Their bus crashed.

They got publicly pwn3d by Jeff Fisher when he made every player traded for RG3 a captain against them.

Clinton Portis went broke.

They bribed Indians.

They hired fake Indians.

Their fans managed to combine blackface WITH redface somehow.

Their coach openly admitted that the franchise quarterback is incapable of playing quarterback.

Joe Theismann lived another year.

Dan Snyder and his old lady went on TV to defend the Skins nickname, but not before putting on their finest Talbots attire.

Former lineman Ross Tucker said the team tried to pressure him into renting a luxury box for $125,000. At the time, Tucker's salary was $300,000.

They strong-armed the mayor of DC into saying the Redskins nickname, specifically so that they could then strong-arm her into building Dan Snyder a new stadium. I didn't know you could effectively strong-arm people like this, but that's DC politics for you.

Their Twitter still feed gets the most consistently fantastic hostile responses.

They got rid of Jason Reid, one of their most vocal critics at the Washington Post, by hiring him at a Snyder-owned radio station, giving him a show called "The Man Cave," mysteriously cancelling the show before it even aired, firing the program director, and then mysteriously reviving the show a little while later. They then blamed the whole fiasco on a John Skipper impersonator.

Their best defensive back (not saying much) was injured by a pizza:
G/O Media may get a commission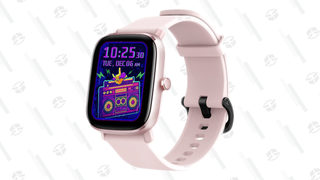 20% Off
Amazfit GTS 2 Mini Smart Watch
Get fit
Has built-in Alexa so you can ask questions and carry your smart assistant around with you; it has a battery that can last up to 14 days, has over 70 different sport modes, is 5ATM waterproof, and tracks stats like your heart rate, calories burned, sleep, and more.
Take all that into account, and somehow losing 12 games is the most tolerable experience for any Washington fan.
Your coach: Jay Gruden, who is a boob. Let's all enjoy Baby Fat's final year as a head coach before he gets shitcanned and spends the rest of his career as a QB coach in the ACC.
Your quarterback: Yep, it's still RG3! "Some people like to call this 'the grind.' You can call it 'the find' because you figure out what you got." JESUS FUCKING CHRIST. There hasn't been a phonier, cheesier athlete in the history of professional football. RG3 is a fake. A fraud. A clown! And he's the only person on Earth stupid enough to not realize it. Even A-Rod is appalled by RG3's lack of genuineness. Was he raised by Gatorade brand managers or something? What is WRONG with this man?
Since he left the warm embrace of Art Briles, every NFL coach that RG3 has encountered has instantly, and publicly, loathed him. This does not happen normally with football players. Coaches tend to avoid openly bashing their own players, for good reason. But give them RG3 and they'll immediately seize a mic and be like, "Oh my God, get a load of THIS fuck." Even when coaches get away from RG3, they can't stop talking about how much they despise him. "Well, we had to cut the playbook down to just the book jacket because Robert doesn't know his shapes yet."
Anyway, you know the deal by now: RG3 was brilliant in his first year, exclusively due to his freakish athletic ability. He has since lost that ability after suffering a torn ACL, a torn LCL, a dislocated ankle, a shattered pituitary gland, a ruptured torso, a broken liver, a torn bladder, a hatchet gun wound, and a full-body tumor. But his daddy still thinks he's Steve Young, and so the Skins are gonna spend another year fucking the chicken, forcing Gruden to work with a ninth-tier QB that he openly despises.
And you know what? I couldn't be happier. Those two dummies won't even make it out of camp without ripping each other's throats out. This organization can keep an eternal dumpster fire going not matter what the elements throw at them. They are superhuman.
Once RG3 is benched, Skins fans have the choice of embracing either Kirk Cousins or Colt McCoy as their new white savior/unrealistic trade bait. You should have seen people shit themselves after McCoy beat the Cowboys last season. IT'S A NEW DAY, YOU GUYS! I believe that 90% of all spam marketers make their money off of Skins fans. They are fucking sheep. I can't believe they kept this QB stable exactly the same from a year ago. It's like they enjoy shitting into their own hands.
What's new that sucks: Oooooh, loogit the shiny new GM! Just like the big boy teams use! Every year, Dan Snyder has to pull something out of his ass to convince people that things are really different this time, and Scot McCloughan represents perhaps his most convincing effort yet. Look at him think! This is a serious football man. You can bring anyone with a mildly successful background into DC and fans will install that guy as Pope for a period of 16 months.
McCloughan has an impressive resume and football background, which is why it will be even more amusing when the Skins turn him into an incompetent, blubbering stooge. You realize that you still have the same terrible coach and the same terrible quarterbacks, right? Already, McCloughan has warmed to the Ashburn Way by drafting a lineman too high, bringing in Chris Culliver (which is precisely what I expect from the Tea Party wing of the NFL) and signing defensive lineman Terrance "Pot Roast" Knighton away from the Broncos, because great things happen when the Skins sign any oversized, free-agent defensive linemen.
For years, the Skins' defense was masterminded by UFL legend Jim Haslett. Haz has since been replaced by the only defensive coordinator in football with a less impressive resume: Joe Barry. Barry's last job as a DC? The 0-16 Lions. Perfect. Fucking beautiful. His hiring in DC—which was publicly bungled, by the way—was destiny.
What has always sucked: As always, this is the worst franchise in sports. Their toxicity is infectious. This isn't like the Knicks, who, on the surface of things, are just as incompetent and evil as their football counterparts. But you can find shame in the Knick organization. It's in there somewhere, if you burrow down to the lowest levels of the org chart.
That's not true in Washington. Being part of the Skins in any capacity means agreeing to have your shame surgically removed from your body. Imagine if Donald Trump's Twitter feed were a football team. That's the Skins. Three days in Ashburn and you automatically become ignorant, self-important, arrogant, trolling, entitled, and breathtakingly STUPID. So, so fucking stupid. This is the dumbest organization in America of ANY kind, be it a team, or a company, or a political action committee, or a non-profit organization. Line 'em all up and the Skins will out-moron them at every turn. The mere act of wearing a Skins jersey makes you look like a slobbering idiot. Seriously, you're all embarrassing yourselves. You may as well be wearing parachute pants and a neon tank top.
This endless embarrassment is what the Skins' garbage fans deserve. The Nationals are the most talented team in baseball. The Wizards are a playoff team. The Capitals are always good enough every year to blow a 2-0 playoff series lead. And yet, this area remains chock full of mouth-breathers from Herndon who cannot abide going five seconds without talkin' Skins. It's like they're constantly pointing out an ingrown toenail to you. BOY LOOK AT THIS PUS-FILLED TOENAIL. I GOT HOPES FOR THIS TOENAIL. REAL PROUD OF THIS TOENAIL. I can't stand it. I fucking hate the Skins and I wish they'd die. Fuck the Skins forever. And fuck Larry Michael.
What might not suck: Picture a world where McCloughan sweeps out Griffin and Gruden and builds a sensible, competent team despite having two officious team officials—Snyder and President Bruce Allen—hanging over his head. Can you picture it? Congratulations, you're another goddamn sucker.
Hear it from Redskins fans!
Jeremy:
Last summer before training camp, a company I work with held an event at Redskins Park. Super Bowl Champion Doug Williams was supposed to be there to do a kickoff speech for the event and being a Skins fan that grew up in the 80s this was a huge deal for me (yes sad). After being ushered into one of the team's meeting rooms/auditoriums we were quickly informed that Doug couldn't make it due to a scheduling conflict. Instead we would get team radio announcer/team VP of Nonsense/Dan Snyder's personal butt plug Larry Michael! How lucky we were. Larry strolls in with his hands in his pockets looking like he's used to being the backup plan for these things and like he'd just rolled out of bed. He said a bunch of garbage on how optimistic everyone was for a great season and all the usual Larry Michael type robotic corporate crap. So he gets to a Q and A and I'm sitting right in front of him. I was ready to unload some questions on RG3, the team name or things about the Shanahan regime but he ends up taking 2 softball questions from what seemed like obvious plants before looking right at me and saying 'thanks that's all the time I have' and high tailing it for the exit. His whole appearance had to be 15 minutes and it was June. I hate myself for being a fan of this organization.
Andy:
The only redeeming quality of our stadium is that there is a Chick-Fil-A nearby, and that's not even open on Sundays. We dumped a head coach because our primadonna quarterback with glass legs complained that the coach was installing an offense that made the team successful. 25% of our fans and 100% of our sports talk radio call-in guests think that Kirk Cousins is named Kurt. But those are simply reasons that the Skins are hateable, this is why we suck:

Free Agent All-Stars

QB: Jeff George, Shane Matthews, Danny Weurffel, Tony Banks, John Beck (healthy scratch), Rex Grossman (healthy scratch)

RB: Trung Candidate, Larry Johnson (healthy scratch), Shaun Alexander, Ki-Jana Carter

FB: Le'Shai Maston (fuck Dallas Carter)

WR: Brandon Lloyd, Irving Fryar, Joey Galloway, Keenan McCardell*, Dante Stallworth (Captain)

TE: Byron Chamberlain, Christian Fauria

C: Cory Raymer*

LG: Keith Sims

RG: Sean Locklear

LT: Levi Jones, Brandon Winey

RT: Stephon Heyer, Jammal Brown, Tyler Polumbus

DL: Albert Haynesworth (captain), Dana Stubblefied, Dan Wilkinson, Bruce Smith, Adam Carriker (healthy scratch), Terry Crewes(!!), JASON TAYLOR

LB: Jeremiah Trotter, Jesse Armstead, Nick Barnett, Keyaron Fox

CB: Deion Sanders, Troy Vincent, Phil Buchanon, Tracy Porter, Josh Wilson, Fred Smoot (post-Love Boat), E.J. Biggers (healthy scratch), Chris Culliver (IR. preemptive, but this is assuming he gets jumped walking through Dupont one day.)

S: Adam Archuleta, Tanard Jackson (captain), Brandon Merriweather, Mark Carrier, Ryan Clark

P: Tom Tupa

K: John Hall

KR: Antwaan Randle-El

Draft Pick Dream Team

QB: Robert Griffin III (IR), Gus Frerotte, Congressman Heath Shuler, Patrick Ramsey, Sage Rosenfels (healthy scratch),

RB: Skip Hicks, Reggie Brooks, Lache Seastrunk

FB: Manuel White, Nehemiah Broughton (we drafted 2 fullbacks in the same year, both got cut)

WR: Desmond Howard, Rod Gardner, Malcolm Kelly, Devin Thomas, Michael Westbrook, Taylor Jacobs, Tydus Winans (healthy scratch), Cliff Russell (healthy scratch)

TE: Fred Davis, LLC (Captain), Ted Bolser, Dennis Morris

C : Cory Raymer**, Mark Fischer

LG: Josh Leribeus, Michael Moore (healthy scratch)

RG: Chad Rinehart, Adam Gettis

LT: Andre Johnson (captain). Paul Siever

RT: Mohammed Elewonibi, Joe Patton, Tom Cotton

DL: Shane Collins, Kenard Lang, Jeremy Jarmon, Bobby WIlson, Anthony Montgomery (healthy scratch)

LB: Rocky McIntosh, Brian Orakpo, Rick Hamilton, Cody Glenn, Greg Jones (healthy scratch)

CB: Carlos Rogers, Kevin Barnes, Justin Tryon, Lloyd Harrison, Rashas Bauman

S: Bacarri Rambo, LaRon Landry, Andre Lott

P: Ed Bunn (THIRD ROUND PICK!!!)

K: Zach Hocker

KR: Niles Paul

*Drafted by the Skins in 1991, didn't play a down, went on to be a Pro Bowler and Super Bowl champion, came back as a washed up 16th year player.

**Cory Raymer was drafted by the Skins, and came back as a free agent; thus, he makes this list twice.
Ryan:
My mom buys a bunch of tickets for our friends and family to go to a game in late September for my birthday every year. The Redskins are 1-7 in the last eight such games we've attended.
Brad:
I will probably be on Social Security, 44 years from now, before we even come close to a Super Bowl. No matter what we do, who we hire to run this disaster, which washed-up stars we overpay, nothing ever changes. Daniel Snyder is a black hole of ignorance and incompetence that has dragged this team into the abyss. He makes WMATA look professional, Donald Trump look tactful, and makes Ann Coulter look open to criticism or other opinions.
Mike:
My friend went to high school with Snyder's daughter and at a silent auction to raise money for the school Danny Boy donated an autographed picture of himself.

Fuck Albert Haynesworth with a lead pipe that weighs more than he does.
Spencer:
All of our hopes and dreams still completely ride on a QB whose career effectively ended three years ago at age 22.

Our new GM is only here because he had to leave his previous good job to battle alcoholism.
Patrick:
I went to the Week 14 game last season for 4 dollars. We got shutout at home by the Rams 24-0. The highlight of the game was getting to boo my team off the field. Still wasn't worth the 4 dollars.
Danny:
I am 27. According to my weak counting skills, the Redskins have had 29 different QBs start in my lifetime. This includes a Hasselbeck and Danny Wuerrfel. I refuse to change tabs to check the spelling on that name.
Bill:
My dad had Redskins season tickets going back to Griffith Stadium. I would take one of my sons to a game ever year. The last time we went, we had to pay $45 to park in a gravel lot. We walked down a hill to a creek, walked on logs over the creek, and then back up the other side. We hoofed another half mile with other idiots to arrive just in time to witness Michael Vick torch us on national television. We left at halftime after watching the guys next to us puke all over the seats in the next row. The highlight of the night was a fight where an Eagles fan's sunglasses got stomped on by someone wearing an Art Monk jersey. I called my dad the next day and told him to not renew the tickets. My son is a Patriots fan now.
Steven:
Daniel:
One of DC's most recognized landmarks is a two mile long expanse of grass, yet the shithead owner can't find someone to get 120 yards of turf that can make it past October.
Clay:
My brother got a job with the Redskins. A few days later, he texts me asking for advice with how to deal with difficult co-workers.
Adam:
I legitimately do not know how I can support the team anymore.
Jacob:
Dan Snyder.
Christine:
The only classy thing we've done in the last 15 years is lining up one man short the first game after Sean Taylor's death.
Ben:
The Redskins organization is like the country of North Korea: no reality of the outside world gets inside the walls and everything said by the organization is the most insane shit anyone could come up with.

Bruce Allen: "We're winning off the field."
Colin:
The best QB on our roster is Colt McCoy.
Brendan:
There is a scene in the Simpsons where Mr. Burns is watching the local news and sees a human interest piece on a heroic dog. He immediately decides that he must have this dog working for him. Burns no longer cares about Frank Grimes who has just arrived in his office. Frank Grimes was the human interest piece from the prior day. This is exactly how Dan Snyder manages his franchise.
Josh:
I am a lifelong fan of the DC Skins and I am at the point where I want them to all die in a fire.

I debated with myself for ten minutes about what word to use in this email to say my team's name. Fuck this team. I hope RGIII's knee explodes.
Peter:
No fan base has ever loved a shitty football player more than Redskins fans love Kirk Cousins. When pointing out to the average Redskins fan how much Kirk Cousins obviously blows, you will, 100% of the time, be treated to either a Peyton Manning or Tom Brady comparison. I wish I was kidding: "Peyton Manning threw lots of Interceptions early in his career too!" "Tom Brady was a late-round pick too, how'd THAT one work out, HUH?!?!?!?!?"

I've been a fan for almost 25 years, the Redskins have sucked every God damn last one of them, and they're going to suck for eternity. Dan Snyder is going to own this team for the rest of its existence. Death will not have him.

Fuck Dan Snyder. Fuck FedEx Field. Fuck Larry Michael. Fuck Redskins fans. And Fuck Chad Dukes.

Kevin:
Literally every preseason, Robert Griffin drops a new personal marketing slogan like he's Zoolander perfecting "Blue Steel." This year, it's "talk small, play big," whatever the hell that means. It should've been "talk small, and maybe try to learn the fucking playbook" or "talk small, and play one of those madden tutorials where they teach you how to read the most basic fucking secondary coverages because you obviously haven't learned that shit yet."

And when Robert ultimately fails, or more likely gets maimed, the team will turn to Colt McCoy, who galvanizes our racist fanbase like none other. "If they would just give white quarterbacks a shot in this country!" our redneck fans think, as if there's a glass ceiling for talentless white qb's from big colleges. Our fans are fucking idiots. Every year, they see 8-8 as a worst-case scenario, and with a couple of breaks, 11-5 or 10-6. Every year, we go 5-11, and the stadium looks like a "Walking Dead" film set by November, where small patches of drunken burgundy and gold zombies, often covered in their own vomit or piss, stumble around and shout shit like "Respect Our House!" to busloads of Cowboys and Eagles fans who decided to score some cheap stub hub tickets and watch their team win 41-7. Also, our new GM is a recovering alcoholic, our owner is probably Satan, or at least his spawn, and our nickname is embarrassingly racist. I hate this fucking team.
Robbie:
The highlight of every Skins season is Week 3 of the Preseason when we leave every starter in for at least 3 quarters while the other team doesn't start any of their pro bowlers.
Ryan:
I'm a Redskins fan in Chicago and last year during the one week that the Bears offensive coordinator threw Jay Cutler under the bus, everyone in my office would bitch about it until I walked by and when I did, they suddenly got quiet. They did this because they knew that I've lived through that media circus of leaked in-fighting and organizational ass-showing every single week for 3 years. They pitied me.
Sean:
I got married this year to a girl from Detroit and I'm seriously contemplating becoming a Lions fan rather than dealing with another year of this shit.
Stephen:
What we fail to understand as Redskins fans is that in the national NFL fan's mind, we are basically the equivalent of Jacksonville, Oakland, and Tampa Bay...the garbage teams everyone chalks up as an easy win when they look over the schedule. You'd never know that listening to our local sports radio (owned by the Redskins) though, where a collection of tired ex-Redskins continue to explain daily how excited they are about various facets of this trainwreck.

The nice part about being a Redskins fan and having your local media wholly co-opted by team ownership is that no matter what is going on in the sports world or how badly the team is doing you can always tune in and hear Redskins talk 24/7...Russian paratroopers could be seizing control of Washington and I bet if you turned on our local radio they'd be debating how much more motivated the 'Skins will be once the Soviets (we will always live in the 80's here cause that's the last time the team was any good) have seized power and President Putin can watch in person. Our "play by play man/voice of the Redskins/mouth of Sauron" Larry Michael will do his best Kent Brockman impersonation on welcoming our new overlords so fast, you'll never see someone pick up the Russian language quicker.

We mortgaged the future of the franchise for a guy who is 5 and 15 over the last two years.
Gavin:
My father was driving in rich-man-ville Maryland and saw Daniel Snyder out by his driveway, fucking around with his rich man car bought with the tears of Skins fans. He realized a simple turn of the wheel would solve all of our problems... And though every muscle in his body was saying, "DO IT, DO IT!", he just couldn't. We're still convinced he would have escaped the law via justifiable homicide, and he might have become a DC folk hero. Honestly, I've had an aching disappointment in the man since he told me this story. Also, he gave up on the Skins for the Ravens. I hate my father... Though not nearly as much as Dan Snyder.
Kevin:
We all know the Redskins name is terrible yet we fight for it because when you don't win playoff games you need something else to fight for.

For all of the wealth in the DC suburbs, Redskins home games manage to attract the absolute worst people in a 100 mile radius. The parking lots are filled with angry fans slamming beers and yelling at everything and everyone that will listen to them. The traffic leaving FedEx Field is so bad that the "smart" solution is to tailgate again after the game for an hour or so instead of sitting in the stationary traffic for the same period of time. That's right, the "smart" solution is to drink more alcohol right before driving home. Which, by the way will take you at least 45 minutes because who the fuck lives near Landover, MD (Redskins fans don't actually live in DC).

After attending the 2009 Chiefs vs Skins game at FedEx, my friend (a Browns fan) said about our fan base, "I've never seen a fan base hate their own team so much. Why are you guys so angry?" This was coming from a BROWNS fan. That's saying a lot.
Ben:
I was flying from DC to San Francisco, and the airplane stranger (wearing a Raiders ball cap) next to me decided to strike up the usual conversation – what's in San Fran? What do you do for a living? Where are you from? After telling him that I was from the DC area, and with no further conversation, Raiders Man promptly threw on his Dr. Dre headphones and fell asleep. As our plane began its descent into SFO five hours later, Raiders Man asked, "What's your thoughts on the Redskins losing their trademark?"

Our team and its fans are so illogical, uncompromising, and unduly proud, that the thought of hearing a belligerent, frothy-mouthed Redskins fan bitch about 1st Amendment Freedom of Speech 'merica bullshit actually made a Raiders fan feel imprisoned on a cross-country flight.
Sam:
Has any other team been called out by its own starting WR for calling on him to throw a reverse pass?
Juan:
Watching RG3 start a football game is like reading those Choose Your Own Adventure novels from the 90's except every ending involves a cart and a walking boot.
Wanna be part of the Deadspin NFL previews? It's simple. Just email me and give me ample evidence of why your team sucks: personal anecdotes, encounters with fans, etc. I'll throw any good material into the post and give you proper credit. Submissions will be cut off at some point. Next team up: New York Jets. Photo via AP