Some people are fans of the Oakland Raiders. But many, many more people are NOT fans of the Oakland Raiders. This 2016 Deadspin NFL team preview is for those in the latter group. Read all the previews so far here. And buy Drew's new book here.

Your team: Oakland Raiders:
Your 2015 record: 7-9, in which they dropped four of their last five games. WHAT AN UP-AND-COMING YOUNG BUNCH OF SCAMPS. The best part was when Ray-Ray Armstrong got investigated for yelling at a police dog.
Your coach: Handsome boob Jack Del Rio. Everyone's gonna say nice shit about the Raiders this preseason. They're relatively young. They have a QB. They preserved continuity by extending GM Reggie "Shrek" McKenzie until 2021. Aldon Smith is on suspension and can't run over your son while drunk anymore. There is the ILLUSION of steady competence. But fuck that. You people still have a meat-brained retread with career record of 75-80 in charge of all this. Jack Del Rio is barely a degree removed from Mike Mularkey. His greatest coaching accomplishment has been dressing tastefully. You're not going anywhere with him. I saw the Garrard Jaguars. They were the most promising sub-.500 team in football for YEARS. The same fate awaits you.
G/O Media may get a commission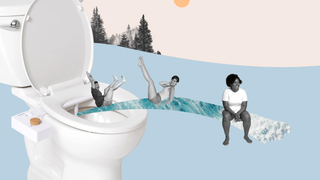 17% off
Tushy 3.0 Warm Water Spa Bidet Attachment
Your quarterback: Warped Tour attendee Derek Carr. With nearly 4,000 passing yards and over 30 TD passes last season, I bet you guys are liking your hotshot QB, right? Well, thankfully for me, there are always anonymous scouts out there who are BRAVE enough to take a hot shit all over promising talent. Take it away, sir:
"He gets flustered, now," a personnel director said. "When we got pressure on him, he turned into a different guy. The great ones aren't like that. Russell Wilson, there is never going to be panic in him. As a matter of fact, he wants it because he knows he can break contain, and if they get single coverage, they are going to beat it. I still have some reservations about Carr because of his poise under pressure."
Let's forget for a moment that pressuring any quarterback adversely affects their play. I would far prefer to think of Derek Carr as a wilting daisy who lacks scrotal fortitude. And given that your average Raiders fan acts as if he spent 10 years running a pruno operation inside San Quentin, I look forward to this fanbase turning on Carr and screaming "PUSSY!" at him the moment he loses a playoff game. It's gonna be great.
Also, if Carr gets hurt by opposing defenders and/or bottles thrown from the stands, the team drafted Connor Cook as an insurance policy. Show the video again…
Never gets old. And getting Connor Cook means you also get his dad!
Spiritually, this man was always destined to be associated with the Raiders in some capacity.
What's new that sucks: VIVAAAAAAAAAAAAAAAA LAS VEGAS. Even if the Raiders really have turned the corner, you crazy Oakland assholes aren't gonna get to enjoy it anyway because Mark Davis—aka Football A.J. Soprano—would rather get a decent haircut than stay in Oakland one second longer.
That's why he joined forces with Dean Spanos in a botched attempt to build a stadium in Carson. What a fucking pair those two made. Imagine Tommy Boy, but with a second Chris Farley subbed in for David Spade. I bet the entire Carson presentation was nothing but star wipes and comic sans font.
Anyway, after failing to dazzle his fellow owners with his knowledge of baking-soda-and-vinegar model volcanoes, Davis joined forces with casino magnate and would-be shadow dictator Sheldon Adelson in an attempt to force the citizens of Las Vegas to fork over $600 million in public funds to build the Raiders a stadium. Adelson even bought out the local paper specifically so that he could avoid media scrutiny over the potential deal.
Those edits include removing key points of fact on what may turn out to become a $600 million-plus public investment in a football stadium. At least one stadium story was killed, as well, my sources confirm.
Oh, well that seems on the up-and-up. This is repulsive in every way and it's all out in the open for all to see. And the worst part is that it'll work. Whether it's Vegas or L.A. or San Antonio or an abandoned military outpost in the Arctic Circle, Davis is gonna find some asshole willing to build him a stadium and give him free drinks at the local Hooters. He is a spoiled, pathetic dimwit and yet he is on the verge of being gifted a small fortune. This is the America we live in today. I say we burn it all.
Also, Charles Woodson retired. He was the only thing I liked about you.
What has always sucked: Rats! There are rats that live in and around the Coliseum, and are disgustingly large, like the size of a well-fed pug. And yet, the rats are still more appealing than these fans: a bunch of wannabe renegades who aren't even loved by the organization they cheer for. Davis wants to be rid of you people so badly. He wants that big Vegas stadium so that rich people come to games and he gets invited to lots of country club parties where he can wear one of those cool t-shirts that looks like a tuxedo but is really a t-shirt.
He can't wait to leave Raider Milt and his band of poseur hooligans behind and I don't blame him. Remember when the Raiders refused to paint their 50-yard line gold last season because they were STICKING IT TO THE MAN? Yeah no, they caved. You people aren't rebels. You are the NFL's Hot Topic franchise. Eat shit. You're all about as dangerous as a DVD of The Crow.
What might not suck: Amari! I would draft Amari twice for my fantasy team if I could. He's fucking stellar.
Let's remember some Raiders:
Chester McGlockton

Mervyn Fernandez

Derrick Fenner

James Jett

Cole Ford

Hear it from Raiders fans!
Ryan:
About a week ago I was shopping at the friendly local dollar store. I had my Raiders hat on, and a guy in a #32 jersey walks up to me and says "Go Raiders!".I ask him which #32 he was wearing and without even trying to hide his pride, he says, "It's a custom Marcus Allen jersey, it's cheaper if you buy it custom." The only problem? Allen was spelled "Alan".
Colby:
The Raiders have expectations for the first time since I was in middle school, but are owned by The Large Adult Son of NFL owners.

That same LAS wants to job the good people of Oakland (again) for Las Vegas, so you might one day see Latavius Murray, questionable with VD on an injury report.

Moving on to questionable personnel choices, happy Connor Cook and Connor Cook's dad are here. Since Derek Carr is a fringe top-10 quarterback, seems like a wise move to spend a top-100 pick on a QB whose father is the walking embodiment of #MadOnline; I know I personally was hoping to get Less Talented Kirk Cousins with a side of Westboro Baptist.

Jack Del Rio (the Rich Man's Jim Tomsula) is in charge this time around; he coaxed a playoff appearance out of David Garrard in Jacksonville so maybe 10 wins with Carr isn't too much of a stretch, except for the part where we're the Raiders and our last homegrown quarterback with talent was Kenny Stabler (RIP); I already feel bad for Carr's impending career nosedive due to injury/underachieving teammates/prolonged exposure to Aldon Smith.

We've become the chic 'sleeper' pick this year, which never ends well. Especially in a division with the defending champs and especially when those defending champs have Von Miller. Carr probably has night terrors at the prospect of Menelik Watson trying to protect him from Miller. Pray for that man; he deserved better than this.

Mark Davis flies Southwest, eats daily at PF Chang's and drives a '97 Caravan. He makes James Dolan look like a responsible, functioning adult.

The most beloved Raider this century is the kicker. Runner-up is probably the former punter. Third-place: the fullback.
Lanh:
I grew up in Stockton, CA, a city famous for being one of the most obese, illiterate, and bankrupt cities in the country. It's also ranks as one of the more dangerous cities in America. If you grow up in Stockton, you develop a certain deluded pride in being from hell on earth. Naturally, this makes you a Raider fan.
Scott:
I student-taught sixth grade in a middle school in New Jersey, and one day one of my students asked me if I am a Giants or Jets fan. When I told him neither, I am a Raiders fan, the entire class looked at me as if I had just told them I murdered their parents.
Kyle:
I have never been so terrified heading into a football season than this year.

Here's the thing: I'm 21 years old; the last time the Raiders were actually good was when I was 7, and I can barely remember anything before the age of 12. Sure, the two 8-8 seasons gave me a glimmer of hope, but for the majority of my lifetime, the team I root for has been absolute dogshit.

Now all of a sudden, analysts/talking heads/blithering idiots are saying the Raiders are gonna be a sleeper team in the year of our lord 2016. I am not used to this.

And why wouldn't they? They had a competent offseason! I'm not used to that either! I've been trained to expect them to sign aging veterans to overpriced contracts and draft the guys with the fastest 40. Yet the management are presently behaving like they have a concrete plan.

This will not last.

I fully expect the Raiders to either get off to a hot start and then choke in December, or just suck the entire way through. Success cannot come to this team while I'll still alive and breathing. It just can't. If they make the playoffs for reals, I'll probably suffer a coronary and die before I can see the ending.

Fuck JaMarcus Russell and fuck his goddamn cough syrup.
Halston:
Jack Del Rio looks like a guy that would upsell me on buying the performance package at his motorcycle shop.

Fuck D.J. Hayden with Al Davis's eternal flame.
Michael:
McGloin is going to be cut for another B1G QB that is mayonnaise brought to life.
Drew:
Two years ago my buddy who is British-Indian and had his brother in town from London. I convinced them to go to a Raiders game because they're pretty fun and not as rowdy as people make them out to be.

As soon as we get there, we go to one of the bars in the concourse. We're at the bar, and this Raider fan immediately calls my friend Osama Bin Laden and starts talking shit for no reason. He was double fisting and had a baby strapped to his chest.
Jack:
Since 2002, the most pride I've had in the Raiders is the fact they're always competitive in the "best NFL uniforms" lists.
Blake:
There is a great old school restaurant by O.Co called Francesco's. They have strong cocktails and a mean chicken marsala. My grandpa used to go there in the 60s and inhale steaks, cigars, and 7-and-7s at lunchtime.

Anyway, I once mentioned to a waiter that they must do great business on gamedays, and he laughed and said that they are closed on all gamedays due to security concerns.

Can you imagine if they move to Vegas? The 15 will be a solid pipeline of DUIs on Saturday mornings before home games and the slot machines at Circus Circus will be a scene from Fight Club. The Vegas drunk tank on Saturday nights will be a lovefest, though. lt'll be a massive skull-tatted circle jerk to memories of Napoleon Kaufman.

The only regret about the move will be the loss of that majestic dirt infield. God I love that. It has the appeal of a basketball hoop with no net in that it really sucks for playing on but you are also kinda proud of playing on it.

President Trump will be a fixture at home games sitting next to Sheldon Adelson. They will speak under their breaths about the "dirty Mexicans" in the stands while Adelson simultaneously takes half their unemployment checks via overpriced concessions. All of Trump's foreign policy decisions will be passed along from Adelson through a UNLV comm major who can't point to Israel on a map. Gaza will be carpet-bombed after the Raiders lose their home opener.
Carlos:
These four jerseys cost me $570. I'm not good with money.
Michael:
Whenever I tell people I'm a Raiders fan, they respond in two ways. They either look at me sympathetically like I have stage 4 cancer, or they instinctively take a step away from me, as if I transformed into a tattooed gangbanger before their very eyes.
Alexander:
The city of Oakland fired as many police commissioners in a week as the Raiders have had playoff wins this millenium. Nice to know the corruption never leaves the city, it just finds a new host.
Sean:
Now that we're the toast of the offseason and everyone's darlings to make the playoffs this year, that still doesn't make up for the fact that we play on a fucking baseball diamond!!! This posy-Cold War Era bomb shelter of a stadium also comes with amenities such as over-flooded poop locker rooms and vintage bathroom troughs to remind us of how great American drunks can be when pissing on each other's pant legs.
Carlos:
This is Raiders "Super Fan" Dr. Death yelling at team head quarters. Most of us in "Raider Nation" think the guy is a loser who works for uber.
Drunko:
They are going to move out of Oakland for the second time, and you know what? I don't give a shit. Because they have been historically awful ever since their last Super Bowl. They are perhaps on the cusp of finally turning into a watchable NFL team, but they are leaving town again, so fuck it all. Fuck Mark Davis and the worst fucking haircut America has ever seen.

I think I could perhaps tolerate a move to Las Vegas, but on the other hand, a move to San Antonio would put the nail in the coffin and finally put me out of my misery because I will never ever root for a fucking Texas team and that might solve everything for me and my issues with the NFL because I can't just choose another team to like and I'll be done with the whole fucking league.
Josh:
I honestly don't know how we are gonna fuck it up this time, but I do know it's gonna hurt more than the past 15 years of incompetence combined have.
Tom:
The Raiders have high expectations which naturally means they'll crash and burn and finish 6-10. Khalil Mack will probably blow out both knees while Donald Penn will continue to decline and allow Von Miller to abuse him Chris Brown style and Derek Carr will end up in a wheelchair.

This ridiculous idea of moving them to Las Vegas just proves Mark Davis is just as big a clown as he looks! Literally no city wants them. Even San Francisco's toilet, Oakland, said hell no go ahead and leave! We have the dumbest, most belligerent fan base and you know what's worse than an angry Raider fan when they're losing? A stupid ignorant Raider fan when they are winning. It's embarrassing watching our fans show up to city council meetings dressed like its BDSM night at the local bar and try and convince the city council to build a stadium for these clowns. And I guarantee in 10 years the Raiders will still be playing in the coliseum and getting fucked on year to year leases.
Adam:
Of course the team starts to turn it around right before Mark Davis moves it to Las Vegas. The players should soak in Raider Nation while they still can, because soon enough they'll be playing in a half empty stadium populated by tourists who got their tickets as part of a flight/hotel/Britney Spears/Carrot Top/Raiders vacation bundle.

Fuck Las Vegas. The Raiders should play on a cruise ship stadium that docks in San Deigo, Los Angeles, Oakland, and Anchorage. I can't think of a reason not to do this. Football stays in Oakland and San Diego, The NFL expands to Alaska, Los Angeles gets a team it actually cares about, and we get to see what happens when you isolate seventy-thousand Raiders fans on a boat for several hours.

RAIDER BOAT!
Anthony:
Our stadium is full of human feces, our owner wears a war crime as a haircut, and they are moving the team to Vegas. Goddamnit. They have to suck every ounce of joy out of fandom. I should watch fucking tennis.

I fucking hate this team.
Submissions for the Deadspin NFL previews are now closed. Next up: Los Angeles Rams.