Some people are fans of the Chicago Bears. But many, many more people are NOT fans of the Chicago Bears. This 2017 Deadspin NFL team preview is for those in the latter group. Read all the previews so far here.

Your team: Chicago Bears.
Your 2016 record: 3-13. Let's see how they shot themselves in the dick against Green Bay this time!
G/O Media may get a commission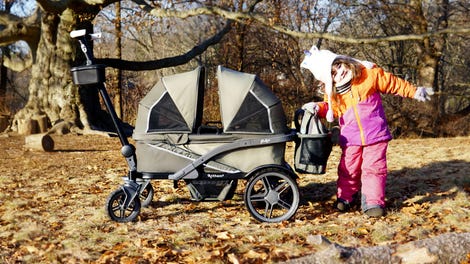 30% off
The Anthem All-Terrain Stroller Wagon Adventure Bundle
Go everywhere with your kids
This must-have bundle nets you either of Gladly's award-winning Anthem2 or Anthem4 All-Terrain Stroller Wagons as well as must-have accessories like a parent cupholder, a removable storage basket, extra-large canopies, a nap system, quilted comfort seats, a cooler bag with a padded shoulder strap, and a travel bag.
I know the Lions and Vikings also routinely humiliate themselves trying to beat the Packers, but the Bears…my friends, the Bears have it down to a science. Don't you dare try to out-cuck them.
Your coach: John Fox, who is clearly in the Spurrier-mailing-it-in-at-South-Cackalacky phase of his career. Look at that man and tell me he doesn't want to be in flip flops and a Hawaiian shirt and fellating a Corona at some tiki bar somewhere. Last year Seth Wickersham wrote a profile of John Elway that contained this fantastic bit about Foxy:
A rising lack of discipline under Fox prompted Elway to sometimes yell at the team because Fox wouldn't. Before a late-season practice in 2014, Fox turned to a few people on the sideline and asked, "Isn't winning the division enough?" A few weeks later, after the Broncos came out flat in a divisional playoff loss to the Colts, Fox got his answer.
Now THAT is the kind of folksy casualness that NFL owners and executives prize. John Fox: The Division Is Enough. I wish I could put money on Fox walking off the job in the middle of a Week 6 loss to go apply for a fishing license. There's no way he's gonna want to hang around this team when he has to deal with…
Your quarterback: You know, if I had told the average Bears fan a year ago that Jay Cutler would finally be purged from this roster, they'd have probably been delighted. No more smoking jokes and measles outbreaks anymore! SWEET FREEDOM AT LAST. But now that all of you know what's replacing him…
You guys thought you hated Jay Cutler, but it turns out that you really just hated being alive! It was bad enough when the Bears forked over $19 million in guarantees to former Tampa backup and Guy Ruining Your Date's View At The Movie Theater Mike Glennon. Mike Glennon, who threw 11 passes last season. Mike Glennon, who has a worse career passer rating, completion percentage, winning percentage, and yards-per-attempt than the man he seeks to replace. Mike Glennon, who is 80 percent neck. There is no greater indictment of the quality of NFL quarterbacking than the fact that THIS rando was the subject of a free agency sweepstakes.
So signing Glennon and anointing him the starter seemed like rock bottom. And then came Draft Day. Then came the Bears psyching themselves out and trading four picks—including two third rounders a year apart—just to move up a spot and draft a quarterback they met a grand total of one time; a player that the Niners—currently with Brian Fucking Hoyer penciled in at QB—didn't even want to begin with. The Niners are no one's idea of a competent franchise, and even they were like, "Holy shit, are these guys REALLY this fucking stupid?" Did I mention that the Bears didn't even bother to tell their own head coach that they were doing this? Did I mention that Mitch Trubisky started just one full year at QB and SCREAMS "Bortlesish tall stiff"? Look at these poor fans react the moment they realize what's happened:
The fucking Javits Center on election night was a happier place to be. By the way, Mike Glennon was AT that Draft party and was reportedly livid about the deal, which is hilarious because A) LOL they never bothered to warn him and B) Oh no! Mike Glennon is MAD, you guys! He might make a lasso from his mutant giraffe neck and trip you with it!
There are a lot of NFL teams with bad leadership: the Skins, the Bengals, the Jets, etc. But at least those teams HAVE leadership. The Glennon signing and the Trubisky draft prove that Bears have nothing. The Bears are a headless corpse running around, blood spurting from its severed arteries and slicking the floor and causing everyone around to slip and fall and break a hip. You guys used to have one expensive, shitty QB. You now have two. Oh, and they signed Mark Sanchez too! Amazing. Beautiful. UNFUCKINGREAL. Why not grab Sean Salisbury from the local Chili's and suit him up while you're at it? Hell, bring Cutler BACK! Chicago could just become one giant shitty QB convention! What a fucking disaster.
What's new that sucks: Christ, does it even matter? Did you see what the hell is going on up above? You could clone Von Miller 50 times over, put all the clones on this team, and it would still be an O'Hare toilet cake. They lost Alshon Jeffery, who was somehow their best player despite always being hurt and/or suspended. They signed Markus Wheaton, because speedy wideouts from Pittsburgh ALWAYS flourish the moment they leave. They also signed the empty salsa jar that is Victor Cruz, along with three defensive backs (Quintin Demps, Prince Amukamara, Marcus Cooper) for a team whose biggest problem was run defense.
Oh, and last year's top rookie had his season cut short with horrifying concussion problems. Yay.
What has always sucked: Now that the Cubs have won a World Series title, every other Chicago team has won a championship since the Bears last won one. They are officially the ass-end of the Chicago sports scene, and there's nothing to suggest that will change anytime soon. But I'm sure their fans will continue to slog along with their sausage-induced concussions and pretend this team could un-fuck itself simply by playing PHYSICAL BEAR FOOTBAW. That's always the best: some fat asshole in the stands—who couldn't get three steps on a rent-a-cop without collapsing in exhaustion—demanding that his Bears toughen up. Meanwhile, watch this idiot Bears bro get jumped by a gang of Jags fans:
That's you, Bears fans. You are the swaggering laughingstock of the NFL. You are the dumbest fans in football, and it's not really close. Oh, and FUCK DITKA. Fuck Ditka with a set mousetrap.
Did you know? Dude, remember when a bunch of Bears fans poisoned a Steelers fan because he wasn't a Bears fan? What the hell is wrong with you people? You don't go around poisoning fans of the opposition. You STAB them. That's the civilized thing to do.
What might not suck: Oh man, Jordan Howard is a BEAST. I look forward to him falling into a statistical canyon the second Fox makes the switch from Glennon to Mitch Cumstein.
HEAR IT FROM BEARS FANS!
Noah:
God fuck this.
Joe:
Matt Barkley currently has more career receiving touchdowns than Kevin White.
Noah:
In August 2014 I was driving in Winnetka with my Dad. We were talking and he was distracted so my Dad ran a stop sign, nearly hitting a guy walking his dogs. As we passed him he gave us this look, like almost pissed but couldn't care enough to really express more than a frown. And I realized who it was, it was Marc Trestman! My Dad almost ran over Marc Trestman.
Antwan:
Fuck Mike McCaskey, Ray McDonald, George McCaskey, Ryan Pace, Mike Ditka, and a preemptive fuck you to Mitch Trubisky when his arm gets twisted into a pretzel by Clay Matthews in his first start.
Michael:
I'm a bad parent because I've afflicted my son with my love for this organization that has no interest in putting out a decent fucking team, much less loving me back. For years the kid begged to go to a game and I said no. Why take him to see the Bears get their asses beat in person at well over a $100 per ticket? Last year I kind of relented and took him to a pre-season game against the Broncos because I still didn't want to pay for regular season ticket for a first grader. Of course the Bears got shut out 22-0. Fuckers couldn't be bothered to put up a field goal even in 4th string garbage time. We had to stay to the end because my son was desperate to see any scoring by the Bears.

This year, as a reward for some good school work, I told him I'd take him to a regular season game. My friend with season tickets told me the Panthers and 49ers games were available and I told my son to choose. He chose the 49ers cause there is at least a better chance he could see them score once this time. Can't argue with his logic.
Drew:
The only positive to come out of that draft was the fanbase cleansing effect via the hopefully thousands of mouthbreathing heart attacks and aneurysms it caused.
Marco:
I grew up watching the Bears with my father who has literally hated every single Bears player worth anything in my 26 years of life. Brian Urlacher? Hates him. Matt Forte? Looks like a terrorist (Don't ask). Brandon Marshall? Nut job. Rex Grossman? Sucks ass. Jay Cutler? I hope he dies - actual quote from my father, by the way. Robbie Gould? He's cool.
Michael:
I turn 33 this September. I've seen exactly one non-defensive Bear with a shot at making the Hall of Fame, and he was a kick returner.
Anon:
My brother decided to have a draft party this year since the Bears were picking higher than they had in any of our lifetimes (1972, #3 pick on Lionel Antione, just in case you think the Bears' shitty drafting was a recent thing). Being a huge nerd, he had read all the draft guides and mock drafts and styled himself an expert and had decided the Bears were either going to draft Jamal Adams at 3 or trade down to 7 and get Adams there. He's also the biggest homer around, so he was praising GM Ryan Pace for signing Mike Glennon and avoiding the "awful QBs" available in this year's draft. Once ESPN announced there was a trade for the number two pick, my brother cackled and said that some team was panicking and overpaying to move up to take a "bad" QB and that that team was stupid. When it was announced it was the Bears and that they were picking Mitch (I'm sorry, MITCHELL) Trubisky, he turned bright red, and then kicked us all out of his apartment.

The upside is that I'm still making fun of my brother about it. The downside is he is refusing to pay me for his half of the season tickets that we got after my dad passed and I'm stuck with 4 seats to every fucking home game. There's no way even meathead Bears fans are going to pay me to take these tickets off my hands. Fuck you, Pace. Fuck you, McCaskeys. And fuck you, Chris, you know-it-all moron. You owe me $2000.
Nick:
I can't name any of our safeties.
David:
When I was a kid, my dad bumped into Kevin Butler (our kicker from '85-'95). I was thrilled to get a signed photo that night of our most recognizable player.
Matt:
Our stadium is so bad that it got removed from the National Register of Historic Places, and still delivers injuries regularly because grass doesn't fucking grow in Chicago winters.
Tim:
Mike Glennon threw out a pitch at Wrigley earlier this year. In response, I made this:
Larry:
The only thing I am looking forward to this season is the possibility of Virginia Halas McCaskey dying so they sell the fucking team. Death needs to bear down upon her.
Adam:
I remember the days when we thought Rex Grossman/Kyle Orton was the saddest 1-2 QB punch imaginable. I miss those days.
Jordan:
This team is poised to obscure nearly everything about a legitimately enjoyable, young baseball team and its recent triumphs, as a side-effect of refusing to stop waxing poetic about a few halcyon days from when the NES first debuted and Wham! was a musical juggernaut.

Fans of this team have willingly asked and self-flagellated for an ESPN mini-series dedicated to proving that caricatures of Chicagoans—as seen in SNL episodes of old—are really just TV-friendly representations of a sadder reality.

Speaking of WORKING CLASS MIDWEST caricatures, a racist drunkle with a goofy mustache and a commercial promoting his meatball fans' most hated rival has still, somehow, been canonized by said meatballs.

Team leadership wants fans to be excited about starting a less-talented Napoleon Dynamite doppelganger, who will undoubtedly overthrow laughably retread WRs for pick-sixes, which will simultaneously prevent the moth-eaten Afghan blanket that is the defense from having to nosedive into the carnivorous sod kept at the NFL's smallest stadium. If cities were beverages, A Shy-Town (TM) would be equal parts Boston and St. Louis, on actual rocks.

Go Bears, and fuck me with alternating fistfuls of Jay's heavily used ashtrays and unopened vaccine syringes.
Jon:
I got Jim Miller's autograph once and thought it was cool.
Kevin:
I was a relentless Jay Cutler apologist during his Chicago Bears career to the point where I was dumb enough to buy two Cutler jerseys, one for myself and one for my brother, in 2013. Fast forward seven weeks into the season and Cutler is hurt, I find my brother's Cutler jersey crumpled in the back of his closet (his exact explanation was "Why did you ever think I'd wear this piece of shit? You can keep it if you want to") and I drop an entire piece of pizza onto the front of my Cutler jersey. My two ruined Jay Cutler jerseys, which I refuse to throw out because I'm a moron, are a constant reminder that I root for a team that's basically the Fyre Festival of the NFL. If the Bears were an item on a restaurant menu, they would be Grilled Cat being passed off as Filet Mignon. It literally took less than 24 hours from when he was drafted for every Superfan sounding dipshit to start mispronouncing Mitch Trubisky as Mitch Trubinsky. The "Bear Down, Chicago Bears" fight song has a line that says we're the pride and joy of Illinois. We're the pride and joy of a state thats hopelessly incompetent and dead broke. Seems pretty fitting.
Zach:
John Fox's voice sounds like a badger crawled inside his throat to fuck a lawnmower and the two are still in there spooning.
Matt:
Our "rivalry" with the Packers is about as one sided as that of a freight train against a blade of grass.
John:
I hate Jay Cutler more than John Wayne Gacy.
Raymond:
No one in Chicago watches college football, so no one has any informed opinions whatsoever of the Trubisky draft day disaster (even though we're all pretty sure it will be a fucking disaster). And you better believe this fucking guy is going to be called Trubinsky for the next 3-5 years (he won't get a second contract) by a fan base the still calls Alshon Jeffery Alshon Jeffries (fanbase still unaware Jeffries is no longer on the team).

I write about this every year, and I'll keep writing about it until it stops. Our fans still make a ton of noise when we are on offense in the red zone. I'll miss watching Cutler get super shitty with the fans during games because he had to call a timeout on offense while driving in the red zone because of the fucking home crowd noise.
Zane:
I was 18 months old when the Bears won the Super Bowl and I wear a Chicago Bears Super Bowl XX Champions belt buckle to work every damn day.
Chris:
Last year I took some buds to see the Bears/49ers game. We hit one of my favorite pubs in Chicago before the game and made acquaintances with another Bears fan who was already near blackout drunk. She preceded to do shots of Fireball and call me and all the men at the bar pussies. She was right.

It was 10 in the morning.
Frank:
Lovie Smith goes 10-6 and misses the playoffs. They come with this great idea to blow the whole thing up. Phil Emery decides to fire Lovie and find his own coach. The reigning coach of the year Bruce Arians comes in for an interview. He really likes the organization of club, he asks them what he needs to do to get the job? They tell him, let's have a mock press conference. Phil Emery doesn't like it, so he does not hire him. So we all know how this works out.
Scott:
I got free tickets last year to the Bears-Titans game at Soldier Field and went with my brother in law (huge Titans fan) my dad and some of my cousins. The game was boring, and of course the Bears lost (not without mounting a comeback in the fourth quarter that we missed because we wanted to beat traffic). However, the absolute worst part of the day was listening to the mouth breathing west suburban fans in front of us drone on and on about how they can never forgive Ditka for not getting Walter Peyton a TD in Super Bowl XX and instead letting the fridge score. Literally these guys discussed this for 25 minutes. I would like to think that this is an uncommon occurrence, but I have heard the same conversation at least a dozen times.
Jack:
It's gotten so bad that I look forward to Jay Cutler as an announcer.

Fuck Cedric Benson with Lovie Smith's Super Bowl 41 Halftime adjustments.
Scott:
Their GM, Ryan Pace, was hired solely because he is in the same age range as Theo Epstein. Pace wears Oakley wrap-arounds and jorts and traded four draft picks to move up one spot to pick the second coming of Blaine Gabbert.
Jon:
There's nothing like Lincoln Park douche bros with Brian Urlacher jerseys and Cade McNown haircuts yelling "Super Bears Super Bowl!" at a bar whenever Chicago gets within sniffing distance of the playoffs.
Ryan:
1. Because the Bears traded up ONE spot with the #3 overall pick, to take the least talented QB in the 2017 draft. The QB whose ceiling is Andy Dalton.

2. Because Jay Cutler is an analyst now, and odds are he will accomplish so much more doing that in his first year, than he did with the Bears in 8 years.
Connor:
About six years ago my buddy and I went to a Bears game. I have no idea who they were playing or if they won (probably not). The only memory I have is of the father and son (kid was maybe 10 years old) sitting in front of me. There was a play where the opposing QB evaded a sack and scrambled for a first down. The dad proceeds to get up and scream, "Are you fucking shitting me!? I have seen more contact in prison rapes!" It remains the highlight of my Bears fandom.
Matt:
When I was a little kid, I was at a Bears training camp and Mike Ditka called me an asshole for pushing the kid in front of me in the line for his autograph. He stopped signing autographs, got out of his golf cart, came over and called me an asshole. Got his autograph, though. That was in the early 90's so it's pretty much been the pinnacle of my fandom.
Phil:
My parents surprised my brother and I with tickets to the Bears-Redskins game this past year on Christmas Eve. Coming off a near-upset against Green Bay the week prior, in which Matt Barkley threw for 362 yards and 2 touchdowns, my family foolishly tricked ourselves into believing we were going to enjoy a day of watching good football surrounded by good people. Both of those expectations were shattered.

Everything was going smoothly up until halftime. The Bears were trailing 24-14, but spirits were high that we could forge a comeback. We did not come back. Instead, Barkley was picked off in the Bears' first 4 drives of the second half, ending the day with 5 interceptions. The once-jovial crowd's holiday spirit was diminished, and some of the fans in our section who started the game singing Christmas songs were now screaming death threats at everyone on the field, regardless of what team they had the misfortune of playing for.

One insult that stuck out to me was when Washington's Terence Garvin went down after a kick-off. Someone in our section yelled at Garvin to, "Get up you fucking pussy," and elaborated that if Garvin were to not get up, he would, "Introduce you to my boys on the South Side," who would, "show you what a real injury is," and, "put a fucking bullet in your head." The children sitting behind were rattled.
Tyler:
I have a wall in my basement full of Bears memorabilia - autographs, pictures of great moments, division champs stuff, etc. It goes chronologically starting with the Walter Payton era, and the other day I noticed the collection ends abruptly in 2010 and there isn't enough space left to hang anything else. I don't think it will be an issue.
Eric:
I hope this team never wins a Super Bowl as long as it's run by the McCaskeys (it won't).
Alex:
My Green Bay friends don't even bother me anymore. I think they honestly feel sorry for me. They treat me like I have some chronic illness with no survival rate.
Philip:
Max:
Last year, my friends and I got really cheap upper deck tickets for the Bears game against the 49ers. We watched the drunkest man in the stadium scream, "KAEPERRRRRRNICKKKKKK SUCKSSSSSSSSSS!" over and over and over and over again for like ten minutes. Towards the end of the first quarter, he got really quiet for a couple seconds, like the calm before the storm, then started puking weird orange-slushy-looking puke all over himself and the the people in front of him, including a little kid who had told me earlier it was his first NFL game. (Surprisingly, this kid stayed for the entire game.) It smelled so awful that the entire section moved to a new one. I'm convinced that if you want to see the worst our country has to offer, go to any Bears game and sit in the upper deck.
Carl:
With the 3rd pick in this year's draft, I just knew we were going to draft players that would make an immediate impact for our team (Jamal Adams or Malik Hooker or some kind of help for our secondary), that has several holes to fill.

Instead we proceeded to trade up (and trade away picks!) to move up one spot for unproven and unprepared Mitchell Trubisky. If heads could explode, mine would have. I cried in front of my friends. Fuck Ryan Pace and fuck this franchise. And fuck Kevin White's dainty ass legs.
Jake:
Because our ownership supports shit like this, which all but guarantees that agents are going to warn players away from signing with us. And because most of the fanbase is too drunk to realize that it's not 1986 anymore
Rob:
Greg fucking Olsen. I watched him get drafted by the Bears in the first round in 2007. He played out of his mind in Chicago. What do we do? Trade his ass to the Panthers. For a third round pick. Makes sense, of course, in BearsWorld. I happen to live in Charlotte right now and every weekend I'm treated to seeing one of the premier tight ends in the league blowing it up. But hey...who needs a great tight end?
Nathan:
The draft was a disaster, the secondary is still going to be terrible, and a very well-paid human q-tip will be starting at QB (but just for this year!).

Martellus Bennett left the team, had a nice season with New England, and is now playing for our division rival. He will probably score 6 touchdowns between the two games, and at least one of those will be the conclusion of an amazing (and inevitable) Bears collapse.

The problem as always is that the McCaskey family still owns the team. We ought to float them out onto the ice floes of Lake Michigan, then let someone competent buy the team. We can put Ditka out there with them for good measure.

I have nonetheless talked myself into this team going 8-8.
Jeff:
If I ever see Mike Ditka in public, I'm punching him in the face.
Rich:
Our best quarterback of the past quarter century was Jay Cutler, who could throw the ball really far but never finished in the top 10 in quarterback ranking nor vaccinated his children for whooping cough. Our second-best quarterback was Erik Kramer, who won a playoff game with the Lions(!), but couldn't get the Bears to a 10-win season. Our third-best quarterback is some grainy footage of Sid Luckman that was unearthed a few years back.
Troy:
Mike Ditka is the racist uncle of your racist uncle and I'm glad he has painful arthritis. Fuck him.
Jeff:
I bought a Cutler jersey for like $40 on some shady Chinese website so I could go as Smoking Jay Cutler for Halloween back in 2011. The Bears suck so bad that I'm not bothering getting a different jersey, and if people give me a hard time for wearing a Cutler jersey my actual response will be "Dooooon't Care." We are ALL Jay Cutler now in Chicagoland.
Submissions for the Deadspin NFL previews are now closed. Next up: Jacksonville Jaguars.