Some people are fans of the Arizona Cardinals. But many, many more people are NOT fans of the Arizona Cardinals. This 2009 Deadspin NFL team preview is for those in the latter group.
1. FLUUUUKE! FLUUUUKE! FUCKING FLUKEY FLUKE FLUKE!!!! Expect to hear that sort of thing a lot this year, Cardinal fans (nee Leitch). To push away the haterade for a moment, one of the things that really bothered me about Arizona's postseason run last year were all the people who happily declared the Cardinals' run a product of extreme good fortune. They were lucky to play in the NFC West. They were lucky Seattle was injured all last year. They were lucky to play a rookie QB in the Wild Card round. They were lucky to be in Carolina the night Jake Delhomme's arm died. They were lucky to draw a home game for the NFC title game. They were lucky lucky lucky.
The single worst perpetrator of all this was a guy I admire, Aaron Schatz over at Football Outsiders. Schatz went so far as to say he wasn't looking forward to the Steelers-Cardinals Super Bowl last February because, numerically, he found both teams (but Arizona in particular) so incredibly lackluster. This is the sort of thing that causes the Buzz Bissingers of the world to give statheads a bad name. Schatz was upset the Eagles lost the NFC title game because they failed to prove his metrics correct. But the reason you look to compile interesting stats isn't so that your predictions come true and you look like some big swinging dick. That's Mariotti shit. The point is to explore new ways of seeing the game so that you enjoy it more. Yes, the Cardinals were lucky to get to the Super Bowl last year. Know who else was lucky? EVERY SUPER BOWL ENTRANT IN HISTORY. Flukiness is an inherent part of success. The whole idea of "worst Super Bowl winner ever" and shit like that is fucking stupid. If the supposedly best teams should always win, there'd be no fucking point in playing the games. So I say cheers to the Cardinals for their bizarre anomaly of a year. After all, there's no fucking way they're going back again, because…
2. Holy shit, that's a bad pass defense. Say hello to the team that gave up more passing touchdowns than any other last year, and by an astonishing margin. The Cards gave up 36 passing TD's last year. The next most given up were by the Patriots with 27 of them. Cornerback Bryant McFadden was brought in from the Steelers to help stop the bleeding. But still, it took the Steelers just seven pass attempts in less than two minutes to drive down the field and score the winning touchdown in the Super Bowl. Against a no-huddle passing attack, the Cardinals are more vulnerable than Leitch around a naked Rick Ankiel. Speaking of which…
3. Leitch roots for them. Motherfucking raisin-eating freak.
G/O Media may get a commission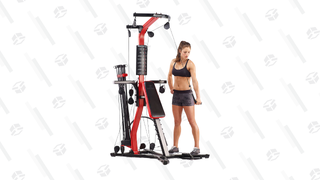 31% Off
Bowflex PR3000 Home Gym
4. Beanie Wells sneezed, will be out seven weeks. The Cards running backs this year are Beanie Wells and Tim Hightower. Which means the Cards running back this year is Tim Hightower. The Cards wanted to draft Donald Brown. Now you know why. Beanie Wells can't drink from a water fountain without hurting his fucking ankle.
5. Team with borrowed nicknames suck as a rule. On principle, I hate any team that moves from one city to another and is too lazy and uninspired to change their fucking nickname. The Indianapolis Colts. The Utah Jazz. The New Orleans Hornets. Nothing screams "I'm a cheap asshole" like not ponying up the money to rebrand a team. It's especially bad with the Cardinals, given that their team nickname is so lame and derivative to begin with. There were so many badass desert themes to work with: snakes, scorpions, severed heads buried in the ground, etc. And yet, they're still the boring-ass Cardinals. Fuck the Cardinals. Lucky assholes.
Wanna be part of the Deadspin NFL previews? It's simple. Just email me here and give me some reasons why the team you hate most sucks. If it's because you dated a fan of the team and she turned out to be some crazy bitch who keyed your car, all the better. I'll throw any good material into the post and give you proper credit.