This is Arena Amazonia, nestled in the Amazon rainforest in Manaus, Brazil. It is the worst.
The best sports movies according to Toheeb Jimoh
The basics
Capacity: 46,000
Date completed: March 2014
Number of workplace deaths: Three
Most closely resembles: a soccer ball with a giant hole in it—but significantly sweatier.
How corrupt is it?
It's hard to get worked up about political malfeasance in a city that thrives on maintaining a special relationship with the central government. If you think of Brazil as feverishly protective of its domestic industries, then just consider Manaus the boy in the presumably humid bubble. The Amazonas capital was a rubber boomtown at the end of the 19th century, but when the market collapsed 50 years later Manaus was saved from sinking back into the Amazon by some timely help from policymakers in São Paulo, including the creation of a free trade zone right in the heart of downtown.
G/O Media may get a commission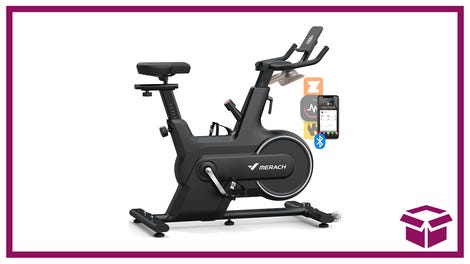 14% off + Coupon
Merach Indoor Cycling Bike
That intervention paved the way for Manaus to serve as Brazil's most surprising host city of this World Cup. Arena Amazonia will overrun its budget by about $50 million when it's finally finished—oh sure, the stadium has hosted games already, but there's also the matter of missing bathrooms, tickets for seats that don't yet exist, and the leaky roof—but consider the logistical terror of building this stadium: It's in the middle of the jungle, a few thousand miles away from the nearest steel refinery in a climate that yields 43 inches of rain between December and March and forced the engineers to procure special plastic that won't, um, melt when the Amazonian sun begins to fry spectators like ants under so many weird suburban kids' magnifying glasses. It seems like, all things equal, maybe they handled this pretty well.
Corruption score: 2 out of 5 Blatters
What's the worst thing that happened during construction?
Those three guys died.
Listen, Brazil isn't exactly Qatar when it comes to aterrifying disregard for human life and using poor laborers are nothing more than chattel, but there have been eight total worksite deaths in the build up to the World Cup. That's eight too many. Arena Amazonia was deemed "unacceptably dangerous" by labor oversight authorities in February after the third worker died onsite, and that followed a construction shutdown late last year after the second death. The considerable task of building a 40,000 seat arena in the middle of the rainforest is a ready made excuse, but Brazilians aren't buying it. There's a reason that so much of the public unrest surrounding World Cup preparations has been about stadium construction.
And to top it all off, the head groundsman says the field "is in bad shape" and may still be that way for its first match on Saturday. Oh well, at least it isn't an important one—just ENGLAND AND ITALY!
Any post-World Cup uses?
It merits mention that Manaus doesn't exactly have a top-tier club team that will call the newly built arena home after the World Cup blows town in July. The local club Nacional plays in Serie D, Brazil's fourth division, and attracts only a few thousand fans during home fixtures. (The Guardian's Jonathan Watts reported that the crowd at Nacional's match against top flight Curitiba was 3,215, or about what you can expect at a Burton Albion FC match.) Those anemic crowds mean that Arena Amazonia will have to find a few ancillary uses in its second life, and the city fathers are attempting to beef up the stadium's culture bona fides so it doesn't recede back into the Amazon, a process I imagine would take only a few weeks at most like it's that house in fucking Jumanji or something.
Oh, and an idea has been floating around to convert the place into a jail after the World Cup, which means you can have a sort of bizarro Alcatraz experience. Possibly with fewer working restrooms.
Should you go there?
Maybe, but bring cargo shorts and bug spray.
You know when someone tells you they're from the middle of nowhere but what they really mean is that the closest Waffle House is like a 30-minute drive away? Manaus is sort of the opposite of that. The city is home to more than 2 million people, which means that any perception of the Americans facing off against Portugal on a pitch bushwhacked out of a rainforest clearing is slightly off base. But it's still almost 800 miles away from Belem, the capital of Para on Brazil's north coast, and 1,700 miles away from São Paulo and Rio. (Context: It's also 1,700 miles to Miami from where I'm writing this in Brooklyn.) It's also worth mentioning that you can get to Manaus only by flying or taking a boat up the Amazon River—there is a highway leading south toward Bolivia, but it requires a 40-minute ferry passage across the Rio Negro and Amazon, and then, well, isn't really paved after Castanho, which is about 60 miles south of Manaus.
But then again, you don't go to Bozeman because it's close to Billings. Manaus's isolation means it has maintained the indigenous culture of pre-Cabral Brazil better than any other major city, and its secluded perch on the banks of three major rivers means you can pretend you're searching for a manager whose ideas, methods, have become ... unsound.
Brazil stadium rank: 12 out of 12
Listen, I don't know if it's the worst stadium in Brazil, but I don't feel too great about flying 1,700 miles into the jungle and thinking there's a 50/50 chance that my ticket is going to be for a seat that doesn't exist or that the bathrooms will back up in unison or that the roof will just cave in or something. I'd feel much better if the U.S. faced off against Portugal in some clearing with a couple bleachers on either side. Someone just needs to bring some orange slices and we're good.
---
Screamer is Deadspin's soccer site. We're @ScreamerDS on Twitter. We'll be partnering with our friends at Howler Magazine throughout the World Cup. Follow them on Twitter, @whatahowler.
Photo Credit: Getty.