Welcome to the Deadspin 25, a college football poll that strives to be more democratic and less useless than every other preseason poll. Leading up to the college football season kickoff, we will give you previews of the 25 teams that you, the readers, voted to be most worthy of writing about. Now, No. 15 Notre Dame.

You guys are really going to make me preview Notre Dame, huh? Ya know, there used to be a time when a team like this being voted into the Deadspin 25 was an anomaly, not the norm. You were supposed to be better than the AP. For shame, readers.
Head coach Brian Kelly is still a dick and has survived numerous hot-seat situations for nearing a decade, yet there he remains, steering the program. The Fighting Irish posted a 10-3 record in 2017, miles from where they found themselves in 2016, when the wheels started wobbling as they fell to 4-8. But everything was in order last year, with three signature, convincing wins against N.C. State, USC, and Michigan State and a one-point loss to Georgia proving that Notre Dame football, at least in 2017, was ready for its return to glory.
The question now, for a fanbase more spoiled than most, is whether the Fighting Irish can string two successful seasons together and build toward what they had with Lou Holtz in the early '90s—it's been 25 years since Notre Dame won 10 or more games in back-to-back seasons. Since Kelly's arrived, they've had to go one or two years in between those kind of seasons. This year's bunch, though, seems ready to break the streak.
The 2018 offense will at least look somewhat similar to its 2017 counterpart, which is good news. Chip Long is in his second year as offensive coordinator, a tenure that so far has displayed Long's love for airing it out and ability to adapt his offense when gifted a talented backfield.
G/O Media may get a commission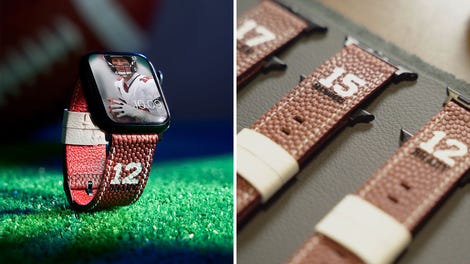 Official NFL PRODUCTS
Official NFL Apple Watch Bands
After two years running the show in South Bend, quarterback DeShone Kizer fucked up and got himself drafted by the Browns, in turn relinquishing the reins to Brandon Wimbush last season. In his redshirt junior year, Wimbush performed well enough to lock down this year's starting spot before the offseason arrived, finishing with 1,870 yards and 16 scores through the air and another 804 yards and 14 touchdowns on the ground. He was an exciting player, especially when he decided to pull the ball down and take off, but Wimbush was also inconsistent with his arm, completing just 49.5 percent of his passes.
Looking at who Wimbush has around him in 2018, he seems to have the necessary offensive weapons to improve on those numbers, but limited depth at the receiver position means he and his pass-catchers better have finished playing catch-up by opening kickoff. Equanimeous St. Brown, the leading wideout from 2017, is gone to the NFL. After (and before) a series of arrests, Kevin Stepherson was among four players kicked off the team in December ahead of the bowl game, so the Fighting Irish can kiss his 359 yards and five score goodbye as well.
This leaves receiver Miles Boykin is the No. 1 target for Wimbush over the coming year. Boykin is not exactly a star, or at least not yet. Last year, he was fourth on the team in receiving yards with 253 and third in touchdowns with two, but he showed up in the postseason, earning MVP honors in the team's bowl victory against LSU.
If he can build off that performance, and if Long's offense can channel its Memphis roots and get the ball to Boykin consistently, it's clear the 6-foot-4 wideout is going to be a Problem. Chase Claypool will be a dependable target for Wimbush as well, after finishing last season with 402 yards and a couple of touchdowns.
For those expecting the prolific running game trotted out last year to re-appear, 2018 might not be the best of years. For the first time in Notre Dame history, the Fighting Irish had two linemen selected in the first 10 picks of the NFL Draft. Not only will the left flank no longer be held down by Mike McGlinchey and Quenton Nelson, but offensive line coach Harry Hiestand left the program to coach for the Chicago Bears. And on top of all of that, star running back Josh Adams is gone.
Dexter Williams will take over in the backfield, which is going to be a tall order given that he's filling Josh Adams's shoes. Maybe it's because I'm an N.C. State fan, but Adams was a monster in the backfield, combining brute strength with enough speed to chew up 6.9 yards a pop. Williams will team with Tony Jones Jr. to try and replace Adams's 1,430 yards and nine scores. The duo went for 592 yards and seven scores last year, and in his 39 attempts, Williams proved he could gash defenses as well, averaging 9.2 yards per rush.
Issues arise with the position's depth: running backs Deon McIntosh and C.J. Holmes were kicked off the team in December along with Stepherson, and Williams is possibly going to miss four games at the outset of the season because of some weird and vague disciplinary reasons Kelly hasn't explained. Kelly pulled the same stunt last year when he benched Stepherson for the opening four games, but wouldn't discuss the suspension with the media.
Luckily for Notre Dame, the questions are mostly answered on the other side of the field. Clark Lea is running the defense now, having been promoted after Mike Elko left for Texas A&M, and last year's linebackers coach has a few things going for him in his first year steering the ship.
To start, he returns nearly the entire secondary after a year in which they allowed more than 250 yards through the air just three times, and still won all three of those games. This season, they might get even better thanks to Navy transfer Alohi Gilman. After a great spring, Gilman was bumped to the top of the safety depth chart, right alongside senior Nick Coleman—he's going to have to earn his field time, though, with Devin Studstill and Jalen Elliot on his heels. The corners are led by standout Julian Love, whose 23 defended passes ranked second in the nation in 2017.
Up front, Jerry Tillery will take on a new position after sliding from nose tackle to 3-technique (the other defensive tackle) and lead the linemen. Behind him, Te'von Coney and Drue Tranquill are returning to South Bend, which is amazing news for this defense considering they lost Nyles Morgan and Greer Martini this offseason. Whereas Morgan and Martini ranked second and fourth on the team in tackles in 2017, Coney and Tranquill were No. 1 and No. 3, respectively.
A Guy To Know
Making Brandon Wimbush the guy to know is a bit risky, considering it's still not a lock that he'll be the starter all season long—on the first offensive series of the second quarter in Notre Dame's bowl game against LSU, the Fighting Irish coaches pulled Wimbush in favor of Ian Book, who led them to a 20-17 victory.
Through the spring, the pair shared snaps, with both reporters and coaches unsure of who was going to get the nod. Then, the spring game arrived and Wimbush pulled ahead once again. As I mentioned before, Wimbush is an extremely entertaining player—watch some of the runs and off-balance throws he makes in the above clip. But a highlight reel is never adequately representative.
Wimbush is not nearly as accurate as he should be, nor was he consistent week-to-week. Hoping to fix these issues, he spent the offseason working on his mechanics (he has a bit of a baseball player's windup, where he dips the ball low and stretches his arm back for zippier throws.) It's a big "if," but if those concerns are addressed and his coaches believe in him, Wimbush, with his whip of an arm and ground game, very well could be one of the most exciting quarterbacks around.
The Assistant Coach Tweet Of The Day
He posts these every single day.
Can They Make They Playoff?
Yes, Notre Dame can make the playoff, and of the teams in that conversation, they are among the only ones balancing on a razor's edge at both receiver and running back. Wimbush has promise, but promise has to be turned into a season's worth of productive play to mean anything, and his 2017 outing was not quite good enough to make me believe he carry the team for a full season, or even the opening four games without Williams.
The defense is there and the offensive starters potentially have the requirements for a lethal attack. But the playoff dreams are founded on the expectation that multiple players who were backups last year will fully form into premier college football stars—this is Notre Dame, and that's what they're supposed to do, but that doesn't mean there won't be a couple of bumps. With this group, Notre Dame should aim for the playoff but be content if they can get that elusive consecutive 10-win season.
Schedule
Aug. 31: Michigan
Sept. 8: Ball State
Sept. 15: Vanderbilt
Sept. 22: @ Wake Forest
Sept. 29: Stanford
Oct. 6: @ Virginia Tech
Oct. 13: Pitt
Oct. 27: Navy (Neutral)
Nov. 3: @ Northwestern
Nov. 10: Florida State
Nov. 17: Syracuse
Nov. 24: @ USC