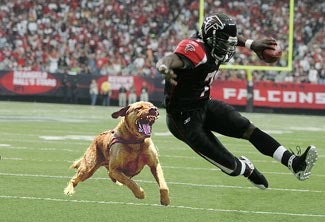 Our man Mr. Mexico might never make it back on an NFL field again, but if he does, he might find that he needs to be extra elusive. Not only are opposing dog-loving players going to be digging in to knock the guy into the nearest kennel, but even his own teammates might not have his back.
One (anonymous) player says Vick should keep a close eye on his blind side (though, we are aware, that's not really possible; it's a blind side, after all).
The (anonymous) high-profile NFL player—whose team will play Vick's Atlanta Falcons during the 2007 season—tells Radar that a number of the league's canine-friendly players are licking their chops at the opportunity to inflict some on-field vigilante justice on the world's most famous alleged pup-drowner. Trying to kill the opposing quarterback is nothing new in the NFL, but the player believes the attacks on Vick will be especially brutal and dirty, and may even be aided by the Falcons offensive line, who, according to the source, have indicated that they will make sure the opposition has all the room and time that they need to land a hit that will send the quarterback into early retirement.
Frankly, we're not sure we quite believe this story — no matter how much a Falcons lineman loves dogs, we can't imagine them legitimately trying to end the career of their own quarterback — but if Vick ever does make it back, it's something to look out for.
NFL-ers Gunning For Michael Vick? [Radar Online]