The week in boxing news was dominated by a fighter who isn't even currently in training: Manny Pacquiao. Even after an uninspired and perhaps compromised performance against Floyd Mayweather, Pacquiao remains the biggest, most marketable name in the sport. And the race to be Pacquiao's next foe—in what Pacquiao claims will be his farewell bout—is still the richest prize available in boxing. With two of his recent victims set to clash tonight on HBO in what looks to be a can't-miss fight, another big name in Amir Khan falsely claiming that he had already signed a contract to be Pacquiao's next foe, and Terrence "Bud" Crawford—currently the best fighter in the universe—coming off a star-making performance, the race officially entered warp speed this week. So what happens next?
There's one thing most fight fans can agree on: If boxing were a meritocracy, Crawford would be the runaway favorite to get the fight. Bud is coming off a highlight reel knockout in which he left his rugged opponent, Dierry Jean, sagging helplessly between the ring ropes. Even better, Crawford—seen by some in the press as a bit of a cold fish—delivered an Ali-like post-fight interview in which the usually mild-mannered Nebraskan noted that Jean and his management had gotten under his skin with their pre-fight trash talk.
Turning to his still-wobbly vanquished foe, Crawford rhetorically demanded, "well, did you get what you was looking for?"—eliciting laughs and a booming roar from his hometown fans. There's no doubt about it: Crawford is the most talented and dangerous foe at or near Pacquiao's weight, and the most likely heir apparent to Pacquiao and Mayweather's mantle.
And that, dear reader, is why Crawford faces something of an uphill battle to land Pacquiao. Without a ranking authority that possesses the credibility to force Manny to face his most qualified foe, and with Pacquiao likely looking to go out on a high note (as opposed to a stretcher), Manny and his trainer, Freddy Roach, have every reason to duck Crawford. You can also expect that Manny won't be facing his longtime nemesis, Juan Manuel Marquez, who is keen to have the last memory of their rivalry be the now-iconic image of Pacquiao stretched out like a bear skin rug on the ring canvas.

G/O Media may get a commission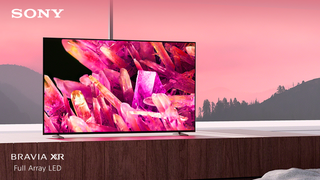 $400 off
Sony 55 Inch 4K Ultra HD TV X90K Series
He'd look nice in front of a roaring fireplace. Photo via Getty.
---
That leaves a triumvirate of less-qualified and more vulnerable candidates. Up first is Pacquiao's former sparring partner, the speedy and powerful yet glass-jawed Englishman Amir Khan. Khan, a perpetual prospect and network favorite, is a true boxing litmus test, both in that an opponent's fundamental character is sure to be exposed by him, and also in that he seems to possess the structural integrity of a soggy paper bag. Before Andre Berto fought Floyd Mayweather, I compared the muscular-but-disinterested Haitian American welterweight to a Pontiac Fiero with a Ferrari body kit.
Extending that metaphor, Khan is a Ferrari F355: by many accounts, the most aesthetically perfect automobile ever to come out of Maranello, and yet so famously unreliable that many states now only permit them to be driven to your bankruptcy attorney's office or the nearest payday loan outlet. Khan can look like a historic talent against light-punchers, as he did against Paulie Malignaggi and Devon Alexander, or he can get absolutely skunked by guys who can punch a bit, like former Crawford victim, Breidis Prescott, who shocked the world back in 2008 by knocking out the then-undefeated Khan in just 54 seconds.
Khan isn't the only skilled fighter who has been held back by a weak chin, but he's one of the most reckless. Despite having been stopped twice (the second time by Danny Garcia in 2012), and wobbled badly by Marcos Maidana, he still seems unable to resist the challenge to trade punches when his opponent forces the action. That makes him a perfect foil for Pacquiao, who is at his best when he is pressing the action and who loves nothing more than mixing it up with a willing opponent with a porous defense.
But, as Khan has repeatedly proven, his recklessness inside the ring is nothing compared to his recklessness outside of it. In addition to allegedly being captured on Skype in extremely compromising positions with a woman who was not his wife, Khan seems unable to know when it's in his best interest to keep his mouth shut. He was in the running for the Floyd Mayweather jackpot three times, even winning one online poll that Mayweather had promised would allow fans to choose his next opponent. But he blew that chance when he purportedly sent Floyd a signed contract before Floyd's people had even agreed to a fight, and then trashed Floyd publicly when the deal didn't get done. The infamously thin-skinned Mayweather responded by shutting Khan entirely out of consideration for his retirement fight (choosing instead to pick an easy mark in Berto).
Then, just this week, Khan's camp floated word to British newspapers that he had signed a contract to face Pacquiao in April. The only problem? According to Pacquiao's promoter, the infinitely quotable Bob Arum, the report was "complete bullshit." It looks like Khan's people were clumsily attempting to borrow the tactics famously employed by Jay Leno's then-manager, Helen Kushnick, who leaked false stories about Johnny Carson's retirement and Jay's planned ascension in the press in an effort to force NBC's hand. But Bob Arum is not NBC, and Amir Khan is no Jay Leno (other than also being well known for his chin); it's highly unlikely that either Arum or Pacquiao will react well to such a ham-fisted attempt to steer Pacquiao to a specific opponent.
That brings us to the two men meeting on HBO tonight in what should be an epic showdown: Timothy Bradley and Brandon "Bam Bam" Rios. Bradley, the favorite in tonight's bout, won an extremely controversial split decision—even by boxing standards—over Pacquiao back in 2012. How questionable a decision? Not only did virtually every respected boxing writer have Pacquiao winning handily, but one of the judges who sided with Bradley, C.J. Ross, was shortly thereafter drummed out of the sport after inexplicably scoring Floyd Mayweather's dominating performance against Canelo Alvarez a draw. Manny avenged the loss to Bradley with a unanimous decision in a rematch in 2014. Still, as the only active opponent who can claim a win over Pacquiao, Bradley is certainly a credible foe.
More importantly, perhaps, and especially positive for viewers of his fight this weekend, is what has happened to Bradley since his disputed win over Pacquiao: The once deliberate, perhaps even dull, fighter suddenly converted himself into an all-out action warrior. In his 2013 fight against slugger Ruslan Provodnikov, Bradley—who historically had always preferred to outthink and outbox his opponents—paid homage to his nickname, "Desert Storm," and actually went to war.
He fought through a first round concussion so severe that he had blurred vision for much of the fight, and admittedly slurred his speech for months afterwards. He was knocked down for the first and only time in his professional career, he was badly wobbled on several occasions, his body was battered so badly that he pissed blood after the fight, and he came closer to tasting defeat than he ever had as a professional. But he won. Not only the fight, but legions of new fans—the sort of fans who'd once opted for Big Bang Theory reruns over Bradley's yawn-inducting fights. The brutal fight was named 2013's Fight of the Year.
Bam Bam Rios is the perfect foe to extract another fight of the year candidate from the formerly stoic Bradley. If Amir Khan is a Ferrari F355, Rios is an unvarnished demolition derby beater. A goddamned real-life Rock 'Em, Sock 'Em Robot. Rios only knows one way to fight and it's to brutalize his opponent while somehow absorbing whatever he gets in return. At least that's what he was until 2013.
After a pair of fights against "Mile High" Mike Alvarado that evoked memories of legendary fights like the Gatti-Ward trilogy or the hallowed Castillo-Corrales showdown, both Rios and Alvarado seemed to be feeling the effects of their longtime devil-may-care approach. Alvarado never won again and looked to be completely finished in a third fight with Rios earlier this year. Rios seemed bloated and slow in his loss to Pacquiao, and then needed a disqualification to get past Diego Chaves. But Rios rekindled some hope earlier this year, showing flashes of his old self in his three-round destruction of Alvarado in January, although some of that can certainly be attributed to Alvarado's shot condition.
Rios's upside is limited—he's already bumped his head on his talent ceiling several times, although usually with enough force to shatter the plaster. But he is the sort of fighter who can look dreadful losing the first 11 rounds of a fight and still find a way to ruin his opponent's night in the 12th. If Bradley suffered some permanent damage from the beating he absorbed against Provodnikov, Rios is the perfect foe to expose that.
And that of course also makes Rios an ideal opponent for another fighter: not Manny Pacquiao, of course, who's already humiliated him, but Amir Khan. If Khan is ever to shed his label of being vulnerable to any puncher, regardless of how reckless or unskilled, Rios would make for an exciting acid test. It's a fight that anyone can relate to: boxing's embodiment of the classic 1980s teen movie clash between the gifted but flawed evil rich kids and the limited but scrappy underdogs. It's also a bar that Khan should have to clear before ever again being seriously considered as a foe for the biggest fight in the sport.
And that brings us back to where we started: who will be Manny Pacquiao's final opponent? Crawford is clearly the right choice, if Manny is still willing to fight the best. Bradley, if he wins tonight, is a credible backup option, albeit one over whom Manny should rightfully own two wide victories. Khan is boxing's Lane Kiffin: a guy who keeps getting chances because he looks the part, whether or not any objective data supports it. You can never count out the idea that he'll again fail his way upward into another great opportunity.
And, finally, Brandon Rios embodies all the most primal, brutal and yes, enjoyable aspects of fighting. At his best, he's a non-stop action whirlwind who can never be counted out. If he's recovered from his post-Alvarado downturn, and shows it tonight against Bradley, he might be able to offer more of a challenge to Pacquiao than he did last time. Each of these men, in their own way, has a legitimate chance to win the Pacquiao lottery.
But this is still boxing. In other words, Manny's final opponent probably won't be any of them.
---
Daniel Roberts is a longtime boxing fan and occasional contributor to Deadspin. He can be found on Twitter @ironmikegallego or at ironmikegallego@gmail.com. Top photo via Getty Images