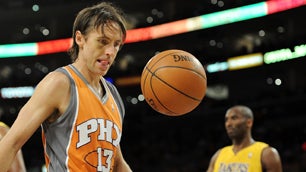 Or will they rage, rage against the seemingly inevitable Celtic/Lakers rematch that, while we're all kind of sick of both teams, is probably the best matchup remaining?
Lakers/Suns is by no means over. It's only a 2-0 series, though if aggregate scoring was in play, this one would be a foregone conclusion. But there are at least two games in Phoenix left, and Arizona's immigration bill may keep Pau Gasol out of the state (technically Hispanic!), so...oh, who are we kidding. It's gonna be L.A./Boston. Fuck.
But hey, that doesn't mean tonight's game won't be a good one. How often do you see 5-game series, where the losing team's single win is that first home game? According to my selective memory, all the time!
So discuss the game here, plus the Subway Series, plus any other relevant or irrelevant topics that cross your minds. DUAN: Doing work...for you!
••••
We'll be back with you tomorrow. Thanks for your hospitality.