Tonight, the U.S. will beat Costa Rica, or it will beat itself. It's game two of the Hexagonal round, in which each team plays every other, home and away. The top three qualify for the 2014 World Cup, while the fourth has to fight the Oceania region's champ for scraps. After one match, the Americans sit alone in last. There's good news: Costa Rica's not good. There's bad news: the USMNT might be falling apart.
Costa Rica does have legitimate threats, like captain Bryan Ruiz and starlet Joel Campbell, but on paper, USA is the better side. They're playing in Colorado, in front of American fans, and it's going to be frigid and windy and snowing, and (it's not just a stereotype if it's true) Costa Ricans don't like the cold. There's every reason to expect a win, if only the team wasn't in absolute shambles right now.
First, there are the missing players. Landon Donovan, the USMNT's most-beloved star and one of its few true scoring threats, is not with the team for this fixture, or Tuesday's match at Mexico, or maybe ever again. Following the Galaxy's MLS title win, Donovan decided to take time off from soccer for the first time in 15 years to decompress and do...whatever. Like play shirtless pickup soccer in Cambodia. He's set to return to MLS soon, once he finishes his own private Eat, Pray, Love, but no one knows where his head is right now.
Tim Howard, one of the world's premier keepers, will miss the game with a broken back. Also out: Steve Cherundolo and Edgar Castillo and Timmy Chandler and Fabian Johnson and Jonathan Spector and Danny Williams and Jose Torres. The USMNT's so thin in the back that Jürgen Klinsmann's had to call up inexperienced players like Matt Besler, Omar Gonzalez, Justin Morrow, and Tony Beltran. That's just the start.
The Sporting News published a bombshell article earlier this week in which reporter Brian Straus interviewed 22 people close to the national team, including 11 players. They spoke anonymously, probably a good idea since they overwhelmingly declared that they hate Klinsmann.
G/O Media may get a commission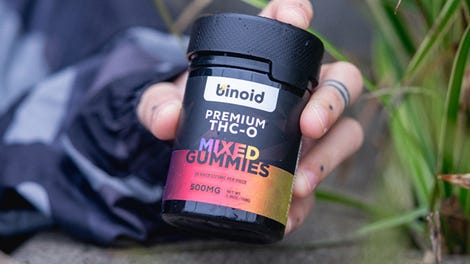 25% Off + Free Shipping
Binoid THC-O Gummies
US Soccer president Sunil Gulati told Klinsmann when he was hired in 2011 that "people are going to expect you to walk across the East River." Klinsmann was a legend as a player in the '80s and '90s, before going on to coach the German national team in the 2006 World Cup, and European giants Bayern Munich for the 2008-2009 season. He was—is—supposed to remedy America's woes and turn Team USA into an internationally relevant side.
But the players are frustrated. One source called the squad "overtrained and undercoached." Another said of Klinsmann, "he's just scatterbrained." He's employed 24 different starting lineups in 24 games. He often changes formations and lineups the day of matches, regardless of how they've practiced.
Players also disapproved of Klinsmann excluding longtime captain Carlos Bocanegra from the squad ahead of the Costa Rica and Mexico fixtures. But Klinsmann—and all international managers, really—require their players to feature regularly in their domestic clubs in order to get called up to the national team. If players don't get games, there's no substitute for match fitness or adjusting to the speed of play. And Bocanegra, God bless him and his long service to this country, is almost 34 years old. He sits on the end of the bench on Racing de Santander, a team near the bottom of the Spain's second division.
There are even complaints of Klinsmann showing favoritism to the German-born American nationals on the team, like midfielder Jermaine Jones, causing a further rift in the locker room. Of course, nepotism like this always exists in sports, especially in a sport like soccer, where athletes and coaches jump continent to continent for work, and forge natural bonds with others who share their heritage. Compounding the problem is that soccer is a low-scoring sport with limited substitutions. In a heated, important match, the only players that will see the pitch are the most trusted, and that trust is necessarily displayed publicly.
Breathe. Let's assume that everything the players have said is true. Even with Klinsmann's tactical whimsy, and with all the injuries, there's still no excuse for the USMNT to lose to Costa Rica. There's still newly-minted captain Clint Dempsey, and Michael Bradley, and Jozy Altidore, all of whom are playing well overseas. And even if things go poorly tonight and in a tough matchup at Azteca on Tuesday, there will still be seven matches left to catch up.
But with mainstays like Bocanegra and Donovan either too old or too burnt out to play, it's hard not to feel that the USMNT core is losing ground to their CONCACAF foes. And following the U-23 side's failure to qualify for the last Olympics, it's fair to wonder if the younger generation, many of whom will be on display tonight, have what it takes to carry the torch. And if they lose both matches, what of Klinsmann? A former national team player openly speculated to Deadspin that the German could be on his way out sooner than anyone expected.
All that comes later. Tonight, as hard the USMNT tends to make even the easiest tasks, they only need three points.