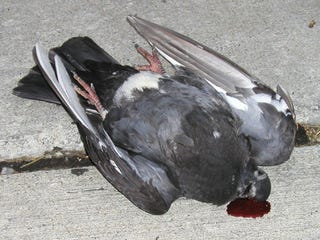 Apparently, there are others besides Mike Tyson and homeless people who still think pigeons are animals worthy of protection. The organizers of Wimbledon are not in this group and have done everything besides hiring armed guards to keep pigeons from entering their precious, precious air space — until now.
Yes, Wimbledon has hired marksmen to shoot pigeons out of the sky before they can flap their dirty wings and evacuate droplets of white poo upon unsuspecting tennis pros and restaurant goers. Extreme? Yes. And PETA isn't happy with this approach:
The decision to call in the marksmen was condemned as "cruel and illegal behavior" by People for the Ethical Treatment of Animals, which complained to the tournament organizers and the police.

"Since the use of marksmen to kill pigeons appears to have been carried out as a first, rather than a last, resort and not out of a concern for public health but rather because the animals were deemed inconvenient by players, you appear to be in clear violation of the law," PETA vice president Bruce Friedrich said.
Now, I'm no tennis pro, but I think I'd find intermittent gunfire a little distracting during my serve as well.
Wimbledon Under Fire For Shooting Down Pigeons [Sports By Brooks]