The two videos embedded in this post are called "Beech Grove Walmart fight part 1" and "Beech Grove Walmart fight part 2." Each video carries the same YouTube description: "2 women and a kid fight at Walmart." I just want everyone to be clear on what they are getting into here.
Part 1, above, begins with two women arguing somewhere offscreen. Things are already pretty heated by the time the video starts, and one of the would-be combatants is threatening to dismount her rascal scooter in order to fight. (Spoiler alert: She does.) It is at about the 57-second mark that you will hear a new, unfamiliar voice enter the argument. A high-pitched threat is made.
"Yeah, get up! Get up! Come on!"
Who does this voice belong to? A child, of course:
This appears to be the woman in black's small, insane son. He immediately enters the fracas, aiding his mother by chucking shampoo bottles at the scooter lady. His participation continues into Part 2:
At this point, you're probably starting to feel that roiling in the pit of your stomach that always occurs when you're watching a video such as this one. You want to stop watching, and I get that, but just skip ahead to the 13-second mark of Part 2, at which point you will see this little devil roll up on the group of chiding spectators and let the woman who threatened him with "Little Boy Jail" know just how little he's playing.
G/O Media may get a commission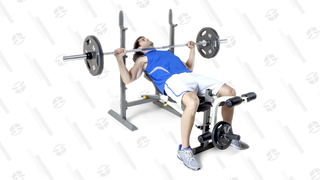 10% Off
Marcy Folding Weight Bench
"You can't tell me to stop! Do not even tell me what to do!"
He returns to the fight, and says some more things.
"I don't care! I'm protecting my mom. I don't play!"
"I'm not playing right now!"
"What did you call her?"
Scooter Woman eventually escapes the Woman in Black's clutches. She is covered in shampoo. This world is a bleak place.