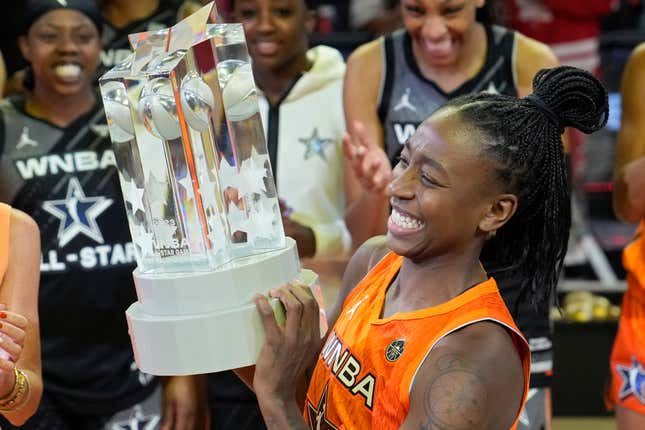 The WNBA decided to put minimal effort into one of its most prestigious individual honors this season. During last season's All-Star Game, the league was embarrassed by the MVP trophy that winner — Kelsey Plum — could have dangled and referred to as "her little teacup." Jewell Loyd was named MVP of the 2023 event and received a trophy that actually looked like it needed two hands to hoist.

How running an NFL team is like running a restaurant | Chef Emeril Lagasse
A league that is rapidly growing in popularity was embarrassed by its office on a national stage. Purchasing a proper all star game MVP trophy is the simplest of responsibilities. It doesn't have to be the gaudiest thing in the world. However, it also shouldn't fit in a skillet.
The trophy should not even be a newsworthy topic. An inanimate object should not be the story of an all-star weekend. The player holding that trophy should be the entire discussion as well as the other big-time performers from the weekend.
Loyd set a WNBA All Star Game record with 31 points for Team Stewart in their 143-127 victory against Team Wilson. The WNBA"s leading scorer also made a record 10 3-pointers. The 3-point shot was also a friend to Sabrina Ionescu over the weekend. In the final round she put on the best 3-point Contest performance of all time, hitting 20 of 22 shots.

The WNBA is currently riding a surge in the popularity of women's basketball. Last season's playoffs were the most viewed since 2007. Leading into the WNBA season, the NCAA Women's National Championship Game had 9.9 million viewers, making it the most viewed women's college basketball game of all time.
To make a joke about how few people view the WNBA is now both misogynistic, and also could not be farther from the truth. Women have always played basketball well and with style, but recent efforts to get the sport more mainstream media coverage have resulted in the stars becoming household names.
That growth has taken place over some years now, and is one of many reasons why last season's MVP trophy was an embarrassment. For any organization to be successful an honest investment must be made into it, both financially, and by perception.
The winner of an all star game MVP outplayed the best players in a league. A feat that has to be rewarded with something that has an actual base attached to it. Thank goodness the league overcorrected that mistake this year by giving Loyd a piece of the Aggro Crag.
Next up on the list for the WNBA is chartered flights and a new national television contract.