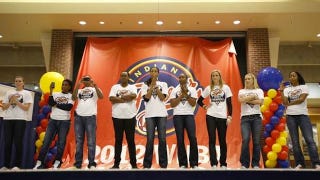 We hoped to recapture the magic of the single greatest headline/photo combination in Deadspin history, but the weather did not cooperate. Literally scores of fans were set to line the streets of downtown Indianapolis to fête their triumphant Fever, who prevailed in the best-of-5 WNBA finals this weekend, or maybe even late last week. But it rained, and the celebration had to be moved inside the Bankers Life Fieldhouse. Well, not the actual arena. The entry pavilion of the arena. A good time was had by all!
Thankfully, this led to some spectacular photos from WISH-TV:
The street where the parade would have been held.


Actual caption: "This float would have been seen if the parade for the Fever wasn't canceled."


Meanwhile, on Monday night, a 43-year-old Indianapolis woman was arrested on charges of public intoxication and resisting law enforcement.
"Baby, I'm celebrating the Fever winning the championship," the fan told police, according to the report. "I'm loaded. I ain't gonna lie."