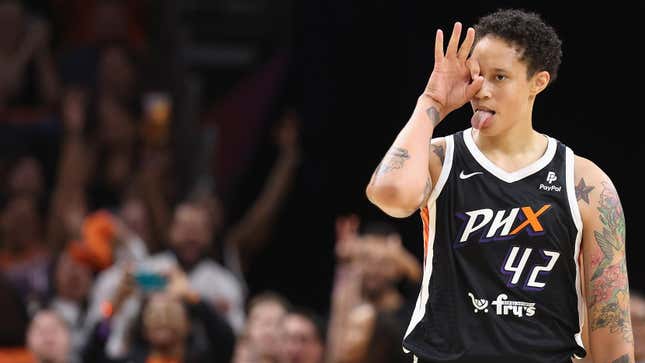 It was almost surreal watching Brittney Griner return to the court for the Phoenix Mercury over the weekend. She has become so much of a symbol that it can be forgotten that the only reason her arrest made such big news is that she is one of the best basketball players in the world. Griner reminded us of that fact over the weekend.
Grant Hill looks to repeat Team USA's 2004 "success"
Griner scored 18 points in her season debut. The Mercury lost to the Los Angeles Sparks 94-71. The loss to the Chicago Sky — 75-69 — was a thriller in which Griner was spectacular. She scored 27 points while missing only four shots. Griner hauled in 10 rebounds and in each game recorded four blocks. Any concerns about rust should be alleviated. She is playing the way that she did during the 2021 season, her last in the WNBA before her arrest.
Griner's game is about more than basketball
In February of 2022, Griner was arrested at an airport in Russia, allegedly with vape cartridges containing hashish oil. Griner was held in custody until December 2022, and was sentenced to nine years in prison. That is time she would have served at a penal colony. To go from that grim possibility last Thanksgiving to her running out onto the floor wearing a Mercury uniform is nothing short of amazing.'' Even though the song choice —" I'm coming home"— was cheesy.
Of course, the Twitter trolls came out
What was truly a marvelous occasion was marred somewhat by the typical anti-Black and anti-queer comments that are littered throughout Elon Musk's new toy. The reply tweets were from a lot of users with that new blue check mark — one that can now be purchased. People who think that they became an influencer for the mere price of $8 per month.
According to Musk though, a healthy dialogue about a Black lesbian woman is when people who pay to use his site say she still belongs in jail and make uninformed statements about the arms dealer that America sent to Russia in exchange for Griner's freedom.
Deadspin's D.J. Dunson has already thoroughly explained that Viktor Bout's "Merchant of Death" nickname is more bark than bite. The United States did not put the security of the world at risk by releasing Bout from prison.
Sunday was a wonderful day for everyone without a rooting interest in the Boston Celtics. Instead of celebrating what was one of the best days of the year, trolls were given the opportunity to spew hate online and it was snatched up like a dog being offered a bone.
When given the opportunity, the truly gifted can put on show when their number is called. Those worth admiring will shine. That is what Griner did on Sunday. Unfortunately, her haters came to play as well. Their work shined in much uglier light.