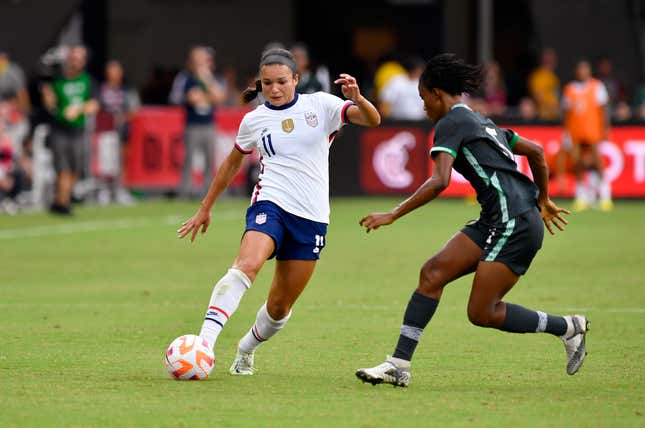 The U.S. Women's National Team's spoils at forward have always been in excess. Most countries' talent pools over 50 years don't go as deep at striker as America's would for one World Cup cycle. That depth is being put to the test this summer as a second potent goal-scorer won't be traveling with the Stars and Stripes to Australia and New Zealand, with Catarina Macario announcing she won't be "physically ready" enough to compete at the global showcase. The news comes about a month after Mallory Swanson, who was on a scoring tear to start 2023, tore her patella tendon. With both not heading to Oceania, the bigger question looms: who does the USWNT turn to up top? The answer isn't simple.
Alex Morgan is a decorated veteran, but no lock to start
So, wait? We don't just give the mantle to Alex Morgan, who has the fifth most goals in USWNT history and with her next appearance for the Yanks will have sole possession of 10th place on the all-time appearances list? Nope, and that's a good thing that she's not America's last remaining or only hope. The 33-year-old non-Obi Wan Kenobi will no doubt be one of the team's strikers when the tournament begins for the Americans on July 22 against Vietnam. Morgan shouldn't be locked into the team's No. 9 role. Going with a fresher face should work better for the influx of young talent the USA will feature at other positions.
What about Sophia Smith?
Let's continue with a prime candidate and my selection for who will be the water-cooler name of the World Cup. Die-hard soccer fans already know the name Sophia Smith, but for those who tune in every four years expecting the USA to win the tournament, pay attention. Smith scored in the mega-friendly against England at Wembley Stadium last October and just as Abby Wambach passed the torch to Morgan, Smith could be the heir to the throne if it's not Swanson's for the taking. Smith's only 22 but already has 29 caps and 12 goals for the USWNT. Smith has been a goal-scoring machine at every turn in her career, not only at Stanford, but with the NWSL's Portland Thorns as well. She's only 5-foot-5, but her pace makes her a defender's nightmare.

If not, there are other options, including Trinity Rodman
Compared to the United States' woes on the men's side finding a reliable striker, we have more good options coming for the women. USWNT head coach Vlatko Andonovski could go even younger. Trinity Rodman, who had a goal disallowed in that sold-out friendly against England, just turned old enough to buy a drink at an American bar. She might be a few years from peak form, but Rodman will no doubt be on the plane to the land of kangaroos and the All Blacks. Andonovski could even go full prodigy with the selection of Alyssa Thompson, who won't turn 19 until November, and it wouldn't be a shocker to see her get playing time at the World Cup.

If the USWNT wants to go a little older, there are two good options, both of which have late May birthdays. Lynn Williams just turned 30 on Sunday and Ashley Hatch will be 28 on Thursday. Neither has the goal-scoring form of Smith or Morgan, and not the long-term potential of Rodman and Thompson. And if Andonovski truly wants a wild card, he dips into the old-guard player pool once more and gives it to Megan Rapinoe. She'll be 38 by the time the World Cup comes around, but she was the biggest American star from the 2019 edition in France.

Rapinoe is on the bubble to be part of the squad in a very similar situation to Landon Donovan in 2014, as an American soccer legend past their prime. Donovan wasn't selected and his presence was needed for a younger team. The USWNT shouldn't have that issue in Australia and New Zealand with several with over 100 caps that are near-locks to make the team, including Morgan. Rapinoe just shows up in big-time games. And there's no bigger event than the World Cup. Although Morgan will likely get the nod, the temptation of Smith or Rapinoe and what I genuinely think has the best chance to unseat that choice.