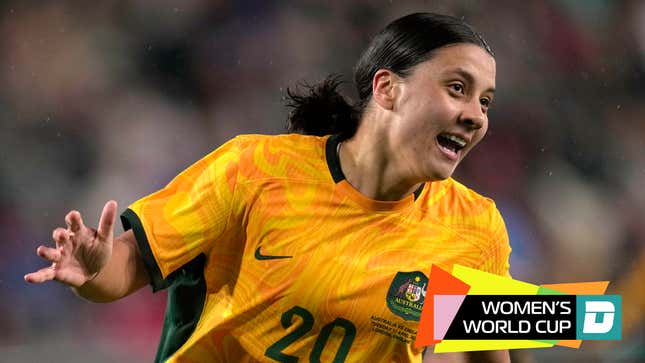 We spilled some ink in these parts about Mallory Swanson by herself making the USWNT a threat to win the World Cup, before her unfortunate injury. But the US isn't the only team with a player who is capable of grabbing a short tournament by the haunches, and the co-hosts Australia may have the biggest candidate, striker Sam Kerr. It seems like a perfect storm, with Kerr playing in front of sold-out stadiums for the Matildas at home with perhaps their best squad in a World Cup in some time if not ever, one can only dream about the kind of buzz and energy Kerr could create for the tournament if she carries her form over from Chelsea to the national team.

Luis Rubiales' mom locked herself in a church and is on a hunger strike
Kerr has spent the past few seasons clubbing the best two leagues in the world, the NWSL and the WSL. Her last season in the States saw her chalk up 18 goals in 21 starts for the Red Stars. She then moved to Chelsea to become one of the highest-paid female athletes in the world, and the goals didn't stop pouring like an avalanche comin' down the mountain. 41 goals in 42 league matches in her first two seasons, and another 12 in 24 Champions League matches in three seasons. Needless to say, Kerr is basically automatic when given a look.
While some strikers these days have layered games, Kerr is the absolute definition of a #9. She wants to get in behind, playing off the shoulder of the last defender, and when that's not available she wants to open up just a step in the box for a cross to head in or poach some kind of opening. Link-up play isn't really her thing, though she's not helpless in that department, and she is very much supposed to be the sharp end of the spear. Every team she's been on has had a primary focus of getting long balls and through passes to get her in the clear, because on the break there probably isn't a more deadly striker in the world.
That is certainly Australia's plan, as manager Tony Gustavsson plays the Matildas usually in a pretty tight and conservative 4-4-2 that is specifically designed to blunt attacks and launch counters over the top to Kerr and her running buddy in attack Mary Fowler in an instant.
With that approach, and the dependence on Kerr, there are a couple warning signs. One, Kerr had, for her, an off-season this past campaign with Chelsea, her third in England. 12 goals in 21 league appearances is still a record that 97 percent of forwards around the world would remove a finger or two for consistently, but it is a step down for Kerr. She'll turn 30 in September, so she is still at her peak but on the backside of it. Kerr had issues getting the ball on target. She actually had more shots per 90 this season (4.62 vs. 4.05 the season before) but really struggled to get her attempts between the posts (1.81 vs. 2.26 per 90). Which meant that her goals-per-shot and goals-per-shot-on-target both took a pretty big hit. In a short tournament, any striker as talented as Kerr can get shit hot or ice cold, simply because in a max of seven games anything can happen with a mere handful of chances. Australia clearly needs the former.
The other small warning sign is that Gustavsson's tactics seem a little tame for what this team has. There is a wealth of attacking talent all over the field here, especially out wide. There's Fowler up top with Kerr, and though she hasn't made an impact at Manchester City yet, she scored 10 goals over two seasons at age 17 and 18 in France that drew the attention of City in the first place. No team in the tournament will have a spicier set of fullbacks than Steph Catley–who creates chances at will at Arsenal–and Ellie Carpenter of Lyon. Caitlin Foord in wide midfield is another dynamic weapon, and also plays for Arsenal. If Gustavsson wanted to hit the gas with this team, they probably could blow a few teams away.
The major concern for The Matildas is in the center of the park, which is probably the worst part of the field to have concerns. Katrina Gorry has a wealth of experience and kind of does it all, all at once, but her likely partner in the center is Kyra Cooney-Cross is just 21 and playing in her first World Cup. With the way Australia set up, they aren't asked to do so much defensively, as they set up in two banks of four. But when they face teams that have three in midfield it's an area to watch.
As for their draw, getting out of the group as winners very well might be paramount, and that won't be easy with Canada around, and Nigeria and Ireland hardly just making up the numbers. If Australia doesn't win the group, it's facing England in the Round of 16 most likely. Should they win the group, it's a much softer landing against Denmark, or China, or Haiti. That route probably sees them run up against France or Brazil in the quarters.
You can't help but feel this is Australia's moment to go farther than they ever have (never been past the quarters). They're at home, and even with a small dip in Kerr's numbers, they have the best forward in the tournament. Get Kerr firing from jump street–Canada is their last group game–and the momentum of the home fans could become something unholy for any opposing team.
As for the rest of the group, Canada is unfortunately one of many teams coming to the tournament in various stages of upheaval if not downright chaos, both with fights with their own FA and injuries. Janine Beckie will miss the tournament with an ACL injury and winger Nichelle Prince is just coming back from her own injury nightmare. Kadeisha Buchanan missed some time at the end of the season with Chelsea. It's not the perfect prep.
It's still the Olympic gold medalist, and even without Beckie there's enough in the attacking positions to go far. A bit much might hinge on the 40-year-old legs of Christine Sinclair and her 783 international appearances. She's still effective for Portland, but part of that is because her midfield partners Sam Coffey and Crystal Dunn can do most of her running for her. Can Julia Grosso and Jesse Fleming do the same? The latter was a major cog in Chelsea's championship campaign, the latter for Juve's 2nd place finish in Serie A as they race up the ladder of power in Europe.
Nigeria, much like Australia, will have their hopes hinge on their star #9, Asisat Oshoala, who banged in 21 goals for Barcelona this past season. They also have internal turmoil, with players and coaches rebelling against manager Randy Waldrum in the past and some strife with the players themselves.
Ireland will be making their first World Cup appearance, and in a continuing theme their manager, Vera Pauw, is under the microscope after thanks to an expose on her one season in Houston in The Athletic. Pauw keeps Ireland in a pretty conservative 5-4-1 formation and especially in the matches against Australia and Canada will try to keep things exceptionally tight and hope to nick a goal on the breakthrough Amber Barrett (who scored the goal against Scotland that got them here), Kyra Carusa, or Katie McCabe.

Follow Sam on Twitter @Felsgate.