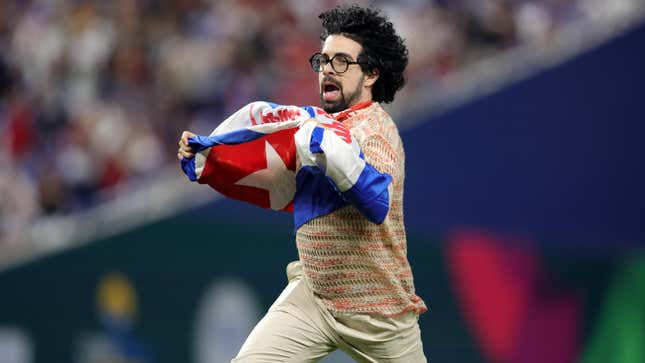 We tend not to appreciate things that don't matter as much to us as it does others. If there's anything more American than "I got mine," I don't know what that would be. That seems to be the trouble with the World Baseball Classic, even though with every iteration it seems to pick up more steam. There are just those who will not care about the sights and sounds of fans and expats and residents and players from other countries, who all seem to value this pretty highly. Maybe it's because there are still a fair few American players who waved off the invitation. Or it could be that there's this perception that the US should always stroll to the trophy, so winning brings no joy. So there is no happy outcome for the only fanbase that matters.

I don't know, this looks like a guy and team that would be pretty damn happy to win the WBC. Same with those fans leaping with joy in the background:
The attention span of both fans and the news cycle don't really let something like the WBC breathe. It needs to have edition after edition to matter (and for MLB to place it in the middle of the season when it would really matter, but we've had that talk). You know what else was thought of as a joke when it first started? The World Cup. Not so much anymore.
But the injuries
Do guys get hurt in spring training? All the time. Jose Altuve could have been facing some amped-up kid trying to break camp with the big club for the first time, wearing #84, who rode a fastball in too high and tight. Altuve is lucky that he plays for the Astros, in a division like the AL West, where they're still likely to absorb his loss and, at worst, mosey into the expanded playoffs even with him out for two months. Other players whose teams' fortunes hang on their presence alone would have been more greatly damaged.
But no one forced these guys. They all want to be here, and they all seem to be loving it. So are the fans. It's still new, it's still different, and it strikes during a time on the calendar when NBA and NHL playoff chases aren't really a thing anymore and as the NCAA Tournament continues to serve up basketball that looks like it was belched up by some swamp creature that suddenly has a hole in it.
And again, it's not for us, or us entirely. There's a thrill that we probably can't fully understand if you're Dominican or Venezuelan and seeing your national team play. That it happens every four years keeps it rare but valuable.
The next time they roll this out, in 2027, more players will want to play, having watched even just USA-Venezuela and seeing those moments like Turner's grand slam. Who wouldn't want to be part of that? To call it fake or made-up or worthless is to be a curmudgeon for the sake of it. The thought of Shohei Ohtani rolling out in the final out of the pen to perhaps preserve the tournament for the Japanese? How metal is that? Why does anyone feel the need to keep moments like that exclusive to just what we've always known before?
If anything it's proven how fun baseball can be if we stop treating it like we always have. If we allow others to enjoy it in their way. Players get hurt for all sorts of reasons, and if one player misses a couple weeks or even months means you miss out on the pretty wide target of a wildcard berth these days…build a fucking better team. That must mean you aimed for 87 wins. Get outta here with that. No one should feel sorry for you.
It might not be for you, but that doesn't mean it shouldn't be for someone else.
The best of the rest
Gonna rip through a few things here:
I could watch the slo-mo of this Thiago Almada freekick all day with some mood lighting and just the right "spice."
You should probably catch Almada now while you can, because some European team might lavish Atlanta with some $30-35 million to take him off their hands this summer.
Mom, you're supposed to be the bedrock of the family:
Carlos Alcaraz is back to eat the world.
After missing the Australian Open due to injury, Alcaraz strutted into Indian Wells–perhaps the tour's leading tournament beneath the four majors–and won it without dropping a set to reclaim the No. 1 ranking in the world. He pretty much regurgitated Daniel Medvedev, who had won 20 straight matches on hardcourt and is considered the leading hardcourt player in the world. At least he was until Alcaraz turned him into foodstuffs, 6-3 6-2.
There is nothing Alcaraz can't do on the court, and this point in the semifinal against Jannik Sinner shows you why at the age of 20, he has the tennis world thudding various floors with its jaw:
What shot didn't he hit in that point? If it were anything but sport we would say no child should be given such power, for it is too heavy to wield. Alcaraz is taking it and dunking on everyone again.