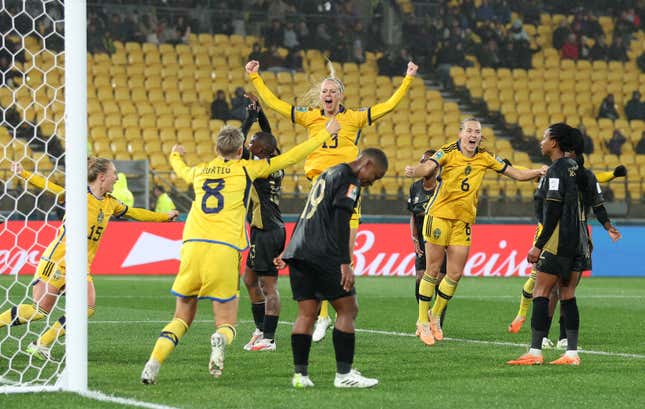 If the story of the first three days of the World Cup was that the tournament favorites were kind of inching their way through their first matches, nothing changed on Day 4. Sweden, Holland, and especially France all had an air of trying to figure out what all the buttons do and what the lights mean as they opened their campaigns. Let's get to it.

Luis Rubiales' mom locked herself in a church and is on a hunger strike
Game of the day: Sweden 2-1 South Africa
Not that it was some barnburner, but it was the first game of the tournament where both teams scored, which by definition makes it the most interesting. You can tell how galvanizing a match is when you first hear the schoolchildren in the crowd counting down to an attempt at starting The Wave. This one was about halfway through the first half, which tells you pretty much everything.
It can't have been much of a surprise to Sweden that South Africa showed up playing with two banks of four against the ball, and hoping to get a turnover which they could then quickly get up to their two forwards Linda Motlhalo and Thembi Kgatlana whenever the Swedish fullbacks got caught upfield. Sweden certainly had the numbers to try and overload the defense of South Africa, but it's about more than just having players pushed up. They have to, y'know, move.
With the ball, Sweden was mostly in a 3-2-5 with Joanna Andersson pushing all the way from left-back to the forward line. But when the Swedish defense or their deepest midfielder got the ball and looked up, what they basically saw was just a line of five. Rarely did central striker Stina Blackstenius drop off to try and dislodge a defender or open up space. Rarely did the Swedes overload one side to try and get around the back. During the first half, the only times they looked dangerous was when one of the two holding midfielders, Elin Rubensson and Filippa Angeldal, would burst forward with diagonal runs toward the corner to provide combinations with Sweden's wingers and fullbacks.
This is where the US have something on most teams in the world, is that Alex Morgan is only too happy to come a little deeper and play balls into the space she just opened up behind her (i.e. the USWNT's first goal against Vietnam). Sweden could have used some of that.
And it looked pretty dire when they did get caught on the break in the opening throes of the second half.
This was all about desire, as two South African players beat Swedish defenders to a loose ball simply because they wanted it more.
It's not as if Sweden suddenly woke up and then stormed to the win. They just kind of kept moving forward at a steady rate and leaned on South Africa enough. One of the 31 crosses that the Swedes lumped into the area, and one of the few with real purpose, bounced off Fridolina Rolfo and into the net. It was one of the few times that Rolfo actually got to meet the ball, which was exemplified by the fact that she was subbed off just two minutes after scoring, such was her contribution.
Sweden did have a huge advantage at set-pieces, which they made count late in the match.
If you were being kind, you would say that Sweden were ponderous. If you were up all night for this one and feeling a bit agitated, you'd lean more toward insipid. But as most of their co-favorites to win the whole thing might do, they'll use the Principal Skinner gif "IT STILL POINTS, DOESN'T IT?!" There's still plenty of time to figure out their attacking ennui.
Also, no Swedish player should be wearing gloves when the temperatures are still above freezing. You're Swedish, for fuck's sake. You come from darkness and cold.
Other results: Netherlands 1-0 Portugal
This one opened with some spice, as it was the first game this tournament, at least it felt like, where both teams came out looking to press their opponents high and create a fast tempo. The problem for Portugal is that the Dutch are much more equipped to deal with such a thing than they are, and it only took about 20-25 minutes for them to realize they needed to back off. Their outlet was mostly Jackie Groegen, who was a beacon in midfield–calm under pressure and then able to ping out a long switch to get the Dutch out into the yawning green fields. Once the Netherlands went ahead in the 13th minute, Portugal looked decidedly toothless.
That doesn't mean it was all rosy (tulipy?) for the Dutch. The worry for them was always being without Vivianne Miedema could they score enough, and this won't allay those fears. Lineth Beerensteyn was certainly active and making all the right runs, but didn't take any of the chances she was presented. Worse yet, she limped off at the end of the match with a pretty nasty-looking ankle twist, and the Dutch don't need to also be short of numbers if they're short on class without Miedema.
France 0-0 Jamaica
But the Dutch's day certainly went better than France's, who looked pretty helpless against a spirited Jamaica. This one felt like it could have gone 200 minutes and still ended up scoreless. Boy were the schoolchildren audible! If you wanted to sum it up in three seconds…
(Sorry, I can't help it)
Jamaica was extremely organized, with their own two banks of four and not falling for Eugenie Le Sommer's movement into midfield, their communication solid, and passing her off to the midfielders to keep their shape. With an injured Selma Bacha not able to go, France reverted to a 4-4-2 instead of their usual 4-3-3 and looked like they never game to terms with it. They only managed some danger when Le Sommer dropped deeper or out wide to the left, but with this set-up, there weren't a host of candidates to run beyond her.
This was yet another cross-apalooza, with France attempting 42 of them but few of them threatening, though Wendi Renard did manage to put a corner over the bar from three yards out somehow.
Jamaica carried some threat through Bunny Shaw, and will be pretty antsy about her missing the next match thanks to two yellows and a red card. The second yellow might have been soft, but it was also a brain-dead tackle to make when Renard was going nowhere. But special mention should go to Deneisha Blackwood and Chantelle Swaby who operated the left side of Jamaica's defense, and especially in the second half had it more locked down than Leavenworth.
It was also quite clear that France manager Hervé Renard was not thrilled about having to wear a winter coat, which didn't accentuate his tastefully unbuttoned white shirt in the way that he's accustomed.
Anyway, going forward, they'll have to be better than…
Goal of the day: Not exactly a tasty smorgasbord to choose from, with a couple headers off corners and one that hit Rolfo on accident, so we'll go with Sweden's last-minute winner simply due to drama, even though it was a header from arm's reach. You'd think marking the tallest person in the six-yard box would come naturally, but here we are.
Did Alexei Lalas say anything stupid?: He did manage to work in his "SET PIECES SET PIECES!" catchphrase because he has no idea how teams put together moves to score in open play, but it would be better to share a word on FOX's general coverage. I don't know how much it would have cost FOX to have every broadcast team on site, and covering this amount of ground would be tricky. But I do know that FOX has the money, and it would have been worth it.
It can't be easy to broadcast these games from a remote studio, but the delay between audio and video has been noticeable on multiple matches and is heavily distracting. We didn't get the call for Netherlands's goal from Kate Scott until four or five seconds later, which is hardly her fault. Warren Barton and Jenn Hildreth never got clued into Rolfo being credited with Sweden's first, referring to it as an own goal throughout the rest of the match. Had they been in the stadium, they most certainly would have heard the announcement. They could have been helped by their production team, but they were probably hamstrung by being remote as well.
It got worse for Scott and Danielle Slaton. They weren't aware that Dunedin Stadium had a roof until seeing it on a replay. And while they're certainly under orders to promote the upcoming US match against the Dutch team they were covering, they spent about 60 percent of the match talking about it, kind of rendering the match they were presiding over meaningless. It's not a warm-up game, it's a World Cup game.
Also, I don't know if this was due to the delay or not, but Scott totally blows the call of this Ines Pereira save which keeps Portugal in the match.
Not to pick on Scott, but she has a bit of Buccigross disease where she tries to make everything sound dramatic by speaking in either hushed tones or halted cadence. It's soccer, not everything is dramatic.
Slaton was all too ready to pick on France, saying "I always expect France to get out of their group and then lose their first knockout game." Well, they've been to at least the quarters of the last three World Cups and went out in the semis of the last Euros, so that's four tournaments where they've won knockout games in their last six appearances. Hope she's not giving out betting tips.
---
Follow Sam on Twitter @Felsgate and on BlueSky @Felsgate.bsky.social