When Côte d'Ivoire take the field against Germany on June 7, how they will play will be a mystery. Not because they have ginned up some tactics in secret—though maybe they have!—but because they have only played a single match in the past seven months. While the Côte d'Ivoire men's team is known for world class players like Didier Drogba and Yaya Touré, the women's team is relatively new to the international scene. This is their first World Cup appearance, and in fact they had never even qualified for a tournament until the 2012 African Women's Championships.
Côte d'Ivoire qualified for the World Cup by virtue of a wild third place finish at the 2014 African Women's Championships. They advanced out of the group stages into the semifinals, where they lost to Cameroon on a heartbreaking 118th minute goal. Needing to beat South Africa to punch their ticket to Canada, they got their own late goal in the 84th minute.
Since that October victory, however, for reasons that are unclear, they have only played a single friendly. Their entire spring calendar was canceled, leaving only a 3-2 loss to Cameroon a couple of weeks ago. And while Côte d'Ivoire has a national league that most of the women play in, it is not particularly competitive. The team will be led by their four players who ply their trade abroad: two in Russia, one in Tunisia, and one in Sweden.
Ida Guehai, who recently moved to a team in Sweden's highest division, Kristianstads DFF, is Côte d'Ivoire's present and future. She is only 20, but was already the most lethal attacker on one of the two biggest domestic clubs, Onze Soeurs de Gagnoa, before joining Kristianstads DFF. She has played three games for her new club, and despite still getting acclimated to a new team and culture, has scored three goals.
Nigeria has always been, and remains, Africa's top team. But Côte d'Ivoire are a team on the rise, making tremendous strides in the past decade, and are poised to challenge Nigeria for continental supremacy. They aren't there yet, but no matter what happens in Canada, this is the beginning—not end—of their journey.
G/O Media may get a commission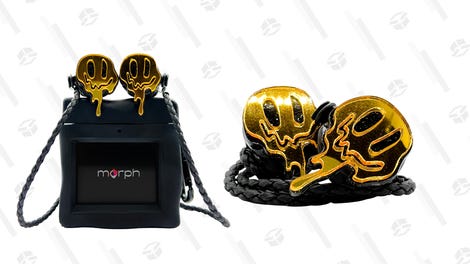 morph audio
Morph Earphones
Roster
Goalkeepers: Lydie Saki (Juventus de Yopougon), Dominique Thiamale (Omness de Dabou), Cynthia Djohore (Onze Sœurs de Gagnoa)
Defenders: Fatou Coulibaly (Juventus de Yopougon), Djelika Coulibaly (Juventus de Yopougon), Nina Kpaho (Juventus de Yopougon), Mariam Diakité (ES Abobo), Fernande Tchetche (Omness de Dabou), Sophie Aguie (Omness de Dabou), Raymonde Kacou (Juventus de Yopougon)
Midfielders: Rita Akaffou (Juventus de Yopougon), Ida Guehai (Kristianstads DFF), Christine Lohoues (Onze Sœurs de Gagnoa), Binta Diakité (ASF Medenine), Jessica Aby (Onze Sœurs de Gagnoa), Aminata Haidara (Onze Sœurs de Gagnoa)
Forwards: Nadege Essoh (Juventus de Yopougon), Ines Nrehy (WFC Rossiyanka), Sandrine Niamien (ES Abobo), Ange N'Guessan (Omness de Dabou), Rebecca Elloh (Onze Sœurs de Gagnoa), Josée Nahi (Zvezda 2005 Perm), Nadège Cissé (ES Abobo)
Nickname
The Elephants
FIFA World Ranking
67th
Manager
Clementine Toure
How They Play
Côte d'Ivoire is usually described with words like "selfless" and "team-oriented," suggesting that their strength lies with the entire team, not one or two players. And that may be true, but it seems more like the work of writers unfamiliar with the team who look up statistics, see that Côte d'Ivoire has no dominant scorers, and decide that means they play a team game.
Côte d'Ivoire's strength clearly lies in the attack, where Ida Guehai, as well as the three other abroad players, are positioned. Russian-based Ines Nrehy and Josée Nahi are both strikers, and Clementine Toure will have to decide who to play up top in the 4-3-3, and who to (more likely) play out wide or (less likely) sit. Based on current form, Nrehy will probably lead the line.
It is not much, but that is basically all that is known about Côte d'Ivoire without stepping headlong into speculation. We do know that they'll have to get their tactics right immediately, as an opening match-up against Germany leaves no time for acclimation.
Fixtures
June 7, 4 p.m.: Germany vs Côte d'Ivoire at Lansdowne Stadium
June 11, 7 p.m.: Côte d'Ivoire vs. Thailand at Lansdowne Stadium
June 15, 5 p.m.: Côte d'Ivoire vs Norway at Moncton Stadium
All Times Eastern