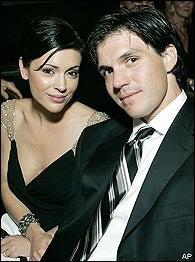 Brad Penny. Carl Pavano. Barry Zito. Would you like to join this illustrious list of baseball players who have reportedly dated Alyssa Milano? Consider that for a second:
On the one hand: You get to date Alyssa Milano. On the other hand: You get Carl Pavano's sloppy seconds. (Zito or Penny's slops? Perhaps your buddies will even respect you more. But Pavano? Yeesh.)
Anyway, MLB.com is running a contest featuring their lead blogger, Alyssa Milano, and you could win a date with Alyssa! (No, wait: Let's check out the fine print...)
What the...?! You get the "opportunity" to "meet" her at a game. (And you have to provide your own transportation!) Perhaps I can say this because I'm married, but it doesn't sound like it's worth the effort. (Now, with one of the Ladies...?)
Let me clarify: They're not selling the contest as "win a date," and god knows the "prize" ain't close to a date. You're closer to a "date" with Alyssa Milano with your Internet connection and closed blinds.
— D.S.
Win a Date With Female Blogger? [Awful Announcing]
MLB Ultimate Fan Sweepstakes [MLB.com]
Alyssa Milano's Blog [MLB.com]