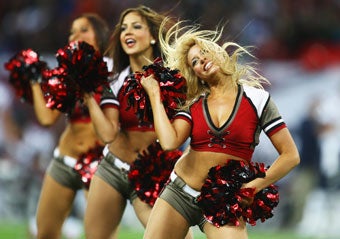 The Buccaneers are so sad this season that the local UFL team says they can beat them. Maybe owner Malcolm Glazer agrees, because according to Tampa sports talk radio station WDAE, he's putting the team up for sale.
Glazer and his family also own Manchester United, which puts them in controlling possession of two billion-dollar sports properties. (Forbes values the Bucs at $1.085 billion.) Yet, somehow they make no money. Man U allegedly carries close to $2 billion in debt and the Bucs are currently a ridiculous $30 million under the NFL salary cap. So when there's no more players left to dump, you just have to dump the whole team.
Good luck finding a buyer IN THIS ECONOMY, though. I hear Rush Limbaugh might have some cash lying around.
NFL's Buccaneers For Sale - Terrible Team Yours For ~$1 Billion [Business Insider]
Tatum Bell: Tuskers can beat the Bucs [Tampa Bay.com]