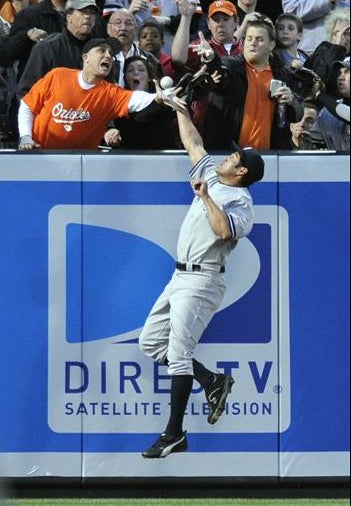 It's hard to imagine an opening day that could have gone better for the Orioles, and that doesn't just include the torrent of abuse they let loose on "Treasonous Tex."
As Dash mentioned earlier, there's already panic in the Bronx after Baltimore's 10-5 spanking of New York on Monday. But things couldn't be lovelier in Crab City, which enjoyed the following cosmic justice, albeit only for a day.
• Johnny Damon appeared to have a shot at catching Cesar Izturis' fly ball in the eighth, until an Orioles fan bumped his glove in a battle for the ball at the top of the left field wall. It ended up as a two-run homer that gave the Orioles an 8-5 lead. Call it "Avenging Jeffrey Maier.'' Although the fan in Baltimore didn't appear to reach over the fence, as the 12-year-old Maier clearly did in the 1996 postseason to turn Derek Jeter's fly ball to rightfield into a key homer, the same two teams were involved. And this time it went Baltimore's way. "I thought I had it," Damon said, "and then the fan's glove looked like it got in my way.". Note: The fan IS reaching over the fence, isn't he?
• Joe Biden had better control than CC Sabathia.
• Maryland native Mark Teixeira, who signed with the Yankees in the off season, was 0-for-4 with a walk and left five men on base. He was booed with a vitriol usually reserved for Barry Bonds or Bernie Madoff, and afterward seemed to be curiously in denial about it: "I expect to get booed in every visiting stadium," Teixeira said. "We're the Yankees." OK then.
But most of all, the 48,607 fans who packed Camden for once didn't remind us of the Yankees, Maryland Chapter. The great majority were in orange and black, causing Sun columnist David Steele to note that they had finally "taken back Camden Yards." That may have been mostly to boo Teixeira, which means its temporary. But one hopes not.
Meanwhile, on the Orioles blogs:
I've thought for a while that Girardi's Yanks are soft and play with a smug sense of entitlement. Not the confidence of a champion but the pretentiousness of a spoiled child.
About Teixeira
I saw a post game interview with him on MLB Network where he said the boos didn't get to him because it reminded him of when he was a kid and he'd come to the Orioles games and boo the other teams himself! Did you do that when WEARING YOUR YANKEE CAP TO THE GAME AND HAVING ALL THE O'S FANS GIVE YOU A HARD TIME the way you said they did when you became a Yankee? What a douche.
— by Stacey on Apr 7, 2009 4:36 AM EDT
Oh, and Tim Lincecum is scheduled to battle Jeff Suppan here at AT&T at 1:05 PST, but as I peer out the window it's raining. Curse the gods!
Yanks Can Ease Recession Blues [Fox Sports]
Irked Orioles Fans Send Angry Message To Native Mark Teixeira [New York Daily News]
Bird Droppings: Opening Day Hangover Edition [Camden Chat]
Fan Battles Damon For Drive, Helps Turn It Into HR [Newsday]
Orioles Fans Reclaim Camden Yards [Baltimore Sun]