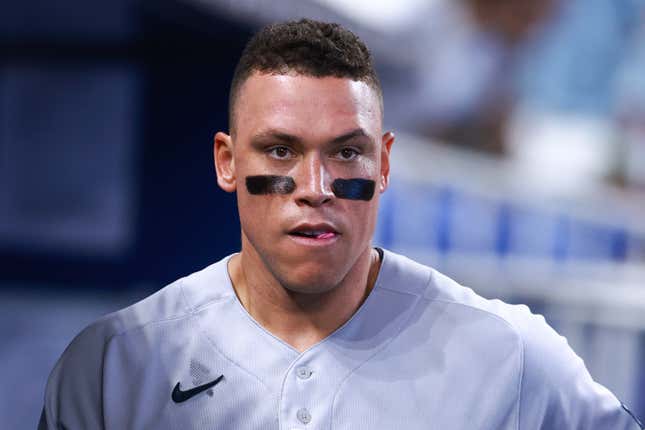 It's been a while since New York had a lost summer, baseball-wise. Every New York summer is hot and smells like anarchy, but usually one of the Mets or Yankees can make all that sweating and noise worth it for their supporters. The Mets gave up their responsibility long ago, while the Yankees have been stumbling along like the town drunk for a couple months, all the while using their name and reputation to try and cover over every obvious crack. Yesterday, they may have fallen down face-first in a roadside ditch.

Should the Yankees send Anthony Volpe down to AAA?
The Yanks blew a 7-1 lead to the Marlins, with Clay Holmes and Tommy Kahnle teaming up in the ninth to set the team's face on fire by surrendering five runs on the night. All to a Marlins team that has the offensive punch of a dizzy sloth. Yankees fans can only hope this is the bottom.
Are the Yankees done?
While the Yanks are still over .500, since June 1 they've played at a 71-win pace. And the rot has seeped into every facet.
Since the beginning of the summer, the Yanks have had basically two starters, Gerrit Cole and Clarke Schmidt. Luis Severino has an ERA over 9.00 in that time. Domingo German's was over 5.00 before he checked out and checked in. Carlos Rodon was a gasoline fight before he went back to his home planet of the IL. They've had to make it up from there, and their creation has been an affront to nature.
Lucky for the Yanks that since they haven't been able to pitch in the past 10 weeks, they also can't hit. Giancarlo Stanton might look like the most intimidating hitter standing in the box, but is just a more fragile Stay Puft Marshmallow Man. They let Anthony Rizzo try to hit one of the three baseballs he was seeing for weeks before he finally admitted to having possible brain injury problems. DJ LeMahieu is losing his fight with Father Time, and Harrison Bader is once again proving that any baseball player who uses a mouthguard is a jackass. The Yanks have once again been Aaron Judge and the Pips, and Judge has once again missed enough time to show why the Pips are the Pips.
Time to clean house in The Bronx?
The Yanks currently are owners of the wooden spoon in the AL East, even though they're still a couple games under .500 (though they're working on changing that!). It's fair to wonder if a basement finish wouldn't, at last, be the final straw for both GM Brian Cashman and Aaron Boone. Boone can probably point at what Cashman has left him as proof that he should stick around, but it's starting to feel like the Yanks could use a clean sweep.
Cashman has been at the job forever but, other than Judge, the Pinstripes have been afflicted by what got their neighbors in Queens and other big spenders. They just haven't produced enough every day players on their own. Anthony Volpe had one BABIP-driven June and the rest of the season has looked overmatched at the plate. Gleyber Torres varies between looking like a piece to looking like something to be discarded and probably settles in as "a guy." They've bounced Oswaldo Cabrera all over the field to accommodate other prospects and may have broken him.
The rotation is basically the same story, though Jhony Brito and Randy Vasquez are at least making a fist of it.
The only thing Cashman and Boone have consistently been able to do is keep producing relievers and fashioning a bullpen out of previously thought scraps. But that doesn't do much if they're not given leads to protect, Sunday aside. The Yanks are 21st in runs and 17th in slugging, even though they don't have to do much more than belch balls out to right field to hit homers. It's been this way for a bit.
And if the Yankees aren't going to be THE YANKEES when it comes to payroll anytime soon, it might not get all that much better anytime soon. They'll lose the anchor of Charm School Headmaster Josh Donaldson, as well as Severino, but Rodon and Stanton will still be pulling in $59 million combined for the one good ligament that they apparently share. There isn't much to swing a trade, and the help arriving from Wilkes-Barre next year might total Everson Pereira in the outfield.
They're five games out of the wildcard spot with three teams to leap over, though they'll get six games against the Blue Jays, who have been woeful against their fellow AL East buddies.
But don't worry, there's no more Yankees-Red Sox games slated for Sunday night. ESPN must've misread the schedule.
Follow Sam on Twitter @Felsgate and on Bluesky @felsgate.bsky.social