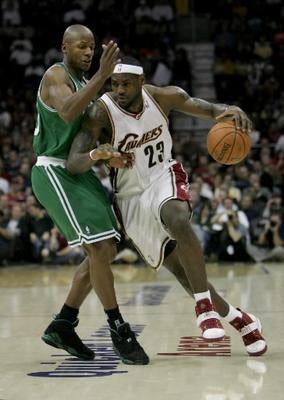 A big deal is being made of LeBron's efforts in Cleveland's overtime win over Boston on Tuesday; he's front and center on all of the major sports news sites this morning. Of course LeBron was instrumental in the 109-104 victory — only the Celtics' second loss of the season. But Drew Gooden was was bigger. And you can take that to the lake!
James had 38 points and 13 assists, including 11 points in overtime. But consider this: Gooden was 8-for-8 from the field in the third quarter and finished with a season-high 24 points and 13 rebounds. The Cavaliers shot 29.4 percent from the field in the second quarter, but led by Gooden, they shot 80 percent in the third quarter when they took command.
"There was a lot of trash-talking going on out there," Gooden said. "I had time to think about it at halftime. I just told myself what I was going to do, and that's what I did. The trash-talking is fun. I love that type of atmosphere." I just wish they would mic up the players; TV ratings would skyrocket.
• We're Sorry You Had to See This. Sloppy, sloppy, sloppy. Kobe Bryant scored six of his 35 points in the final 3:51 as the Lakers beat the SuperSonics 106-99. Kevin Durant had 25 points for Seattle, which lost its fifth straight. LA had about 80 turnovers in the final two minutes.
• The Heat Is On. With some guys, sometimes you need to pull them from the starting lineup to get their attention. Ricky Davis and Jason Williams came off the bench for 23 and 11 points (eight assists) respectively as the Heat beat the Bobcats 110-90.
• Bulls Win? What? Luol Deng had 22 points (LOL) as the The Bulls beat the Hawks 90-78, with Ben Gordon chipping in with 21 points. Chicago snapped a four-game losing streak. But then, have the Bulls ever lost to the Hawks, ever?