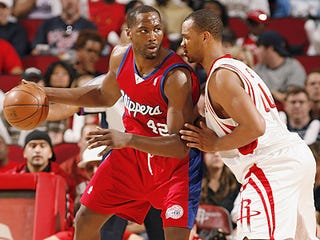 Boy, that escalated quickly. Wasn't it just last week when the sports pundits and the soundbite intelligentsia were all speculating that former Los Angeles Clipper, and free agent whale, Elton Brand, would "probably" ignore the lavish offer sheet from the Golden State Warriors because "he loves L.A." so much and he's very "loyal." Right.
And then, out of nowhere, Sixers' general manager Ed Stefanski goes out and takes a dry eraser to the team's salary cap and then (reportedly) five years, $82 -million later, the Sixers are now looking awful pretty in the Celtic Conference.
I am shocked. This isn't the type of free agent scenario that usually happens to this city. Philadelphia's not big on sandbagging. Either we covet somebody aggressively and openly and overpay for their services — or we get the door politely closed in our face. But this? This deal kind of popped up out of nowhere, and wasn't even taken that seriously up until a couple days ago. Josh Smith seemed a likely candidate. Elton Brand? Just another name thrown around to keep pushing the Sixers' feel-good momentum caboose. Smith would've been nice; this is friggin' sweet.
Report: Brand Has Verbal Agreement With 76ers [Sports By Brooks]
Sixers reach verbal agreement with Elton Brand [Philly.com]
Elton Brand agrees to go to the 76ers...[LA Times]