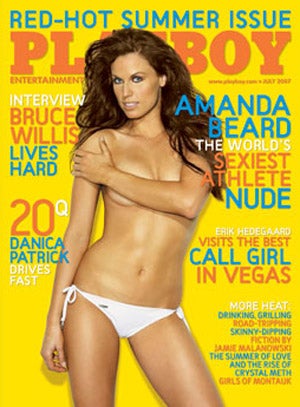 So by now you've heard all about Amanda Beard's Olympic-sized star turn in Playboy. (Looking for links to the pics? Try here.)
OK, I was really just looking for an excuse to post on the topic here this weekend. I didn't have an agenda in mind, but I suppose if you insist...
I'm not willing to assign some sort of "she demeans women athletes" or "she empowers women's fitness" angle to what - more than anything - is simply her own attempts to cash in on her place at the nexus of hotness and sports. I don't condemn her for that. That's the playing field.
I would, however, seriously question whether she is, as the cover claims, "the world's sexiest athlete." Now that is a hell of a debate.
(A quick aside: Is it me, or is she just not that pretty? Her face is a little too "Elway.")
I do like that "sexy" is equated to an athletic build. I married a former elite swimmer, so that's my type. A-Rod has his type (perhaps a wee bit, eh, bulkier). Tom Brady has his type (assless). We've all got the physical qualities that turn us on, hopefully matched with a few decent non-physical qualities as well.
The Comments question on the table, of course, is this: Who IS the sexiest athlete? And I'll be assigning extra points for novelty. (No, Rags to Riches doesn't qualify.)
— D.S.
Amanda Beard Q&A [SI.com's Richard Deitsch]