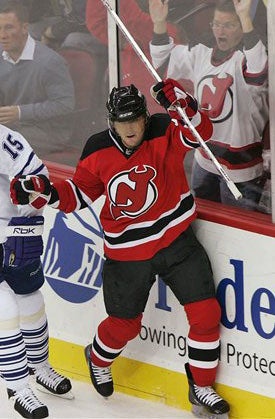 • Caliendo Can't Impersonate Him. Learn well, kids. When you have a choice between shooting at the goal and not shooting at the goal ... shoot at the goal. This was where I failed miserably in youth sports. But John Madden knew better, and decided against clearing the puck on a power play. His lack-of-power-play goal put New Jersey on top 2-1, and the Toronto Maple Leafs went on to lose 3-2.
• Sew It Goes. They say Mike Richards was left in stitches after his fight with Brooks Laich. I saw the video, and honestly I don't see what was so funny about it. Must be that kind of "ironic" humor. But after Richards was crocheted back together, he scored the tiebreaking goal, and the Philadelphia Flyers topped the Washington Capitals 3-2.
We interrupt this NHL closer to bring you... a hockey fight.
• Well, At Least They Kept It Close. If There's an NHL team called the Phoenix Coyotes, there needs to be an Albuquerque Roadrunners? Phoenix could replace the goal with a boulder and paint an opening on it, with predictable results. Until then, Mikael Tellqvist overcame the flu to shut out the Dallas Stars 5-0.
• Edmonton vs. Predator. Perhaps the greatest named trio in NHL history scored goals for Nashville in their 4-1 win over the Oilers. First, it was David Legwand. That's some magic wand! Then, Radek Bonk scored an unassisted goal in the third, followed by Vernon Fiddler, who'll take your bet, you're gonna regret, 'cause he's the best that's ever been. Jason Arnott scored as well for the Preds, but his name is in no way hilarious.