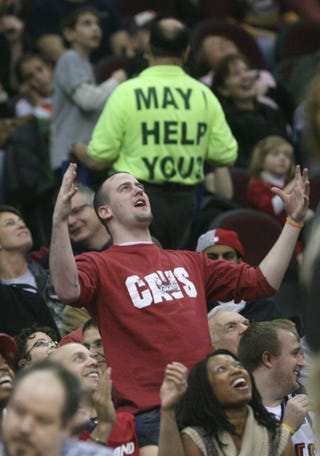 Lost in all the foofaraw over the Cavs' 25-game losing streak is the fact that, hey, there are some other terrible teams in the NBA. Like the Pistons! With a 6-21 road record, and probably without the services of Rip Hamilton, they're actually the underdogs going into tonight's game at the Q. For drama's sake, we're rooting for Detroit. We must preserve Sunday's game against the Wizards, who haven't won a road game yet this season.
In the meantime, keep checking Didthecavswinlastnight.com for all your Cavs loss knowledge needs.
Image credit: Thomas Ondrey, Plain Dealer
•••••
We're scurrying off into the dark. Brian Hickey's on tonight, so do keep him company and make sure he doesn't break anything.