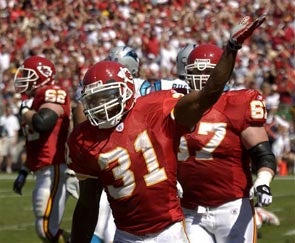 Of all the possible ways for a retired athlete to deal with the crushing blow of realizing that the only skill he's ever possessed is suddenly beyond his grasp, we supposed an "ill-fated comeback attempt" is above "winning 'Dancing With The Stars'" ... but just barely.
That said, it'll be pretty cool to see Priest Holmes back in a football uniform; we want to draft him first in our next fantasy draft just out of habit. Though we're not so sure we'll actually see him in that uniform; even Chiefs coach Herman Edwards sounds skeptical. We appreciate that Chiefs fans are holding out hope, though.
As I and others have repeatedly mentioned before on this site, we would most certainly welcome a healthy Priest Holmes back into the Chiefs' fold. The guy is inevitably a ghost of his record breaking 2003 self. But I imagine that if he is healthy, Priest still has a few 40+ yard screen pass TDs and probably a thousand more yards in his system.
Yep, no matter what, definitely beats dancing on national television.
When Priest Holmes Comes Back for the Kansas City Chiefs... [Arrowhead Pride]