Your morning roundup for July 25, the day we learned of the Russians' plans to invade a beach in Brooklyn. H/T to Dave Littlefield for the video, though we kinda wish it had been from the real Dave Littlefield. Got any stories or photos for us? Tip your editors.
The best sports movies according to Toheeb Jimoh
What we watched: Great. Just great. Don't get us wrong: We're all for the return of the NFL, and we're grateful the 2011 season was saved (even if it means we're back to being stuck paying for those stupid preseason tickets). But the timing of this really couldn't be worse. The MLB trade deadline is upon us, too, which means just as we're about to be bombarded with the play-by-play of who might or might not be going here or there or nowhere, we're going to be hit with the concurrent kabuki theater of an uber-abbreviated period of NFL free agency.
G/O Media may get a commission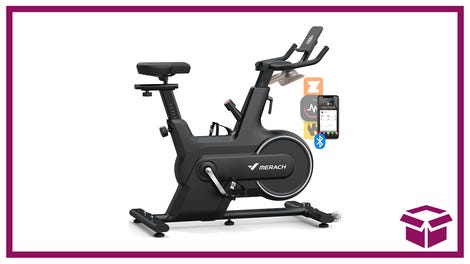 14% off + Coupon
Merach Indoor Cycling Bike
ESPN's home page this morning already had two pieces about free fucking agency prominently linked. And, according to this Sam Farmer piece in the Los Angeles Times, more than 400 unrestricted free agents are about to be auctioned off. That's a lot of shit to throw against the wall, enough to make us wonder whether Florio will be outsourcing any work this week to a sweatshop somewhere.
Elsewhere
This is a sad story: "No one today could imagine how he feels though, not after Dr. Alex experienced a horrific tragedy, one that shook his world and rocked the local fight community. On a rainy Tuesday in southern Wyoming, the doctor and his family were among the many cleared from a campground by authorities due to progressively dangerous conditions. Driving along Route 130, their vehicle plunged into raging waters caused by a flash flood." [MMA Fighting]
New York Times trend piece alert!: "'You're seeing an evolution,' said Jerry Jones, the owner of the Dallas Cowboys. 'Whether it's a multipurpose stadium like ours, or a basketball game on an aircraft carrier, you're elevating the awareness of the venue. You're creating that 'wow factor' beyond the game itself.'" [New York Times]
Carlos Beltran rumored to have a bias, according to rumor blog: "Carlos Beltran told a friend this weekend that despite his public statements that he would approve a trade to Texas or Boston, he has told the Mets he only wants to be traded to one of seven National League contenders, according to a source familiar with that conversation." [ESPN Rumor Central]
Awful Announcing's Joe Morgan replacement tournament reaches the semis: The final four are Berman-James and Cowherd-Buck. Go vote. [Awful Announcing]
We are all Dave McKenna CLVI: Here's your daily link to Dave McKenna's brilliant "Cranky Redskins Fan's Guide to Dan Snyder," which we'll be posting every day until Snyder's dumbass libel lawsuit refuses to play a 3-4 defense.
Freestyle Portuguese longboarding wipeout interlude:

Could the Longhorn Network be bad for the Longhorns?: "As for everything else, it's going to be one long infomercial for Texas, and fans aren't stupid. They're going to know the network's reporting and commentary have been filtered through the Texas propaganda machine. Fans want an independent voice, and the only place that can be found is from journalists and commentators without financial ties to ESPN or the Longhorn Network." [Houston Chronicle]
Mohamed bin Hammam on his life ban from FIFA and Sepp Blatter "This is actually the act of the dictators." [AP]
There's a lot of pink in WPS: "U.S. World Cup star Alex Morgan scored a highlight-reel goal off the crossbar in the 87th minute to give the WNY Flash a 2-2 tie with the Boston Breakers on Sunday night in Women's Professional Soccer before 6,222 at Harvard Stadium." [Buffalo News]
Sean O'Hair gets back on the horse: "''To be honest, there wasn't a single second out there I didn't think I was going to puke,' said O'Hair, now a four-time winner on the PGA Tour but without a trophy - unless you count the 2009 Presidents Cup - in more than two years." [Vancouver Sun]
Terrelle Pryor needs a better reason for the supplemental draft: "Whether he falls through and is forced to wait until next April's regular draft depends on a strict league policy in which, according to scenarios laid out by NFL spokesman Greg Aiello in an email to FoxSports.com, the former Ohio State quarterback doesn't qualify. 'If there are no players eligible for a supplemental draft, there is no supplemental draft,' Aiello said in the email. 'It is for players whose circumstances have changed in an unforeseen way after the regular (college) draft. It is not a mechanism for simply bypassing the regular (draft).'" [ESPN]