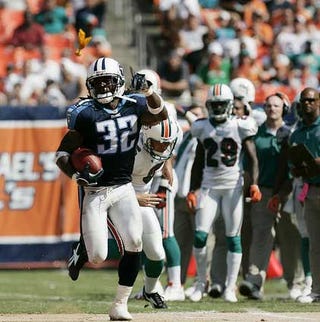 One would think that, after all that's gone down with him over the past year or so, Pac Man Jones would steer clear of the following things:
• Strip clubs.
• Entourages.
• Guns.
• Rain.
Troubled NFL star Adam "Pacman" Jones is wanted for questioning in a shooting early Monday at a DeKalb County strip club that left one man with minor injuries. DeKalb police confirmed they want to talk to the College Park native, whose entourage got into an argument with three other men about 4:16 a.m. at Club Blaze, a Moreland Avenue strip club, according to Officer Ariel Toledo

When the men with whom they argued left the club, Jones's entourage followed them in two vehicles police identified as a green Dodge Charger and a black Pontiac Grand Prix. Someone from Jones' entourage allegedly shot into the vehicle they were following, Toledo said. Someone in the victim's car returned fire. One person in the victim's car suffered minor injuries from shrapnel, but refused treatment, Toledo said. The gunfire exchange happened near I-285. "We're still investigating," Toledo said. "We want to speak to Adam 'Pacman' Jones because we believe the people he was with were involved."
We love that the officer felt obliged to say "Pacman." At this rate, by the way, Roger Goodell is going to have to start suspending everyone named "Adam." Sorry, Vinatieri!
'Pacman' Jones May Be Involved In Shooting Incident [Atlanta Journal Constitution]