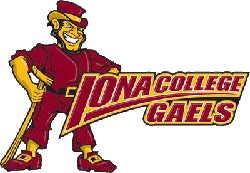 New word to be added to the English lexicon, 21st century edition, right after "Truthiness" and before "eBays." Introducing "Fruscinating." That's the only word to describe Iona, which remained Division I's only winless men's basketball team on Wednesday after a 70-67 overtime loss to Fairfield, dropping them to 0-19. From NBCSports.com:
The Gaels are both frustrating and fascinating; they're fruscinating. They don't shoot the ball particularly well (0-14 from behind the arc in the loss at Niagara). They don't take good care of it, either (29 turnovers versus the Stags). But they play hard and they never give up (virtues espoused most strongly by late Iona coach Jimmy Valvano).
They have also lost four senior starters from last season's team, which made it to the NCAA Tournament. Of course, any points earned by NBC.com for coining the term "fruscinating" were quickly lost with this line from the same story:
Fairfield beat the Gaels 70-67 in overtime, extending Iona's 'ter of discontent (they can't find a "win" anywhere).
Intentional foul, writer is ejected. We mean, really, hasn't Iona suffered enough?
Fruscinating Iona Finds Another Way To Lose [NBCSports.com]
UPDATE: Other facts: Iona has a notable bagpipe band that performs at various functions in and outside the college, including commencement and the homecoming game, and most recently the march of 10,000 pipers in NYC this year (Wikipedia)