American Reunion comes out today, and I'll confess to liking it a bit more than Grierson does. I agree that these characters aren't close to interesting enough to justify four movies, but I can't help but admire the simply, ingenious premise: Just turn it into a high school reunion. It's a bit baffling that not every high school franchise ends up doing this.
After all, the reason we follow the careers of actors at all is because we enjoy watching them grow up in front of us, mature, devolve, grow, regress. It's the central curse of actors, which is why I suspect so many of them go crazy: They are both captured in time yet forever changing, and the entire world notices every little alternation and wrinkle. (I'm pretty sure this is the central fact of Tom Cruise's ongoing psychosis. I'd argue it makes him infinitely more compelling.) Val Kilmer will forever be Iceman and Nick Rivers from Top Secret to me. Seeing what he turned into both sharpens and distorts those memories. In a way, every time you see an actor in a movie, ever, it's a reunion.
When you have particularly famous and beloved high school movies, this experience is enhanced, because seeing an actor when he or she is impossibly young only invites us to note how time's erosion works its magic. It's engrossing not just in a physical sense, but also a capitalist, careerist sense: We like to see who realizes early promise, and who squanders it. It's like minor league baseball prospects, really: Fast Times at Ridgemont High's Sean Penn is Ken Griffey Jr.; Linday Lohan is Brien Taylor.
G/O Media may get a commission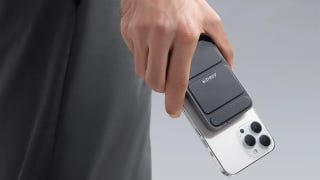 15% off
15% off Anker Top Ten Products
Take charge
Treat yourself to a portable power bank, a magnetic wireless battery for iPhones, or even a solar generator. There is a reason these are in the top ten. For instance, the Anker 747 Power Bank is a 4-in-1 charger utilizing USB-A and USB-C to be capable of charging up to four devices at once. Great to take with you when traveling and in need of keeping your phone, laptop, and even Nintendo Switch powered on.
That's to say: It's sorta like high school reunions themselves. Thus, American Reunion's bright idea, almost the pie-humping bro-comedy equivalent of Michael Apted's 7 Up series. (Now that I think about it, those movies do need more scenes of people putting their penises in pastry.) Of course, the main reason there aren't regular reunions of the casts of our favorite high school movies is because the cast inevitably becomes too expensive once they're better know. The reason American Reunion can exist is because none of the actors ever made it big. It's honestly because none of them are all that good.
So I thought, as a little Friday afternoon treat, I might look at the casts of five famous high school movies from the '90s (and one from 2004) to see how the actors are doing these days, ranking them in the order of how their careers are going to day. Wouldn't it be nice to be able to do this about your own high school? As long as you were near the top, anyway.
Clueless (1995)
1. Paul Rudd
2. Jeremy Sisto
3. Donald Faison
4. Alicia Silverstone
5. Stacey Dash
6. Elisa Donovan
7. Brittany Murphy
Rudd's the obvious winner here, establishing the puppy-dog likable chap character he has essentially played for 17 years now. Sisto wins points for being on the last season of Law & Order. Setting a tone for these rankings, the female lead ends up nowhere near the top of the list. Murphy would rank higher were it not for the technicality of being dead.
Scream (1996)
1. Liev Schreiber
2. Rose McGowan
3. Neve Campbell
4. Matthew Lillard
5. Jamie Kennedy
6. Skeet Ulrich
I didn't include Courtney Cox, David Arquette, or Drew Barrymore because they already had established their careers at this point and/or weren't high school students. Schreiber is barely in this movie—he shows up more in the next two films—but he's such a superior actor to everyone else here that he has to take the top spot. Campbell was actually pretty good in Robert Altman's The Company, but her inherent humorlessness (as well as her upcoming appearance in a TV movie about the sinking of the Titanic) drops her below McGowan. If I knew how to make a little up arrow in HTML, I'd put one next to Lillard after The Descendants. Skeet Ulrich died with the extinction of his particular brand of facial hair.
Election (1999)
1. Reese Witherspoon
2. Jessica Campbell
3. Chris Klein
This doesn't really count as a high school movie, but I love it so much I included it anyway. Witherspoon's now a superstar, though her career has become progressively more dull as she's moved away from the daring choices that brought her to our attention in the first place. Also, Jessica Campbell, who played the acerbic and great Tammy Metzler, retired from acting a decade ago. This still put her above Chris Klein.
American Pie (1999)
1. Alyson Hannigan
2. Seann William Scott
3. Jason Biggs
4. Mena Suvari
5. Natasha Lyonne
6. Shannon Elizabeth
7. Tara Reid
8. Eddie Kaye Thomas
9. Thomas Ian Nicholas
10. Chris Klein
Yikes, what a shitshow: Seriously, is there a likable actor here other than Hannigan? (All right, I'll give you Stifler.) Lyonne almost died a couple of times, and Reid might have. I kid around with Klein a bit, but I have to admit, when this and Election came out, at the time I thought he might end up the biggest star out of all of them. Cocaine's a helluva drug. See also this:
Mean Girls (2004, but it feels like a '90s movie)
1. Rachel McAdams
2. Amanda Seyfried
3. Lizzy Caplan
4. Lindsay Lohan
5. Lacey Chabert
6. Daniel Franzese
7. Jonathan Bennett
Do you think Tina Fey secretly feels a little guilty about what has happened to Lindsay Lohan? No? Yeah, she probably shouldn't. This comedy had an awesomely deep bench, with two of the biggest female movie stars in the world, along with Caplan, the Party Down star and future superstar (you'd have to think, right?). You can argue with Lohan that high up, but she did host Saturday Night Live recently, even if it might not have been under the best of circumstances. (And she's been in one theatrically released movie, Machete, in five years.)
I will say this: If Mean Girls were a high school, it's pretty certain who everyone would be talking about at the reunion.
Grierson & Leitch is a regular column about the movies. Follow us on Twitter, @griersonleitch.