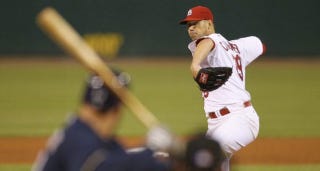 Tonight, Yovani Gallardo of the Brewers will face off against fake-ass Chris Carpenter of the Cardinals in a NLCS tied at one a piece. Gallardo isn't very good against the Cardinals, per a St. Louis newspaper and numbers. Meanwhile, Carpenter "has had hiccups" against the Brewers, per a Milwaukee newspaper and less damning numbers.
Then again, tears from the sky could change everything from pitching rotations to batboy comfort.
Also, the rally towels will feature squirrels. Squirrels with shingles, hopefully.
El Cielo es Azul, Nuestra Ciudad es Rojo [Viva el Birdos]
NLCS Game 3 Weather Update [Brew Crew Ball]