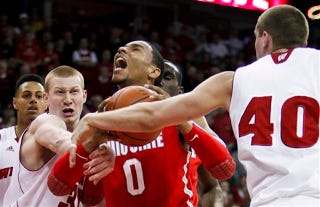 Enjoy the sparse menu of college ball this afternoon if watching cars go 'round and 'round is not your thing.
12:00 p.m.
Cincinnati at South Florida is on ESPN3. Maine at Stonybrook however appears not to be televised. Public access maybe?
1:00 p.m.
Indiana at Minnesota is on ESPN.
2:00 p.m.
CBS has Pittsburgh at Louisville while ESPN3 will be showing Northern Illinois at Central Michigan and ESPNU will have Canisius at Siena.
4:00 p.m.
Wisconsin at Ohio State is on CBS
6:00 p.m.
Florida State at Miami is on ESPNU and Iowa at Illinois is on the Big Ten Network.
8:00 p.m.
Akron at Ohio is on ESPNU.